We Hit the Waves for a Beginners Lesson with Girls Who Surf
And it's not just for girls, either.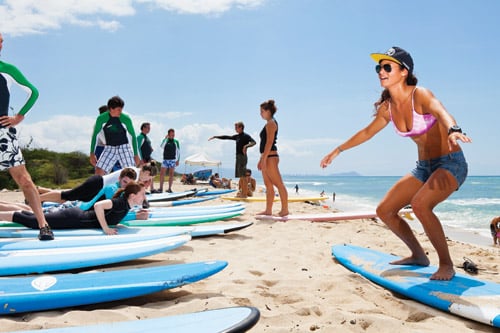 It's 10 a.m. on a sunny Saturday at Kalaeloa Beach Park. Early in the day for resident beachgoers who, on most afternoons, flock to this lovely, hidden stretch of white sand in the backyard of one of Oahu's largest industrial parks. Not so early for overnight campers already firing up small barbecue grills and popping ice-cold Heinekens.
Beyond the campground, over a sandy hill and past a grove of ironwood trees is Kalaeloa Beach, rolling waves crashing on its still-empty dunes. Here, a couple of dozen miles west of Waikiki's crowded beaches, is the spot that instructors of full-service Oahu surf school Girls Who Surf believe is as perfect as it gets for beginning surfers catching their first waves.
On this particular morning, the class emptying out of the Girls Who Surf van is mostly made up of men—15 of them, dressed in board shorts, bodies slathered with sunscreen, each anxious to slink into Kalaeloa's friendly azure surf. Most admit to never surfing before today. For some, it's their first trip to Hawaii. Everyone, however, seems to desire photographic proof for friends and family back home of riding a wave in the Islands where surfing was born.
"If you're going to come all the way to Hawaii, I feel like you have to try surfing," says Allison Paul, 30, of Boston. "I want to say I surfed in Hawaii."
Despite its XX-chromosomed moniker, Girls Who Surf is actually an equal-opportunity surf instruction school for women and men. The school was founded in 2005 by Cherry Fu, a Harvard economics graduate who found herself hooked on the sport after taking a first surfing lesson. When she discovered that male instructors operated most of the surf schools here, Fu started Girls Who Surf to focus on teaching wave riding females and families. Still, the school has never limited its classes or even its pool of instructors to women.
To counter the confusion, Girls Who Surf also does business as Surf Honolulu. (Fu is still its owner, but lives in San Francisco.) Since opening, it has become one of Oahu's top surf instruction schools for beginners, expanding its curriculum to include stand-up paddleboarding and bodyboarding. The company estimates that it guided more than 7,500 customers on the art of catching waves last year.
Girls Who Surf also prides itself on its safety record. Its instructors are lifeguard-, CPR- and first-aid certified and licensed by the state to offer instruction. Group classes like the one I'm in today are the most popular instruction offered. Rash guard water wear, reef walkers, sunscreen and surfboards with leashes are provided. Classes span two hours, with at least 90 minutes of actual water and wave time.
Lessons begin on the sand, where, for about a half-hour, Girls Who Surf instructors go over surfing basics—everything rom how to paddle a surfboard to how to correctly use a surfboard leash. Instruction on land is brief. The best way to learn, say instructors, not all that surprisingly, is on the water and on actual waves.
"The thing about surfing is there's only so much you can explain," says Skip Paul, 30, of Boston, an avid windsurfer taking Girls Who Surf's first-timer lesson with his wife, Allison, despite already knowing how to surf. "You really just have to do it."
For this morning's large group, there are three Girls Who Surf instructors—two females, one male. Each instructor works with a group of five students, offering specific directions on everything from what to do on the board—how to stand up and ride waves and how to wipeout gracefully—to ocean safety and surf etiquette.
"Keep your knees slightly bent," says Ross Ahlborg, a sandy-haired 21-year-old instructor, raised on Rhode Island surf. "If you stand like a stick figure, you'll just blow right over."
Ahlborg and the other instructors review all of the basics students will need for their first wave rides: where to stand on the board, how far apart to keep their feet and more.
"Where you're looking is where you're going," says one instructor. Explains another, obviously, "The faster you paddle, the faster you'll get there."
The land-based instruction is thorough on purpose. Instructors want students' time on the waves to be a memorable experience, albeit one that doesn't include multiple tales of wipeouts or reef cuts.
"Safety is a big part of our briefing," says Alison Kalange, the company's sales and office manager. "We teach (students) how to wipeout, to cover their heads, to fall flat, stuff like that."
Land lessons done, the students climb onto their foam surfboards and paddle out into the surf break. The day is perfect for surfing. Winds are light, keeping the ocean calm and smooth. The waves are knee high and appropriately manageable for first-timers.
The instructors watch each student's progress from boards nearby. Within minutes, a few students are standing upright on their boards, knees bent, with smiles spreading across their faces.
"Yeah!" yells Ahlborg, palpably excited, watching one of his students catch his first wave. "You got it!"
After some time in the ocean, I find myself impressed watching the instructors at work cheering on beginners, shouting out instructions and making sure everyone has a good time on the waves. No detail about surfing is irrelevant. No question is scoffed at, no matter how ridiculous. And everyone is kept together and safe.
"Man, that was great," raves Dana Brisson, 55, of Connecticut, fresh from catching his first waves ever. "It was a lot more challenging that I though it would be.
"I play golf 60 times a year. I wanted to try something different."
Most of the students who sign up for lessons with Girls Who Surf are first-timers, says Erika Laws, the school's lead instructor, who grew up surfing in San Diego.
"We cater to smaller groups and provide more of a one-on-one experience," says Laws. "Because of that, we really get to know the students a lot better and we can tailor the instruction to their abilities."
That said, on this morning, very few of the students in my Girls Who Surf class seem overly preoccupied with the emphasis on personalized instruction.
As our brief time in Kalaeloa's surf nears its end, most are simply happy catching their first waves in Hawaii and snapping photos of the experience to return home with bragging rights.
"This is the birthplace of surfing," says Skip Paul, back on land and grinning. "Who wouldn't want to do this?"