Surfwriter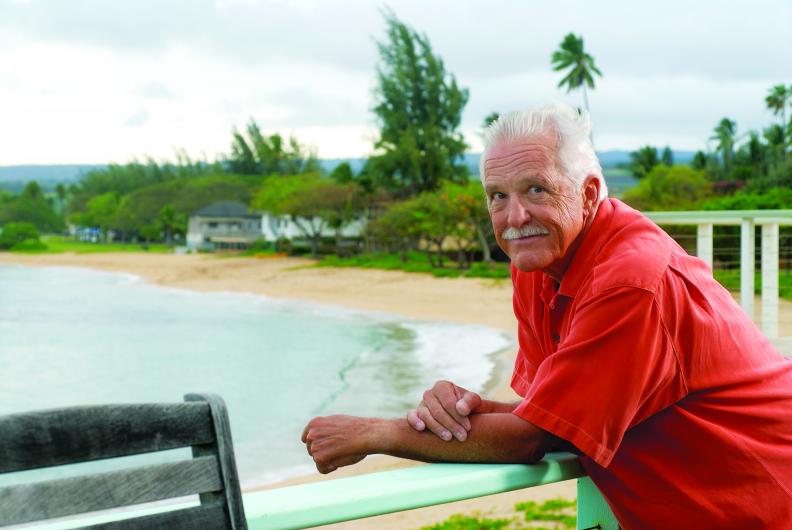 Oahu is an island with a split personality. On the southern shore is the city, Honolulu, where everything happens. The North Shore (a.k.a. "The Country") is like a laid-back Neighbor Island you don't need to fly to.
Its center is Haleiwa, a small town with a couple of gas stations, several restaurants, two food markets, a doctor, a dentist, a chiropractor, an acupuncturist, a florist, some fashion boutiques, a post office and approximately 300 surf shops.
Not much happens on the North Shore except in the winter, when the big waves arrive, the surf contests begin, the population spikes and the traffic jams.
I used to go to the North Shore only to surf, but now I live here. In 1999, my wife and I lucked into an oceanfront property just down the beach from Haleiwa Alii Beach Park, a famous surf spot that hosts one of the three contests in the annual Triple Crown of Surfing.
The house was a major fixer-upper. The price was right and we knew a good thing when we saw it. In today's market we couldn't afford it. It would list for about five times what we paid.
I write stories, magazine articles and advertising copy, all
of which I do at home,
thanks to the Internet. In other words, all day long I'm just a few steps from the ocean. When I take a break, I swim, surf, kayak or snorkel.
There's a surf spot right in front of my house, and two more in walking or paddling distance. The nearshore reef teems with colorful fish. Honu, Hawaiian green sea turtles, also frequent the reefs and occasionally come ashore to sun and rest on the beach.
I know my neighbors and their dogs. The beach is an ideal place to meet with both. I love dogs, but I don't own one. Here, with daily visitation rights, I don't need to.
I'm always up at dawn because it's a great time to be outside, walking on the beach or kayaking or surfing when the ocean is slick and glassy before the trade winds rise. It's a problem for me as a writer, though, because dawn is also my optimal time for writing. Somehow, I manage to work it out.
My wife and I have all the toys we need to enjoy the biggest backyard swimming pool in the world. Longboards, shortboards, body boards (including a double-wide tandem model that allows us to ride waves together, side by side), kayaks (tandem and solo), snorkels and fins and digital cameras with underwater housings. We also have some powerful binoculars for whale watching from our lanai.
The view from our living room is a work of art that's alive— an ocean panorama that constantly changes with the arc of the sun and moon, the ebb and flow of the tide, and the presence or absence of wind and clouds.
It's a view that never fails to mesmerize me, which is why my workspace is on the bottom floor of the house, as far away from the ocean as possible, facing the street and insulated not only from the sight, but also the sound of the surf.
Otherwise I could never write a word.
Don't miss another story from HAWAII Magazine
Sign up for our weekly E-Newsletter today!