Take a Farm-To-Medicine-Cabinet Tour of Kaua'i Farmacy's Organic Farm in Kīlauea
The family-run farm grows, processes, cures, packages and sells over 50 healing remedies, from teas to tinctures.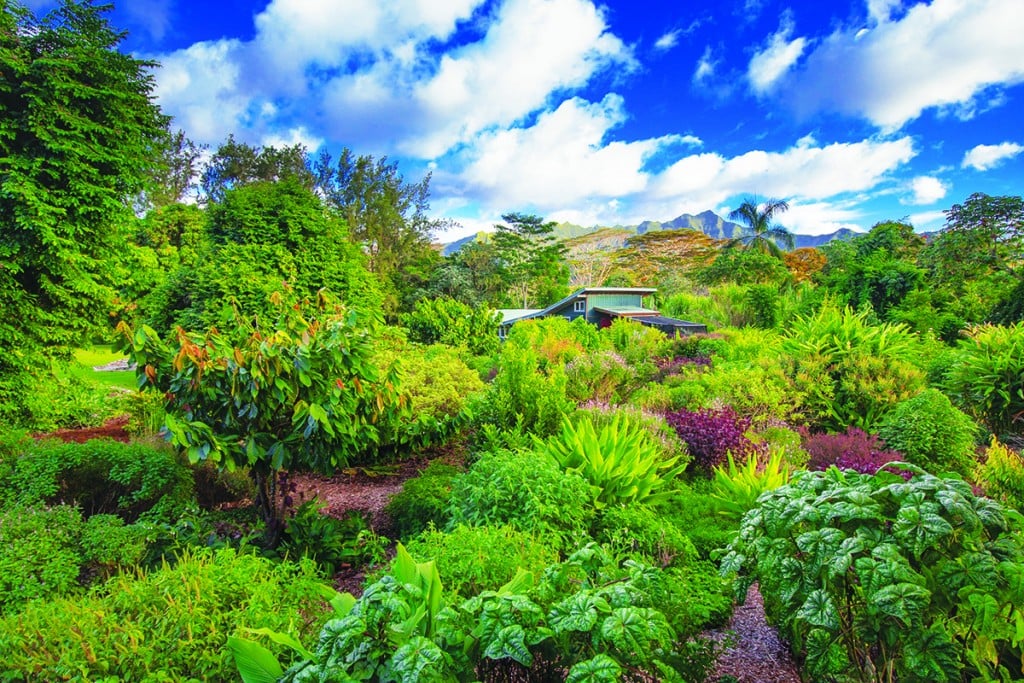 On the North Shore of Kaua'i, there's a farm where plants are called allies and the farmers are herbalists.
Kaua'i Farmacy creates plant-based medicine from crops grown on the company's Kīlauea organic farm.
My first experience with its medicinal potions was eight years ago, through the screened window of a mobile "farmacy" parked on a side road off the highway. Telltale symptoms of a cold and the play on words compelled me to pull over. I bought an oregano tincture, praised for fending off colds. I'll never know if it works. Coward that I am, the jaw-clenching, bitter liquid offended my timid palette and was quickly replaced by modern medicine's antihistamine.
In 2017 Kaua'i Farmacy began offering tours. The company employs a unique in-house farming model where it grows, processes, cures, packages and sells over 50 healing remedies, ranging from teas to culinary powders and moisturizing balms. Kaua'i Farmacy offers a two-hour tour twice a week, and its apothecary is open on weekdays. All of the company's products are available online.
I invite my pal, Meg Schofield, to join me on a visit to the place. Being an advocate for sustainable, organic agriculture, I knew she'd connect with Kaua'i Farmacy's "Heal Yo'self" maxim. She's also no stranger to gardening; I, on the other hand, have two brown thumbs. Herbs are the only plants able to survive my habitual neglect.
Heavy rains and wind gusts had pummeled Kaua'i the week before, so we're thrilled to reach the North Shore bathed in sunshine. Walking from the car, we pause to study the foliage of trees we recognize: Indian kari, soursop and lime. Following signage down a mulched path to the Tea Lānai, we join others beside a white wagon—the same one I visited on the side of the road all those years ago. It's now an upgraded pristine apothecary brimming with little bottles and a rainbow of tins.
A long table is set where eight French presses sparkle with gem-tone leafy teas. Beside it, a strapping youth with a machete divides ebony lengths of sugar cane into 6-inch stalks to be fed through a hand-cranked juicer.
Our group is a perfect dinner party size of eight: Schofield and I; two Kaua'i residents; a visitor from North Carolina and another from Minnesota; an Australian photographer; and our guide, Amelia Marjory, a willowy fairy of a girl with a long braid draped across her tanned shoulder.
Kaua'i Farmacy founders Doug and Genna Wolkon join us on the lānai (veranda) for an introduction. They credit their herbal lifestyle to the noni (indian mulberry) leaf, which they began using early on in tea and as a poultice for sprains.
The Wolkons moved to Kaua'i in 2007 with their first child, abandoning an intense city lifestyle on the East Coast.
"When someone told me Polynesians use noni leaf medically as a topical, I thought, 'Yeah, right!' Next thing I know I'm walking around with it strapped under my belt," Doug Wolkon says, pointing to his lower back. "And it worked."
Within four years, after what he called an "immersion" in herbs, the couple bought the 4-acre property along Kīlauea Stream.
"Blown away" by changes of body, mind and spirit, the couple knew they wanted to share their discoveries.
On the organic farm today, 15 gardeners and herbalists grow, hand-pick and process it all using solar dehydrators.
The tour begins near the Tea Lānai, where Marjory calls our attention to a sprawling low ground cover.
"Meet comfrey," she says, taking a knee to brush her hands across the velvety leaves. "She's our most medicinal plant."
Comfrey sinks a 14-foot taproot, reaching nutrients other plants cannot access. Leaves are harvested specifically for a compost tea fed to every plant on the farm.
Meandering trails weave through cacao loaded with 8-inch ruby pods, towering Tongan spinach (or bele) and a dense hedge of otherworldly palm-sized passion flower blossoms. Unlikely bedmates thrive in this permaculture model following the divine order of natural chaos.
"Plants like growing communally," Genna Wolkon would tell me later. "They're like us—they need community."
Like an obedient flock of sheep, we nibble leaves and berries offered throughout the tour: clove-flavored tulsi basil; a tart serrated leaf of cranberry hibiscus; and the unforgettable "electric daisy," spilanthes, a tongue zinging flower used in the Farmacy's breath freshener, Buzz Kill.
"There are many ways to get herbs into your system," Marjory says. "Not everyone drinks tea."
Each leaf, root and bud has a purpose: Some invigorate, others calm and one tempers libido and balances hormones.
"Chaste is one of my plant allies," Marjory tells us. "It was used by monks to maintain chastity. She's a teacher of cravings and helps decipher between what's an urge and what's really needed."
Plants are grouped to support one another. Comfrey deters predators and weeds; lemon grass is a pest repellent.
"Diversity of the garden builds its own immunity," Marjory notes. "All we do is plant and support them."
It took the Wolkons years of trial and error, discovering each plant's optimal growing condition and how they work together, before they opened the garden to visitors.
"When we bought the property in 2011 our dream was to have a medicine cabinet grown from the land," Doug Wolkon says. "The tour is experiential; we want you to eat the leaf, rub the
juice on your skin. It's OK to immerse yourself here."
Back home in Kapahi, a neighborhood in Kapa'a, I see my tiny garden with new eyes, realizing I have a few herb allies of my own. Plucking sprigs of oregano, parsley and Thai basil, I make a tea by submerging them in hot tap water and leaving them to steep on my counter. And I remember something Genna Wolkon said near the end of our tour: "Medicine is all around us. You can do something to bring yourself back to balance."
Kaua'i-based writer Pam Woolway loves to chop, mince, sauté and steep. She shows mercy to the plant world by leaving most of the growing to farmers. 
Tours from 10 a.m. to noon Wednesdays and Fridays. Cost is $55 for adults, $10 for children. Reservations required. The apothecary is open from 10 a.m. to 3 p.m. Mondays through Fridays. Kaua'i Farmacy, 4731G Kūawa Road, Kīlauea, (808) 828-6525, kauaifarmacy.com