Take a tour of Maui Brewing Co.'s brewery in Kihei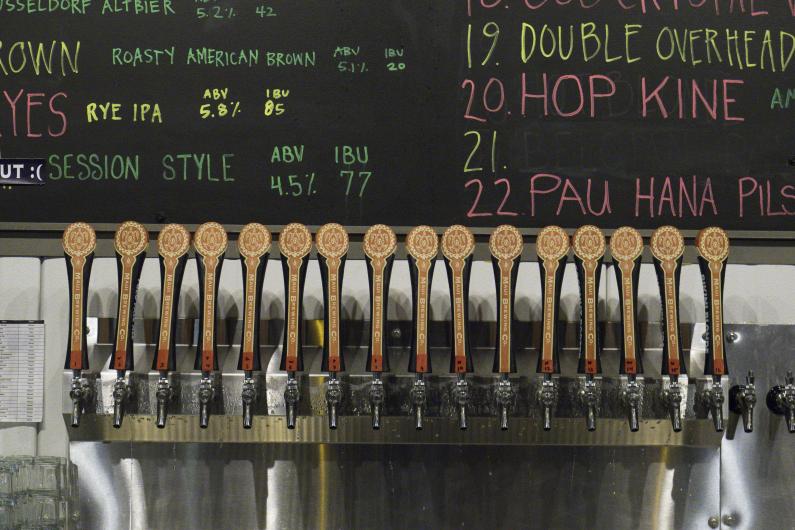 Craft beer, sustainability and culture are brewed into an intoxicating experience on the fun and informative guided tour of the Maui Brewing Co. brewery in Kihei. Located on Lipoa Parkway in the new Maui Research and Technology Park, this brewing facility feels like a real-life adult-version of "Charlie and the Chocolate Factory," only you don't need a golden ticket to visit the 5.3-acre brewery. Instead, all you need is an online reservation, $15 admission per person and 45-minutes to kill.
At the start of the tour, you receive protective glasses as a friendly and well-educated guide leads you through the facility. Our guide is Jeff, an older dude rocking a healthy set of silver sideburns, wearing black Chuck Taylors, with a voice that sounds like J.K. Simmons from the State Farm Insurance commercials. Jeff's delivery is very casual as he talks about how beer gets its ABV (alcohol by volume), and he really demonstrates his knowledge of Maui Brewing Co. when he breaks down the main ingredients of the flagship beer. Maui Brewing Co. was the first in the world to make beer with roasted coconut for their Coconut Porter, he tells us. Jeff. He also adds that Maui Gold pineapples are used to make the Mana Wheat.
Since Maui Brewing Co.'s beginning in 2005, there has always been an emphasis on sourcing local ingredients, and innovation, says the founder and CEO, Garrett Marrero. "We're going to take a traditional style [of beer], turn it on its ear and make it Maui by using local agriculture. Another similar belief for someone who loves craft beer and food is the belief in the family-farm system and having local agriculture thrive," says Marrero. "We're blessed with the opportunity to take that and make it into a cool beer. I think not only is it fun for us, but it's fun to show the brewing world what can be done with these natural tropical fruits that we have [in Hawaii]. It makes for some really unique things."
The smell of yeast permeates the air and the sounds of industrial machines echo throughout the tour. If you're a craft-beer connoisseur or a fan of Maui Brewing Co.'s suds then you'll understand that the strong aroma and noise are all necessary for the magic of fermentation. The facilities are under a huge warehouse so there is not much walking involved and you only go in and out of one door to see the breweries stainless-steel fermenting vats. These giant, metal cylinders are where locally sourced ingredients mature into beer. It's cool to see how beer is made, but it's even cooler to hear about the facilities commitment to environmental initiatives.
According to Marrero, the brewery is taking steps toward 100 percent energy independence as the plant evolves. "We're working on a big solar project to take the brewery off grid," he says. "We would be producing all of our own energy and that's really exciting because not only does it secure our energy independence, but it also shows that we can manufacture in Hawaii, which is difficult enough. And we're demonstrating that capability and that we can do it in a sustainable and responsible fashion for the community."
When Maui Brewing Co. first started, it was manufacturing 320 barrels of beer (31 gallons) a year. Now, the brewery will brew approximately 40,000 barrels of beer by the end of 2015. This increase in manufacturing has led to a growth in national and international distribution with Maui Brewing Co. beers available in 15 U.S. states and eight countries. In addition to manufacturing exponentially more beer than before, Maui Brewing Co. is also in the process of opening a restaurant at the Kihei brewery and expanding to Oahu with a brewpub in Waikiki.
Marrero says one of the most frequently asked questions on the tour is about its use of aluminum cans instead of glass bottles. "There is the benefit that cans are actually better for beer, and there is no real cost benefit for us. Being that the cans are made locally, we really value that, because we're supporting local families, local labor and the local manufacturing," he explains. "Quality-wise, a can is better for a beer because it doesn't allow light to penetrate inside and it staves off more damage from oxidation. Both cans and bottles will oxidize, but cans at a much lower rate because there is no way for oxygen to seep into a can, where as a bottle can [have oxygen] seep in through the crown. Basically, it's better for the beer and better for the environment because aluminum can be indefinitely recycled where glass has a finite life before having to be melted down."
After hearing that commitment to the local economy and aina (land), how do you not want to buy a six-pack of Maui Brewing Co. beer on your way out? Further motivation to leave with some quality craft beer comes after the tasting room where you get samples of Bikini Blonde, Mana Wheat, Coconut Porter and Big Swell IPA. Jeff leads us through the sampling after he runs us through the three steps to proper beer tasting. He shares that much like a wine tasting, you want to engage numerous senses by, first, looking at the clarity and color of the beer, then taking a big whiff of it before taking your first sip—a magical and climactic point of the tour. After the tasting room, you get to take home your branded sampling glass and you receive a complimentary pint of your choice.
Drinking a fresh pint from the tap at the end of the tour makes it hard to leave the Maui Brewing Co. brewery, especially when you notice there are over a dozen more beers to try. Plus, there are giant-sized sets of Connect Four and Jenga to keep the good times rolling till closing.