Take a walk back in time with the Moana Surfrider's historic tours
See the treasures housed inside the First Lady of Waikiki on this semi-weekly tour.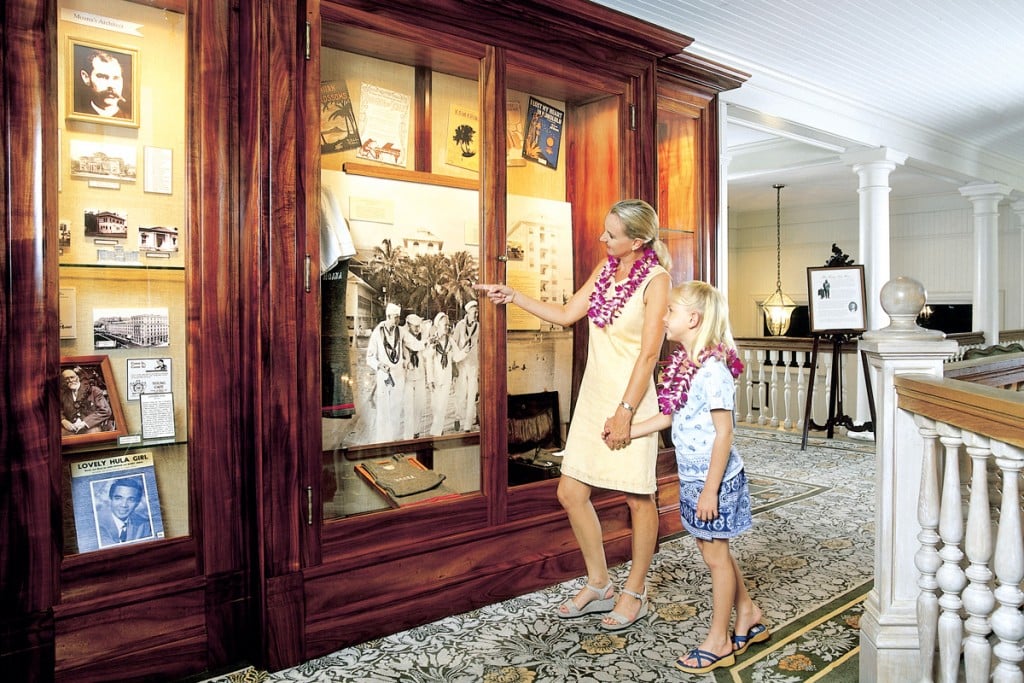 Shirley Temple vacationed at the Moana. So did a host of other celebrities, including Amelia Earhart, Joe DiMaggio, Frank Sinatra, George Burns and Lucille Ball. On the Historical Tour, offered two times a week, you can learn about their stays and view 200 artifacts on display throughout the hotel, including old photos, postcards, room keys, brochures, sheet music and a steamer trunk. Some of the items date back to March 11, 1901, the day the "First Lady of Waikiki" welcomed her first guests.
Although the hotel's official name is now the Moana Surfrider, A Westin Resort & Spa, it is still popularly known as the "Moana," which means "broad expanse of ocean" in reference to its scenic locale. The stately property was placed on the National Register of Historic Places in 1972.
Rising four stories high, the Moana was the tallest building in Waikiki when it opened over a century ago. Guests rode to their floors in Hawaii's first electric-powered elevator. In 1935, "Hawaii Calls," a weekly two-hour radio show, began broadcasting in the hotel's courtyard, beneath the branches of a 75-foot-tall, 150-foot-wide banyan tree. Featuring live music by Alfred Apaka, Haunani Kahalewai, and other acclaimed Hawaiian singers and musicians, the show captivated audiences for the next 40 years. During its heyday in the 1950s, 750 stations carried it worldwide.
Barbed wire lined Waikiki's beaches during World War II. Although the Moana remained open to civilians, most of its guests were military personnel. After the war ended in 1945, ocean liners began bringing scores of visitors to Hawaii from the West Coast, and the Islands' tourism industry was born.
The Moana remains a magnificent, beloved landmark. "She is no longer Hawaii's tallest or biggest hotel, but, to me, she is still its grandest," says Kehaulani Kam, director of cultural relations for Starwood Hotels & Resorts Waikiki. "The Moana is truly the First Lady of Waikiki."
The hour-long Historical Tour is offered every Monday and Wednesday beginning at 11 a.m. Meet in the second-floor lobby of the Moana's Banyan Wing (the original central section, built in 1901), 2365 Kalakaua Avenue. (808) 922-3111; www.moana-surfrider.com.