Tales of Two Islands: Exploring Kauai and Niihau history at Kauai Museum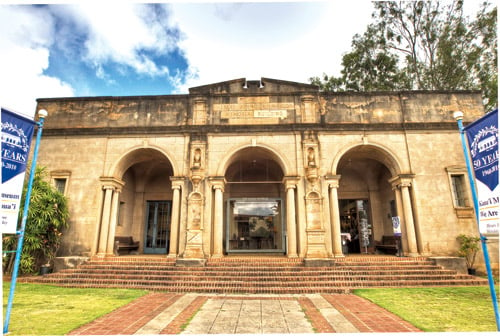 Kauaii Museum is just a few miles from Lihue Airport.
I know this because, on past Garden Island visits, I'd zipped by it while heading from the airport straight to a beach or hiking-trail assignment, each time taking note of the museum's striking lava-rock exterior and stately Greco-Roman façade. Today is different, however, as I've instead dashed directly to Kauai Museum for a few hours' exploration of its interiors—all dedicated to preserving the life and times past of Kaua'i and its island neighbor to the southwest, privately owned Niihau.
As I enter, I get the happy feeling that this museum, situated in the center of Lihue's historic downtown area and once home to the town's library, holds answers to a wide range of questions gathered on my previous sojourns to lush, laid-back Kauai. Questions such as: How did the island's geology take shape? Which plants and animals thrive on Kauai? When did the island's first settlers arrive? What was it like to live here centuries ago?
When I meet collections curator Chris Faye in the museum's relic-filled heritage gallery, she tells me, "Just about everything in this room belongs to people from Kauai." Among the artifacts are gleaming umeke kou—kou wood bowls used for serving food—and other calabash items once belonging to Kingdom of Hawaii royalty and Kauai's own ali'i such as Queen Deborah Kapule, the favorite wife of Kauai's last monarch, King Kaumualii, who ruled from 1794 to 1810.
Kauai's story is not complete without at least a few chapters about Niihau. The museum's treasures from that island include antique strands of exquisite Niihau shell lei, handmade garlands made from tiny shells collected on its beaches.
Niihau and Kauai, separated by the Kaulakahi Channel, share a somewhat feisty bond dating back to the late 18th century. By the time Kamehameha the Great had largely succeeded in uniting the Hawaiian Islands under his rule circa 1795, two islands continued to resist: Kauai and Niihau. Another 15 years would pass before the islands were subdued. In 1864, Kamehameha V sold Niihau to New Zealand plantation owner and Kauai resident Elizabeth Sinclair. Niihau remains under the ownership of her descendants, the Robinson family, which allows a small population of Native Hawaiians to reside there.
Koa wood-lined display cases filled with relics of Kauai's past. Photo by David Croxford for HAWAII Magazine.
In the other of the museum's two buildings, I follow docent Roy Miyake on a mid-morning tour. He moves quickly through natural-history exhibits, saying we can return after the 90-minute tour to further explore Kauai's volcanic origins and flora-and-fauna matters. For visitors running short on time, the museum also offers a free return pass, good for seven days.
Miyake lingers at displays with people-focused timelines. "What makes any place special is the people," he says, relaying facts and figures about the first human migration to Hawai'i some 1,500 years ago from Polynesia's Marquesas Islands, 2,000 miles south of Hawai'i. Five hundred years later, settlers from Tahiti arrived on Hawai'i's shores, establishing their culture as dominant.
"That evolved into the Hawaiian culture as we understand it today," says Miyake. He quips that all of the first Hawaiians migrating to the Islands arrived "B.C.", "before compass."
Nodding toward gear early paddlers tucked into their voyaging canoes, Miyake marvels at how they navigated waters for up to four weeks, relying on knowledge of ocean currents, the night sky and even the flight patterns of birds.
On nearby walls are portraits of famous early Kauai chiefs.
"What we know about these leaders comes from mele (chants)" blending mythology and biography, Miyake says. The island had no written history prior to British explorer Capt. James Cook's January 1778 landing at Kauai's Waimea Bay.
The building's second floor focuses on more recent Kauai history, including a walk-through plantation camp-house exhibit from the island's sugar-production era, which began in the 19th century.
The museum's walk-through sugar plantation camp-house exhibit. Photo by David Croxford for HAWAII Magazine.
The narrative continues through the mid-20th century, wrapping up with events tied to World War II, such as the Niihau Incident, when a Japanese fighter pilot crash-landed on the island hours after participating in the Dec. 7, 1941, aerial attack on Oahu's Pearl Harbor. Among items on display from the crash is a tail light from the bullet-damaged Zero aircraft.
I leave the museum happily sated with answers to all of the Kauai questions I'd arrived with, and a few freshly surfacing queries. Sadly, I'm pressed for time.
When I mention this to Miyake and Faye, they understand. Other visitors, it turns out, have had the same dilemma on their dashes to other Kauai activities.
They send me off with smiles and a return pass.