T&C/Surfer Magazine Grom Contest bringing pint-sized shredders to Waikiki this weekend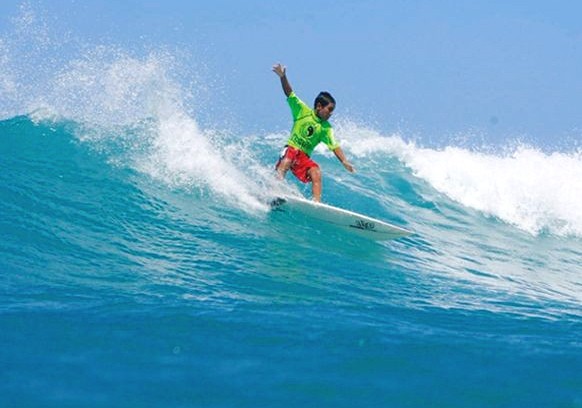 Tomorrow, when the sun climbs above Diamond Head Crater, shining fresh morning light onto the Waikiki shoreline, the beach will start filling up with surfboard-toting groms —also known as grommets.
Throughout the weekend, you could see as many as 300 of them in the Waikiki sand, waxing boards and scoping waves during the 14th Annual T&C Surf/Surfer Magazine Grom Contest at Queen's surf break.

Wondering what a grom is, exactly?
Should we check Websters? Wikipedia? No, dude. For this definition, we're turning to the surf lingo lexicon dubbed Riptionary. Under the category of "Surf Culture," grom is explained in this succinct way: "a young local surfer who really rips."
That sounds about right. This contest is open to surfers age 14 and younger who want a taste of competitive surfing in a fairly mellow setting. Kids prepping for a sure-bet future on the pro circuit — those already ranked among the top 15 in the National Scholastic Surfing Association and Hawaii Amateur Surfing Association — will have to watch from the beach.
On Sat., May 20, the contest will be packed with 15-minute surfing heats, from 7 a.m. to 5 p.m. Boys and girls with compete, separately, in both longboard and shortboard categories, with age divisions set at 6- to 9-year-olds and 10- to 14-year-olds.
There will also be a "Kokua Division" for kids ages 3 to 6, in which adults will assist in the lineup at the extra gentle Baby Queen's surf break and help the wee ones catch waves.
At about midday, check out the "Expression Session," which will feature tandem surfing. Michelle Cabalse, marketing coordinator for T&C — a longtime Hawaii surfboard-shaping and retail outfit, founded as Town & Country Surf Designs — says to watch for surfing Dads who can toss their groms up into air then swoop them back onto the tandem board. Also, watch for the kids who can pull off big, back-bendy arches — with toes pointed, of course — when lifted over the waves.

The top finishers in Saturday's competition will move onto a series of elimination heats during finals on Sun., May 21, Cabalse says. Organizers plan to hold an awards ceremony shortly before sunset on Sunday near the statue of Duke Kahanamoku on Waikiki Beach.
The event's schedule is still shifting slightly, Cabalse says, because this year's contest attracted about 100 more groms than expected.
Cabalse attributes much of the registration spike to more girls taking up surfing as an activity/sport to enjoy with friends and family. She also points to a tweaking of the annual competition so that girls compete only against other girls.
Just five years ago, she says, the contest was dominated by boys, with no heat designated as just-for-girls. Back then, frustrated girls were asking: Why go out and have the (developmentally stronger) boys walk all over you? No more. And now nearly half of the annual contest's competitors are girl groms.
Finally, we asked Cabalse about the origin of the term "grom." She says: "From what I understand, it's an Australian thing," referring to the "Cheerio-shaped pukas" for laces on surf shorts.
According to surfing lore, in some lineup spots in Australia's waters and elsewhere, even the most skilled groms were long placed "low on the food chain," Cabalse says. Cranky older surfers attempted to deflate hotshot youngsters with size-related insults: You're like that little hole in my shorts. You're a little grommet.
These days, surfologists say, the term grom is far more often used in a positive way — as a term of endearment, even, for avid surfers under age 15.
For more details about this weekend's annual T&C Surf/Surfer Magazine Grom Contest, click here.