Tchin Tchin Bar on Oahu is Chinatown's new destination for rooftop drinks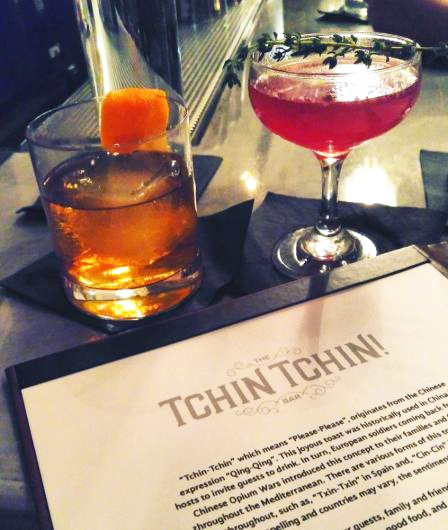 The newly opened The Tchin Tchin! Bar in Oahu's Chinatown doesn't look like your stereotypical Hawaii bar. And that's not a bad thing. The renovated space features red exposed brick, dark leather couches and chairs, giving the upstairs loft an urban den feel. But walk past the long bar, through the double doors and outside to its open-air rooftop lanai (patio). Here, you'll have more room on one of the bar's white, oversize patio sofas. The space is romantically lit with string lights, and features a large living wall flourishing with ferns. Look up and you'll also get a peek of Honolulu's skyline.
Tchin Tchin gets its name from the Chinese expression "qing qing," meaning, "please please" as a toast to drink. Soldiers returning from the Chinese Opium Wars introduced the phrase in France and throughout Europe.
The Tchin Tchin! Bar hasn't even been open one month, but already has witnessed a steady stream of Chinatown bar-goers. That's because it is owned by Jesse Cruz and Dusty Grable, who own and manage the popular ramen shop Lucky Belly and seasonal American Livestock Tavern. Both eateries have loyal followings and are just steps away; all three places are on Hotel Street.
The new bar is a great first stop when visiting Chinatown's nightlife scene, or before dinner at Cruz's and Grable's other establishments. We recommend the drink In the Mood, made with Raynal VSOP brandy, Alessio vermouth, simple syrup, lime juice, egg white and Hawaii Bitter Co. kiawe wood and pineapple bitters. It's a smooth drink that goes down easy, perfect for sipping while relaxing on the lanai. The bar also has an extensive wine menu, and vermouths only found at Tchin Tchin.
If you just can't wait until your reservations at Lucky Belly or Livestock Tavern, and need something to nibble, order the Stinky Grilled Cheese. "It's funky," our server told us. "But a good funk." The mini, avant-garde sandwich is made with onion marmalade and Taleggio, a semisoft, Italian cheese, known for it's unusual tang and strong aroma. It's the perfect size, and you won't be spoiling your dinner. Just have a breath mint handy.
---
36 N. Hotel St., Honolulu, Oahu.