'Te Moana Nui: Tales of the Pacific' does the indoor luau right
The Sheraton Princess Kaiulani's luau is both educational and a great night out.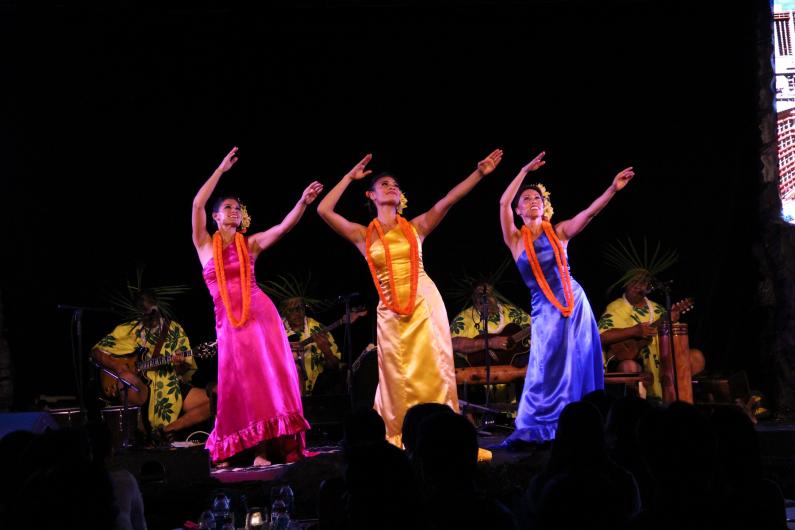 For many visitors to Hawaii, no trip to the Islands is complete without attending a luau.
It's an opportunity to learn about how ancient Polynesians first migrated to the Islands by way of voyaging canoes, only the stars above to guide them. Add in a few mai tais, a suitable spread of Hawaiian food and mesmerizing dancing, and it makes for a good night out.
Last fall, "Te Moana Nui: Tales of the Pacific" became Oahu's newest luau dinner show. The show takes places in a second-floor ballroom of the Sheraton Princess Kaiulani. It shares chief characteristics of other established luau. Forty-five minutes before the show begins, staff invite participants to string flower lei, get a temporary Polynesian tattoo or stamp kapa, Native Hawaiian clothing made from bark. Like many others, "Te Moana Nui" also revolves around the stories of Hawaii's first settlers and incorporates their language, music, clothing and dancing into choreographed performances. There's even a Samoan fire knife dance, and for many it was the highlight of the evening. At the end, audience members are led on stage to learn a few dance moves.
What sets "Te Moana Nui" apart from luau is the venue. True, you can get a rainbow colored sunset and an ocean view with an outdoor luau, but unless you have a premium priced ticket, it's hard to get a seat with a good view of the show. Besides being an air conditioned space, the ballroom where "Te Moana Nui" is held is intimate, which means you get an up close view of the dancers, even if you're sitting in the back. Seating is communal at long tables with about 18 seats across; there are four rows of tables.
"Te Moana Nui" is well choreographed and designed; the show is produced by Tihati Productions, a company of professional Polynesian dancers with luau on Oahu, Maui, Kauai and Hawaii Island. Behind the dancers are two screens, which display historical and aerial footage of each location featured in the production.
The show runs on Sundays, Wednesdays and Fridays. You can purchase tickets to the show only ($60), or include a buffet dinner beforehand ($105), at the hotel's outdoor Pikake Terrace near the pool. The buffet is a decent buffet of ethnic foods: salad bar, prime rib, huli huli chicken, grilled mahimahi, beef bulgogi, vegetable yakisoba and long beans. There is some Hawaiian food, of course, such as kalua pig, lomi salmon, poke and haupia for dessert. The main buffet attraction was the crab legs. Nearly every table was cracking and splitting their way through a plate of the crustaceans.
If you want to enjoy a luau in a cool, intimate indoor setting, "Te Moana Nui" is a solid choice.