The 5 Best Beaches in Hawaiʻi
Hawaiʻi is known for its amazing beaches, and these are the best of the best, according to our 2020 Readers' Choice Awards.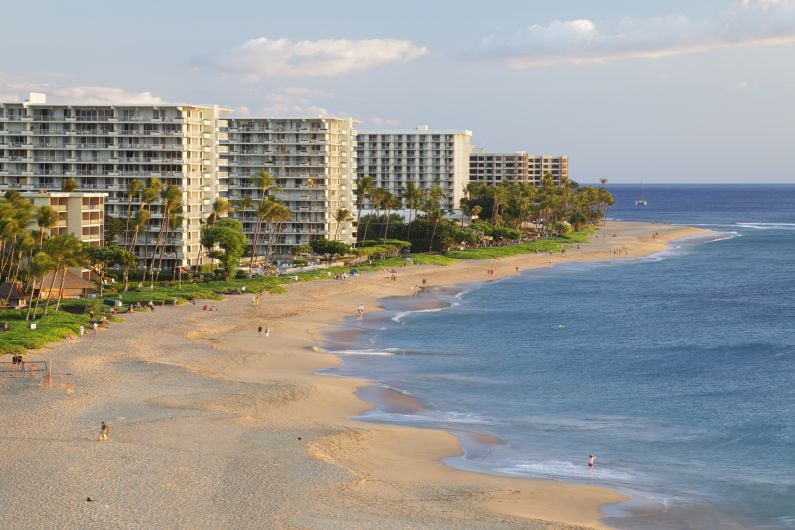 Trying to select top beaches in Hawaiʻi, which is known for its almost unending list of postcard-perfect coastlines and seashores, is an impossible task. There are just too many dazzling shorelines for us to choose from. Fortunately, our readers have given us their opinions on the pressing matter and we've compiled a list of the Top 5 beaches in Hawaiʻi based on their votes.
1. Kāʻanapali Beach, Maui
If you're a believer in quality over quantity, don't worry—Kāʻanapali Beach has both. One of Maui's longest beaches, this luxurious coastline extends for over a mile and borders some of the island's classiest resorts and hotels. The beach features enough activities and space to accommodate every kind of beachgoer, whether you're into snorkeling, lounging on the sand or jumping off Puʻu Kekaʻa, also known as Black Rock.
2. Poʻipū Beach, Kauaʻi
The ideal spot for most ocean activities, Poʻipū Beach will have you snorkeling with sea turtles, catching waves at its surf breaks and observing monk seals from a safe distance. Families also love the calm tidepools that keep young children safe and sound. To top it all off—no wonder the beach has made the No. 2 spot this year—Poʻipū Beach is one of the best spots to catch a perfect view of Hawaiʻi's daily sunset spectacular.
3. Waikīkī Beach, Oʻahu
Nestled on Oʻahu's southern shoreline, Waikīkī Beach is synonymous with island paradise. Beachside mai tais mixed with gentle, inviting waves and luxurious oceanfront resorts are just a few defining features of this idyllic stretch of sand, which also happens to be a regular winner on this list. More active visitors and locals will enjoy partaking in surf lessons by one of the many beach boy groups that can be found on the beach's perfectly golden shores.
4. Hanalei Bay, Kauaʻi
The jewel of Kauaʻi's north shore, Hanalei Bay has made a full recovery since the flooding and coastal erosion it experienced in April 2018. Now, the two-mile-long crescent-shaped bay looks as inviting as ever, and visitors and residents are happy to have Hanalei Bay back. It wouldn't surprise us if next year we see Hanalei Bay even higher on the list as beachgoers continue to enjoy its calm waters, idyllic pavilion and the view of the epic ridges and valleys that serve as a backdrop to the bay.
5. Hāpuna Beach, Hawaiʻi Island
One of the longest stretches of sand on Hawaiʻi Island's western-facing shoreline, Hāpuna Beach should be on every visitor's itinerary. The beach, which comes in at half a mile long, is known for its sandy shorebreak that is perfect for families to play in as it never gets too large or unruly. When you're done, there's more than enough room on its shoreline to find a place to lay down your towel and get some much needed R&R.