The 5 Best Bed & Breakfasts or Inns on O'ahu
Find out which rustic accommodations made the 2019 Readers' Choice Awards.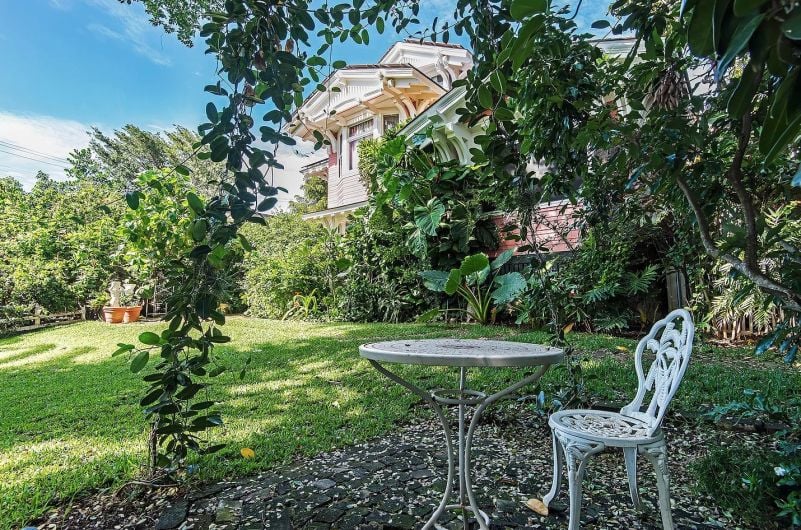 Oahu has every kind of hotel you can think of, from high-end resorts to low-key walk-ups to one that's entirely Disney-themed. But sometimes you want something more secluded—and far away from the hustle of Waikiki. Here are your top picks for Best Bed & Breakfast or Inn on Oahu in our 2019 Readers' Choice Awards.
1. Diamond Head B&B
This two-story home at the base of Diamond Head, once home to a family of seven, is one of the only true B&Bs on Oahu. There are two second-level suites and an attached apartment, and all of the spacious and airy rooms feature koa wood furnishings, a private bathroom and a lanai that extends into a big backyard with huge trees, Tahitian gardenia and fragrant puakenikeni. A full breakfast is served family-style every morning. The home is within walking distance of Kapiolani Park, Kaimana and Waikiki beaches and dozens of restaurants. 3240 Noela Drive, Honolulu, (808) 923-3360, diamondheadbnb.com
2. Manoa Valley Inn
Built in 1912, this stately historic home in Manoa Valley features seven grand and spacious rooms—all air-conditioned—with private baths, large windows, dramatic curtains and artwork that give this place an old Hawaii feel. The home, which has retained much of its original décor, is listed on the National Register of Historic Places. A full breakfast—freshly made pancakes, eggs, meats and fresh fruits—is served every morning. Lounge in the lush gardens in the back of the house or in the thatched-roof cabana by the saltwater swimming pool. It won't feel like you're only minutes from Waikiki—even though you are. 2001 Vancouver Drive, Manoa, (808) 947-6019, manoavalleyinn.com
3. Hula Breeze B&B
Just a few blocks from world-famous Kailua Beach, this 400-square-foot newly renovated studio has a kitchenette, full-size refrigerator, air conditioning and everything you need to cook your own meal at home. The owners provide coffee, but you'll need to stock the kitchen yourself. (Luckily, there are great grocery stores and farmers markets nearby.) This B&B can sleep up to three people. Kids have to be over 10 years old. 172 Kuumele Place, Kailua, (808) 469-7623
4. Manu Mele Bed and Breakfast
Close to Kailua Beach, Manu Mele has two guest rooms for short stays and a super spacious studio for longer vacations (a month or longer), all with private entrances. There's a pool and relaxing garden full of ferns, palms, bamboo trees, bromeliads and hibiscus plants. Beach towels, beach chairs and bodyboards are available to use—the beach is literally minutes away—and the owners provide baked goods and fruits on your first morning. 153 Kailuana Place, (808) 262-0016, manumele.net
5. Sheffield House Bed & Breakfast
This cozy B&B, located steps from Kailua Beach, has two units with private entrances and baths, kitchenettes, air conditioning and beachy furniture. The owner provides breakfast the first morning of your stay. The big draw is how close you are to the beach: just 10 houses away. 131 Kuulei Road, Kailua, (808) 262-0721, hawaiisheffieldhouse.com