The 5 best beginner surf spots on Kauai
From Anahola Bay to Kalapaki Beach, our editors pick the best beginner surf spots on the island of Kauai.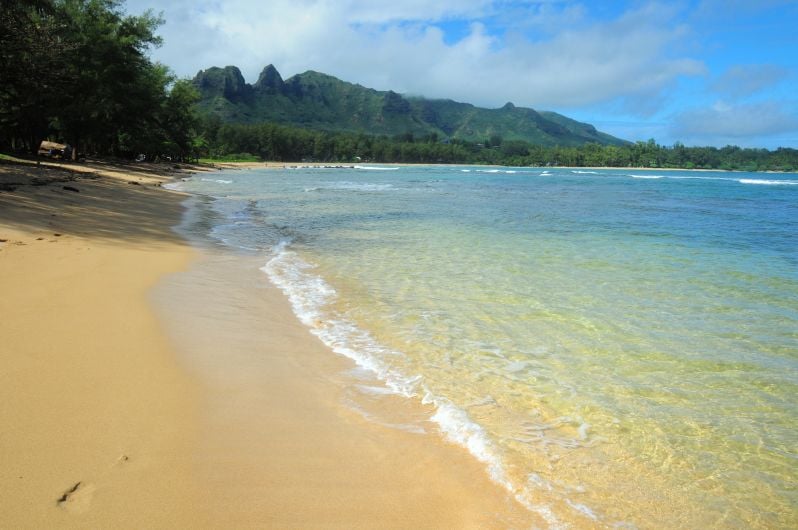 Kauai is full of world-class surf spots, such as Cannon's Beach, Pakala Beach and Lawai Beach. But if you're just getting your feet wet with surfing, paddling out to these breaks is an ill-advised venture. Fortunately for all you fledgling rippers out there, we put together a list of five spots on the Garden Isle that have gentle, rolling waves and less hazardous conditions, as seen in our March/April "Best of the Best" issue.
1. Anahola Bay
On Kauai's east side, Anahola Bay is known for its mellow waves. A long stretch of sand, the bay is protected by a large outer-reef, which soaks up most of the waves' energy as they initially break on the reef, so the surf at Anahola Bay remains relatively small and weak. When you're all surfed out, the beach, with its ample shade, picnic tables and camping facilities, also serves as a great place to kick it with the family.
2. Hanalei Bay
Known primarily for being one of Kauai's prettiest beaches, Hanalei Bay also has excellent beginner surf breaks up and down its nearly 2-mile coast during summer months, however large waves make an appearance throughout the winter season and is less safe for beginners. With a sandy, shallow bottom, surfers don't have to worry about falling on reef, and well-known surf schools who operate in the area, such as Hanalei Surf School, will make sure you have the knowledge and know-how to ride the waves safely. Hit the water early, before the winds chop up the surface of the ocean, and you'll be met with long, glassy waves.
3. Kalapaki Beach
Protected from the elements by geographic outcroppings, Kukii Point and Carter Point, Kalapaki Beach sees clean conditions almost all year round. These natural land masses shelter the beach from larger, less friendly waves, which means it's a prime location for beginners to practice their pop-ups and paddling technique. The Kauai Beach Boys are also located at Kalapaki Beach, and offer services such as surfboard rentals, stand-up paddleboard rentals and surf lessons.
4. Kiahuna Beach
If you're on Kauai's south side, Kiahuna Beach's sand bottom, waist-high waters and close-to-shore surf break is as inviting as it seems. Needing south swell activity to produce waves, head to Kiahuna Beach during the summer months for a better chance of scoring rideable surf. And if you've worked your way out of the beginner class, paddle out a bit further from shore to where the reef starts to find a more challenging wave.
5. Kahili Beach (aka Rock Quarry)
Known as Rock Quarry, Kahili Beach, is an isolated option on Kauai's north shore and comes with a little more risk. Known for its constant waves created by the Islands' heavy winds, beginners who are still figuring out the ins and outs of surfing will find the beach offers plenty of opportunities to paddle into waves and practice standing on their boards. However, without an outer reef protecting the beach, the surf here is susceptible to large swells and it's important to remember the classic ocean-safety phrase, "When in doubt, don't go out.