The 5 Best Botanical Gardens on Oʻahu
Hawaiʻi's fauna, just as much as its beaches, defines this lush, beautiful place. Here are the ones that earned the top votes in our 2020 Readers' Choice Awards.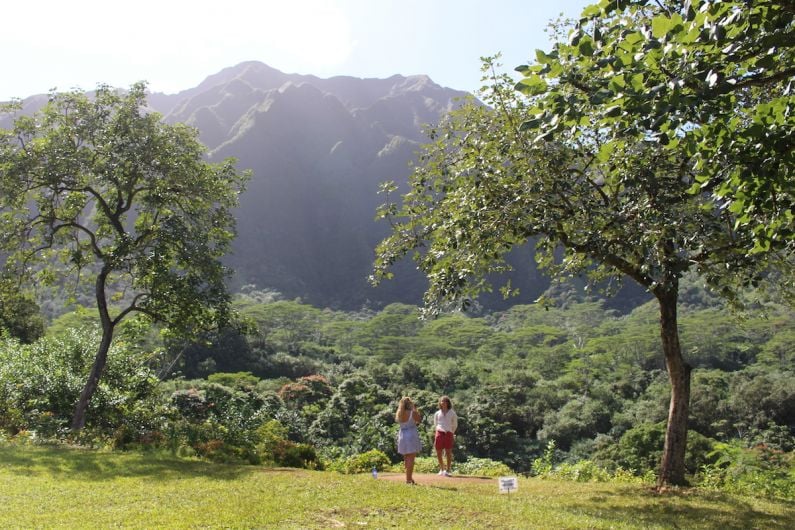 Hawaiʻi's beaches may be its star attraction, but these one-of-a-kind curated gardens, with their picturesque views and unique collections of flora, are lush places of wonder. Read on for the Oʻahu botanical gardens our readers voted the best in 2020.
1. Hoʻomaluhia Botanical Garden
With the Insta-fame of this stunning Kāne'ohe garden, with its grand, palm-lined entrance and soaring mountainous backdrop, it's a wonder this botanical garden isn't more crowded. What isn't a wonder is that our readers voted it No. 1 on Oʻahu. Whether you choose to walk or drive through the lush, city-run 400-acre park—which boasts a lake, picnic, campgrounds and gardens featuring major tropical regions around the world grouped by geography—you'll always find amazing photo ops and an escape from the hustle and bustle of the island's more populous regions. 45-680 Luluku Road, Kāne'ohe, (808) 233-7323, honolulu.gov/parks/hbg
2. Waimea Valley
Run by the nonprofit Hi'ipaka LLC, this gorgeous North Shore garden and cultural site across from Waimea Bay is a popular stop along the drive to the North Shore surf towns. As much a historic site as it is a garden full of rare and interesting plants (there are 41 themed gardens, including one dedicated to the Hawaiian hibiscus), the main attraction is a leisurely hike to its 45-foot waterfall, past Hawaiian cultural sites. 59-864 Kamehameha Highway, Haleʻiwa, (808) 638-7766, waimeavalley.net
3. Foster Botanical Garden
The oldest botanical garden in the state, the city-run Foster Botanical Gardens is home to some truly magnificent trees, including some that were planted in the 1850s by Dr. William Hillebrand, who originally owned the land later established as the botanical garden. Although this urban sanctuary in the middle of Honolulu is relatively small at 14 acres, there's a lot to see, including an outdoor butterfly garden, prehistoric glen cycad collection and the stinky, endangered Corpse Flower, a large, unique tropical plant that is practically a celebrity in its own right. 180 N. Vineyard Blvd., Honolulu, (808) 768-7135, honolulu.gov/cms-dpr-menu/site-dpr-sitearticles/568-foster-botanical-garden.html
4. Wahiawā Botanical Garden
Located in central Oʻahu, this tropical jewel is a 27-acre garden and forested ravine that is home to native Hawaiian plants, tree ferns, and collections of plants that thrive in the cooler upland environment of this shady rainforest. Popular highlights at this city-run park include the elevated bridge, great for photo ops, and the unique blue ginger that grows here. 1396 California Ave., Wahiawā, (808) 621-7321, friendsofhonolulubotanicalgardens.com/Wahiawa.htm
5. Koko Crater Botanical Garden
Explore a blooming volcanic crater at the driest of Oʻahu's city-run botanical gardens, which focuses on the cultivation of rare and endangered dryland plants. A big attraction here is the plumeria grove, which erupts in bloom in the summer. Take a self-guided hike around the 2-mile loop trail that circles the crater, and you'll see everything from spiny Madagascar plants to southwest American cacti. 7491 Kokonani St., Honolulu, (808) 768-713, honolulu.gov/parks/hbg/honolulu-botanical-gardens/182-site-dpr-cat/572-koko-crater-botanical-garden.html