The 5 Best Chocolates in Hawai'i
These local chocolate companies ranked as the sweetest in our 2019 Readers' Choice Awards.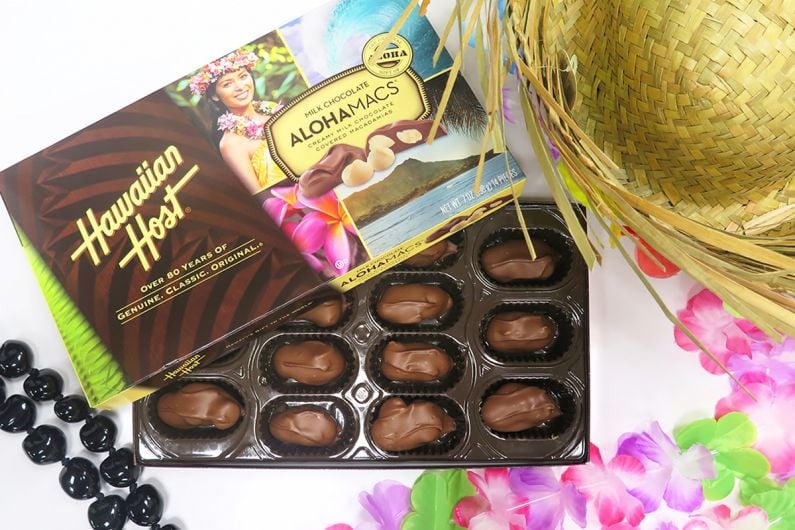 Fun fact: Hawaii is the only state where cacao trees grow, and many local chocolate companies are using Island-grown chocolates in their candies and treats. Here's how your favorite chocolate companies stacked up in this year's Readers' Choice Awards.
1. Hawaiian Host
This company, which started in 1927, was the pioneer of the now-iconic chocolate-covered macadamia. Founder Mamoru Takitani came up with the recipe—still a well-guarded secret—using fresh, whole milk to create a rich and smooth chocolate. Today, Hawaiian Host markets more than 250 unique macadamia chocolates and other candies in more than 23 countries around the world. Other popular candies are its Maui Caramacs (dry-roasted mac nuts covered in caramel and milk chocolate) and Macnut Crunch (dry-roasted mac nuts paired with crisped rice covered in milk chocolate). Various locations, hawaiianhost.com.
2. Maui Specialty Chocolate
Hidden in a strip mall in Kahului is a humble shop devoted to all things chocolate. Maui Specialty Chocolate specializes in high-quality chocolate products and, more recently, mochi, a super-soft Japanese rice cake. Born and raised on Maui, Valerie Jones, a graduate of the Culinary Institute of America, opened the shop with her husband, Anthony, in 1990, focusing on custom orders for luxury resorts and hotels on Maui. But demand grew and she opened a retail store that carries a variety of chocolate treats, from dark chocolate bark flavored with finely ground Himalayan salt to rice krispy treats draped in rich milk chocolate. The most popular items, however, are its mochi offerings, particularly the ones filled with peanut butter and milk chocolate. 180 East Wakea Ave., Kahului, Maui, (808) 871-1222, mauispecialtychocolates.com.
3. Manoa Chocolate
View this post on Instagram
About seven years ago, Dylan Butterbaugh opened a bean-to-bar chocolate shop called Manoa Chocolate in Kailua, selling high-quality chocolate using sustainable production methods. And, whenever possible, using locally sourced cacao. Some of his bars include other Hawaiian products, including lavender grown on Maui, ghost peppers from Kailua and coffee from Hawaii Island. He even suggests a specific wine or beer pairing for each bar. The Kailua shop offers two tours: a free mini tour of its tasting room or a $10 factory tour, which includes a behind-the-scenes look at how the chocolate is made. 315 Uluniu St., Suite 203, Kailua, Oahu, (808) 262-6789, manoachocolate.com.
4. Big Island Candies
View this post on Instagram
Born and raised in Hawaii Island, Allan Ikawa and his wife, Irma, invested everything they had to open Big Island Candies in 1977 in Hilo's industrial district. (It recently opened a retail shop at Ala Moana Center in Honolulu.) From the beginning, the couple has been committed to using high-quality local ingredients, including freshly roasted Big Island macadamia nuts and 100 percent Kona and Kau coffee. Its signature square-shaped shortbread cookies—dipped in rich chocolate—is still the company's most popular item. But the chocolates are a big draw, too. In addition to premium chocolate-covered mac nuts, Big Island Candies also sells mac nut and caramel clusters, chocolate-mac-nut Rocky Road and dark-chocolate-covered Kona coffee beans. 585 Hinano St., Hilo, Hawaiʻi Island, (800) 935-5510, bigislandcandies.com.
5. Original Hawaiian Chocolate Factory
Photo: Courtesy Original Hawaiian Chocolate
The chocolate factory is located on the slopes of Hualalai, above the coffee-growing Kona region, where a certain kind of cacao—Criollo—is grown. According to the company, only 15 percent of the world's chocolate is made from this particular cacao bean—and you can get it at this Hawaii Island factory. The company hand-picks, sun-dries and processes 100 percent Hawaiian grown cacao beans, which results in a single-origin chocolate with a distinctive taste and texture. It also offers farm tours twice a week, which end in—what else—chocolate tastings. 78-6772 Makenawai St., Kailua-Kona, Hawaii Island, (808) 322-2626, ohcf.us.