The 5 Best Expert Hiking Trails on Oʻahu
These five Oʻahu hikes are considered some of the toughest in Hawaiʻi—and they topped our 2020 Readers' Choice Awards.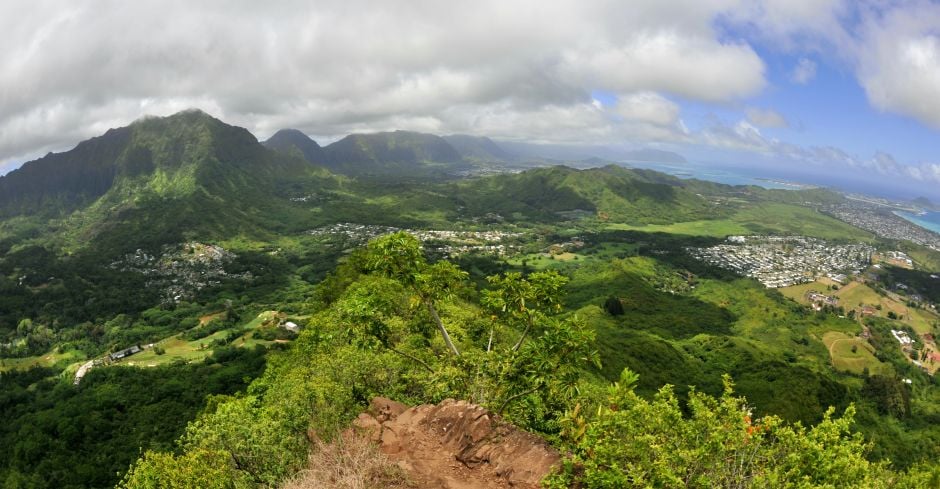 While almost every trail in Hawaiʻi offers exceptional glimpses and views of the pristine, natural beauty the Aloha State has on offer, they're not for every level of hiker. In fact, some hikes on Oʻahu should only be attempted by those who are in excellent physical condition and are steady on their feet. Just bring plenty of water and a fully charged cell phone. Here are the Top 5 expert hiking trails on Oʻahu voted for by our readers.
1. Koko Crater Trail
StairMaster, prepare to meet your maker. From start to finish, you will have to climb 1,050 stairs to make it to the top of this epic East Oʻahu hike, often regarded as one of the most strenuous uphill climbs in the state. However, sweeping panoramic views from Diamond Head to Makapuʻu will almost make the pain in your burning quads and calves disappear. Almost. Attempting this hike during midday is ill-advised, as there is absolutely zero shade to be found anywhere on this trail. And why not go early to catch the sunrise?
SEE MORE: 20 Thoughts Every Hikder Has Had on the Trail Up Koko Head Crater
2. Moanalua Middle Ridge
Expect an all-day, rugged adventure when tackling the Moanalua Middle Ridge trail, which features an elevation gain of over 2,500 feet and a roundtrip mileage count of 12 miles. Dry, clear weather conditions are a must when beginning this journey, as the hike requires perilous rope climbs and scrambling up barely-there dirt trails, all on the perilous, high-altitude slopes of the Moanalua Middle Ridge. Once you've reached the summit, you'll be greeted with views of Kāneʻohe, Kailua, Mokoliʻi (Chinaman's Hat) and the Interstate H-3. You've definitely earned it.
SEE MORE: Hiking Moanalua Middle Ridge, an All-Day, Experts-Only Adventure
3. Kuliʻouʻou Ridge Trail
While the journey to the summit of Kuliʻouʻou Ridge may be long, coming in at 5-miles roundtrip, hikers can take the trail at an easy pace. The hike consists of a series of switchbacks that will take you through shaded Cooke pine and ironwood forests, which occasionally open up to grandiose views of the ocean. The last push to the summit does include a few steep set of stairs, but the bird's-eye view of Waimānalo and Hawaiʻi Kai will surely distract you from your sore glutes.
4. Kalauao Falls Loop Trail
Rain is often seen as a sign to do anything but hike, but the waterfall at Kalauao Falls Loop Trail is best experienced after (not during) a heavy rain. The trail actually starts at a junction on the ʻAiea Loop Trail, and will have you scrambling your way down deeper into the valley, crossing multiple streams and finally making your way to Kalauao Falls. If you've timed everything correctly, you'll find a flowing waterfall tumbling into an inviting pool of water.
5. Olomana Trail
The difficulty of the Olomana Trail can not be overstated, and it should only be tackled by expert hikers. If you're not comfortable with steep rope-assisted rock climbs and perilous heights, this is not the hike for you. Hikers who are ready for this experience will have the option to hike just one of Olomana's three peaks or go for all three. The third and final peak is known for being the most treacherous, but adrenaline-junkies will love the East Oʻahu views each peak provides.