The 5 Best National Parks in Hawaiʻi
From the World War II Valor in the Pacific National Monument on Oʻahu to Haleakalā National Park on Maui, here are our readers' five favorite national parks.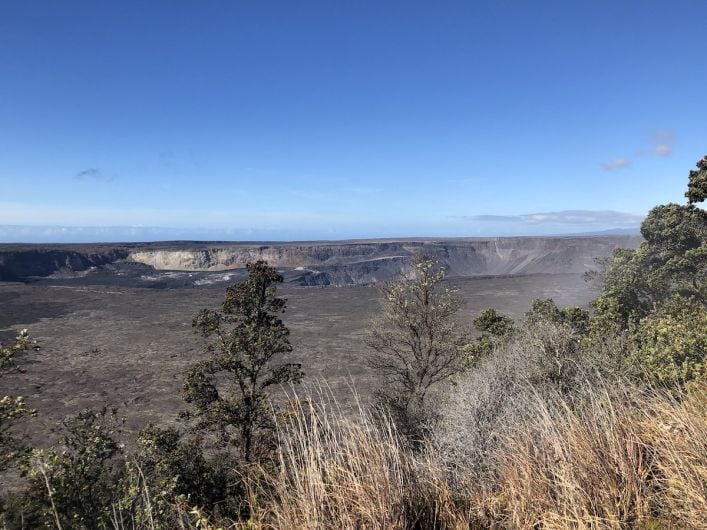 Vote now in our 2021 Readers' Choice Awards: Tell us which beaches, hiking trails, lūʻau, hotels, food trucks and surf spots are your favorites. The results will be printed in our March/April 2021 issue.
While there are over 50 state parks in Hawaiʻi, there are only nine areas designated as "national parks" in the Islands. Like state parks, national parks—and national monuments— are vital in protecting areas of scenic, cultural and historic importance, and visitors and local residents alike are sure to learn something new about the Islands with each visit. Below are the top five national parks in the Hawaiian Islands, according to our very own readers.
1. Hawaiʻi Volcanoes National Park, Hawaiʻi Island
The largest national park in the state—measuring in at 323,431 acres—Hawaiʻi Volcanoes National Park encompasses two of the state's most active volcanoes, Kīlauea and Mauna Loa. After being closed for 134 days due to the Kīlauea eruptions, most of Hawaiʻi Volcanoes National Park reopened on Sept. 22, 2018. While certain attractions were damaged beyond repair, like the Jaggar Museum, there's still much to see at Hawaiʻi Volcanoes National Park. The entirety of the Chain of Craters Road can be driven, and you'll want to stop at each of its scenic lookouts to fully capture the destructive—and creative—beauty of the recent lava flows. The sulfur banks near the visitor center are also open, and hikers headed that way will have an unreal view of the Kīlauea Caldera.
SEE MORE: Start Hiking Again at Hawaiʻi Volcanoes National Park
2. Haleakalā National Park, Maui
There's really nothing like driving up Haleakalā National Park, through the clouds, breathing in the cool upcountry air and watching the sun rise, or set, on the island of Maui. Haleakalā forms more than 75% of the island and reaches an awe-inspiring height of 10,023 feet. Visiting the summit is worth it just for the scenic drive up the volcano's gradual slopes, however hiking the park's various trails and stargazing are great reasons to stick around. Be sure to wear a jacket! At such a high altitude, the temps can drop into the 50- to 65-degree Fahrenheit range, and the wind chill up there is no joke.
SEE MORE: Top Things To Do on Haleakalā
3. World War II Valor in the Pacific National Monument (including the USS Arizona Memorial), Oʻahu
For many, a trip to Hawaiʻi isn't complete without visiting Pearl Harbor. The naval base was attacked on Dec. 7, 1941, which led to the United States' entry into World War II. Now, 79 years later, the site is home to relics of that war, including the USS Arizona; during normal times, a memorial above the sunken battleship is visited by thousands of people daily. Other popular attractions include the Pearl Harbor Aviation Museum, the massive Battleship Missouri Memorial and the USS Bowfin Submarine Museum & Park.
4. Puʻuhonua O Hōnaunau National Historical Park, Hawai'i Island
Now a historical park where visitors and locals can go to learn about Hawaiian culture, Puʻuhonua o Hōnaunau was once a place of refuge for kanaka maoli (Native Hawaiians). Until the early 19th century, Hawaiians who broke kapu (taboo, sacred laws) could avoid execution by fleeing to a place of refuge, or puʻuhonua (sanctuary, asylum, place of peace and safety). Here the offender could be absolved by one of the sanctuary's priests and then be free to leave. Now, the site serves as a place of refuge for the Hawaiian culture itself, featuring reconstructed hale (traditional Hawaiian houses), temple platforms, royal fishponds, sledding tracks and coastal village sites.
5. Kalaupapa National Historical Park, Molokaʻi
As beautiful as it is isolated, Kalaupapa National Historical Park has a storied and tragic past. Serving as an isolation settlement for those with Hansen's disease (leprosy), the population of Kalaupapa peaked at 1,100 in 1890, and thousands have died within the settlement. Now, only a handful of residents remain, allowed to stay after management of the settlement was turned over to the National Park Service. Those looking to visit Kalaupapa will have to go with a guided tour, such as Kekaula Tours, which offers fly-in visits.