The 5 Best Places to Get Poke on Oahu
Find out where your favorite cubed raw fish dish ranked in our 2019 Readers' Choice Awards.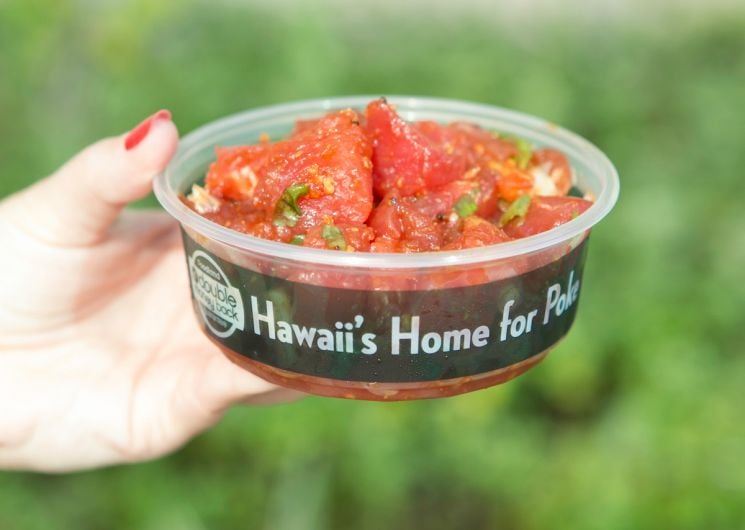 Poke (pronounced poh-kay) may be having a moment on the Mainland, but it's long been part of the culinary landscape in the Islands. While the basic poke bowl is composed of cubed raw fish—usually ahi (tuna)—seaweed, sweet onions and inamona (roasted kukui, or candlenut), the dish has dramatically evolved. Ahi's been replaced with other proteins, rice has been swapped for lettuce or noodles, and the sauce options  and toppings are now endless.
1. Foodland
Locals and visitors like crave the never-fail poke from this locally owned grocery retailer. The dish of simply seasoned cubed fish is one of the supermarket's best sellers and comes in a variety of flavors and styles, from the standard ahi shoyu to the newer version tossed with a house-made chili paste and capelin roe. Foodland's corporate chef Keoni Chang says the team comes up with different recipes based on whatever's trending. And every Foodland has its own special poke creations, as seafood managers often concoct new combinations they think their customers will like.
Various locations, foodland.com
2. Tamura's Fine Wine
Venture into this wine shop and head toward the back. This is where you'll find the poke counter—and likely a line of customers. Like Foodland, Tamura's sells a variety of poke, from king crab poke with wasabi and masago to kimchi tako (octupus). And while you're there, grab a bottle (or two) of wine from the state's largest selection.
Various locations, tamurasfinewine.com
3. Fresh Catch
View this post on Instagram
Chef-owner Reno Henriques uses the freshest seafood to make more than 30 different types of poke, from spicy smoked tako topped with tobiko to ahi poke with limu (seaweed). Side note: His wife, Mahea, makes delicious red velvet cupcakes, too, which are sold at the two locations.
Various locations, freshcatch808.com
4. Ono Seafood
View this post on Instagram
This modest hole-in-the-wall on Kapahulu Avenue sells eight kinds of poke, the most popular comes with the shop's "secret shoyu" made with premium shoyu and a secret blend of seasonings. The spicy ahi, another favorite, combines mayonnaise, ginger and masago. The poke bowls are the way to go; you can add your own toppings, from pickled onions to Korean taegu (spicy-sweet dried cuttlefish). The boiled peanuts are worth trying, too. It recently launched a food truck, serving its popular poke at events and farmers markets.
747 Kapahulu Ave., Honolulu, (808) 732-4806
5. Maguro Brothers Hawaii
View this post on Instagram

Maguro Brothers started as a little fish counter in a marketplace in Chinatown. It later expanded to Waikiki—and with a new following for its super-fresh poke. You can even watch brothers Junichiro and Ryojiro Tsuchiya break down the tuna into bright-red cubes. While it serves the usual shoyu ahi poke, you can be adventurous with ahi flavored with ume (pickled plum) and shiso (a basil-mint-like herb) or hamachi (yellowtail) with wasabi.
Various locations