The 5 Best Snorkeling Spots on Maui
Our readers have voted on Maui's best underwater views in our 2019 Readers' Choice Awards.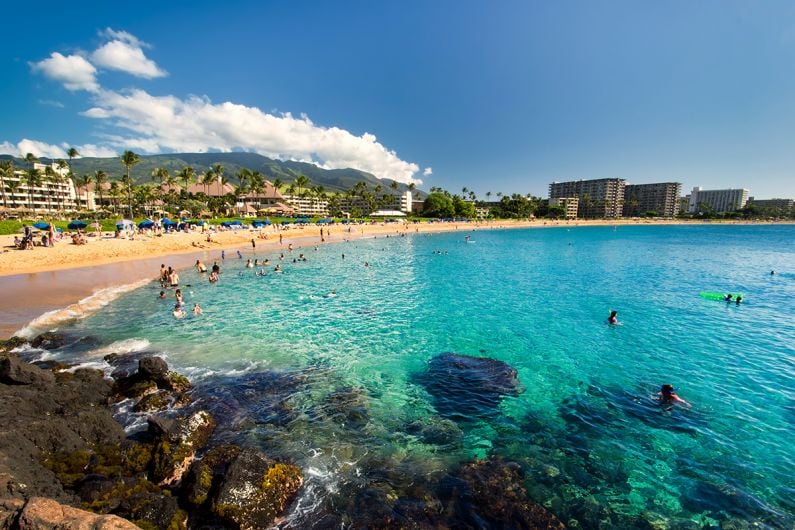 From the islet of Molokini to the popular lava rock at the north end of Kaanapali Beach, Maui has some incredible snorkeling options, and our readers have voted on the ones they think are the best of the best. Truthfully, you can't go wrong dipping your head underwater at any Maui beach, but here are a few of the spots you'll definitely want to bring your snorkeling gear to.
1. Black Rock Beach
The large rock that accentuates Kaanapali Beach's northern section doesn't just serve as a great place to practice your cliff diving. Black Rock, which is called Puu Kekaa in olelo Hawaii (Hawaiian language), also has some of the best snorkeling sights on the island, something our readers already know. And although the epic underwater visions are mesmerizing, try to focus on how far you've traveled away from the shore as rip currents are common in the area.
2. Molokini Islet
If you think snorkeling off Maui is exotic, try snorkeling off uninhabited Molokini Islet, just off the coast of Maui. Only reachable by boat, the crystal clear waters found in the island's remote cove offer snorkelers a glassy window into Maui's underwater world. Certain tour groups, such as Redline Rafting, will take guests to the islet's back wall, which features a deep drop-off where large aquatic creatures, such as manta rays and whale sharks, can make an appearance.
3. Honolua Bay
If there's no swell hitting the north coast of Maui, make your way to Honolua Bay, which serves as an excellent snorkeling spot on flat days. Known primarily as a surf break, Honolua Bay is sheltered from the wind by two rocky cliffs on both ends of the cove, which create calm waters and smooth snorkeling conditions. However, be cautious when proceeding down the rocky slopes to get to the water, as the path is often slippery and wet from the waves.
4. Kapalua Bay
Unlike Honolua Bay and Molokini Islet, convenience is king at Kapalua Bay, where there's plenty of sandy real estate to lay down your towel, showers to help get the salt off and a public restroom. Kapalua Bay also has a reef teeming with life, located on the north end of the beach along the rocky edge. Snorkeling with a buddy here is a must, as the beach has no lifeguard on duty.
5. Maluaka Beach
Have you ever heard of Turtle Town, the snorkeling hot spot where honu (Hawaiian sea turtles) often make an appearance? Well it's actually located just off the coast of Maluaka Beach, south of Wailea at the end of Makena Road. Here the reef is home to hundreds of fish and grand underwater sea arches just waiting to be explored.