The 5 Best State Parks in Hawaiʻi
Here's a ranked list of the best state parks to visit across the Islands, according to our 2020 Readers' Choice Awards.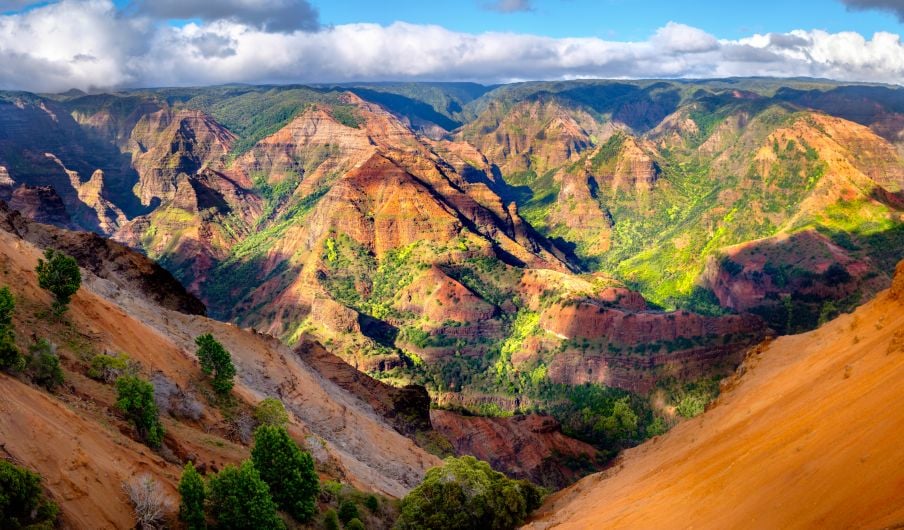 Our readers know how much natural beauty can be found in Hawaiʻi—it's part of what keeps visitors coming back. From lush rainforests to breathtaking canyons to surreal sea cliffs, here are the five state parks (out of 50) you ranked as your top places to visit in our 2020 Readers' Choice Awards.
1. Waimea Canyon State Park, Kauaʻi
If you've ever driven Waimea Canyon Drive or Kōkeʻe Road and looked down into what has been dubbed "The Grand Canyon of the Pacific," you know why the vibrant, awe-inspiring Waimea Canyon tops our list. The deep, colorful gorge is accented by rainbows and waterfalls, and has some of the premier hiking trails in the state.
2. Nāpali Coast State Wilderness Park, Kauaʻi
Photos of the Nāpali Coast are awe-inspiring, but they don't fully capture the sheer wonder of experiencing the dreamlike landscape of towering green sea cliffs and intensely aquamarine water by boat or helicopter. The park contains one of the most challenging hikes in the state, the 11-mile Kalalau Trail.
3. Diamond Head State Monument, Oʻahu
Hawaiʻi's most easily recognized natural landmark, Diamond Head, or Lē'ahi ("brow of the tuna" in Hawaiian), is a 300,000-year-old extinct volcanic crater. The 1.6-mile trail up the famous summit is the state's most popular hike, offering iconic, postcard-worthy panoramic views of Waikīkī, Honolulu and West Oʻahu.
4. ʻĪao Valley State Monument, Maui
In 2016, a massive flood struck this lush West Maui rainforest park, causing millions of dollars in damage to facilities and the park's unique natural land formations, and closing the place for nearly a year. The good news is that the site is now fully accessible, and with recent repairs, it's easier than ever to see this culturally and botanically rich valley, dominated by the ʻĪao Needle rising 1,200 feet from the valley floor.
5. Kōkeʻe State Park, Kauaʻi
On the mountain (inland) side of the Nāpali Coast State Wilderness Park lies Kōkeʻe State Park, home to some incredibly picturesque picnicking, tent camping, lodging, fishing, hunting and hiking sites. Follow Kōkeʻe Road to its summit and you'll be rewarded with a stunning overlook of the Nāpali Coast.