The 5 Best Surfing Spots on Oʻahu in 2021
If you're just getting your sea legs—or are an experienced tube hound—here are the five best surfing spots on Oʻahu, according to our readers.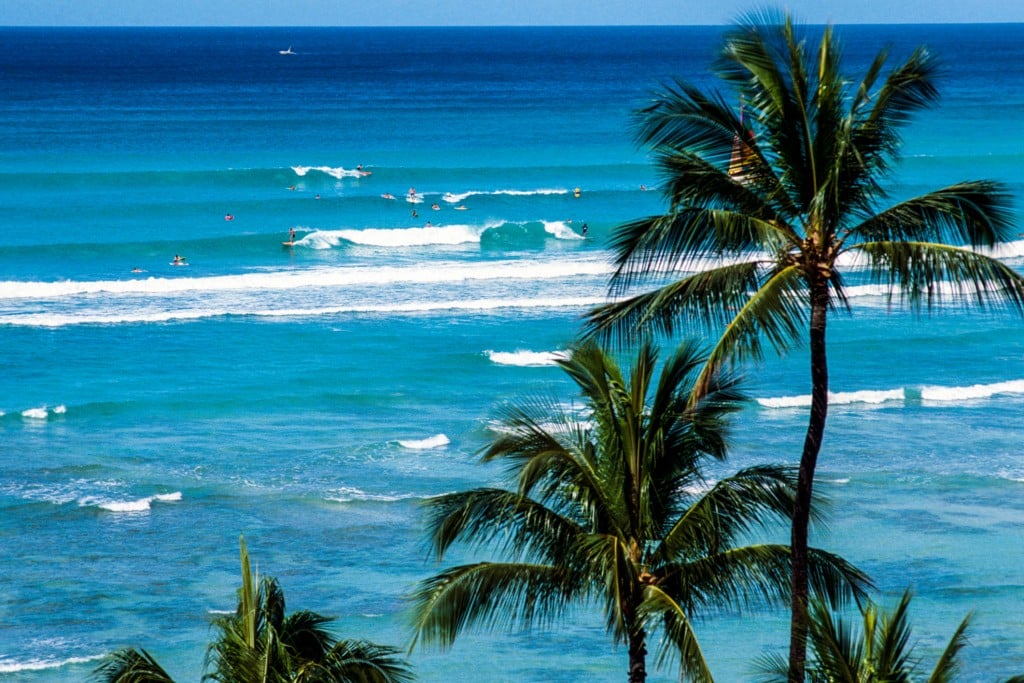 Oʻahu is considered by many as the surfing mecca of the world. From the heavy-duty breaks located on the North Shore—which has even been given the flashy nickname of the "Seven Mile Miracle"—to the pristine fun-sized surf on Oʻahu's southern shoreline, there's plenty of surf to go around. And while there are hundreds of surf spots on the island, many of which are local secrets, our readers chose five of their favorites for HAWAIʻI Magazine's 2021 Readers' Choice Awards.
1. Haleʻiwa Beach Park
One of Oʻahu's premier breaks, Haleʻiwa Beach Park is well-suited for those looking to get a taste of a real North Shore wave. Breaking over a shallow reef, the wave here is known for its fast-breaking sections and high-performance capabilities, and when the sets are big, should only be tempted by experienced surfers. Even if you decide to visit Haleʻiwa Beach Park as a spectator in the winter, you'll likely see some of surfing's biggest names there when the waves are good, as the spot is perfect for refining high-performance surfing techniques. During the islands' summer months—when the waves are typically smaller on the North Shore and larger in town—Haleʻiwa Beach Park is a great place to learn to surf, and the beach itself is perfect for family and keiki (kids).
2. Waikīkī Beach
Waikīkī in the summer is every surfer's paradise. With waters a shade of blue only found on this long stretch of sand, there are numerous surf breaks that make up Waikīkī Beach, ranging from Pops to Canoes. Wherever you decide to paddle out, ideally with one of the many beginner-friendly rentable foam longboards filling surf stands and shops in Waikīkī, expect leisurely waves and panoramic views of Oʻahu's city landscape. If you're feeling intimidated by the crowd, sign up for a surf lesson at one of the many surf schools in Waikīkī, such as Ty Gurney Surf School or Moku Surf Shop.
3. Diamond Head
Not only is surfing at Diamond Head a relaxing experience for those unaccustomed to the sport, with its long mellow waves and deep waters, but the scenery is unrivaled for its raw, natural beauty. After surfers descend down to Diamond Head Beach Park and make the long paddle out to the break known as Cliffs, which is located straight out from the beach, they'll be met with an epic view of the frontside of the iconic Lēʻahi (aka Diamond Head). Beginners shouldn't venture toward the Diamond Head lighthouse; that spot named Lighthouse, has faster waves and shallower waters.
4. Puaʻena Point Beach Park
While the North Shore is known for its experts-only surf breaks, Puaʻena Point Beach Park serves as a friendly alternative for beginners. Located just off the coast of Puaʻena Point Beach Park, this spot features a mellow wave that won't break too fast, perfect for surfer still working on their pop-up. And even when many of the other surf breaks on the North Shore are too big for comfort, Puaʻena tends to be much, much smaller thanks to it being a protected cove. Of course, that doesn't mean it can't get big here, and it's always good to remember this golden rule of surfing—when in doubt, don't go out.
5. White Plains Beach
On the west side of Oʻahu, White Plains greets visitors with manageable A-frame waves that surfers can catch going left, right or straight toward the beach. Another perk of learning to ride the waves at White Plains is that the inside break, the one closest to shore, features a sandy bottom. This means falls aren't likely to end with cuts and bruises by the reef; however, this isn't an open invitation to pencil dive after every wave. Starfishing, or falling flat with your limbs extended, is always the safest way to avoid injury when dropping from your surfboard.