The best loco moco in Hawaii 2018
Here's how your favorite loco mocos ranked in our 2018 Readers' Choice Awards.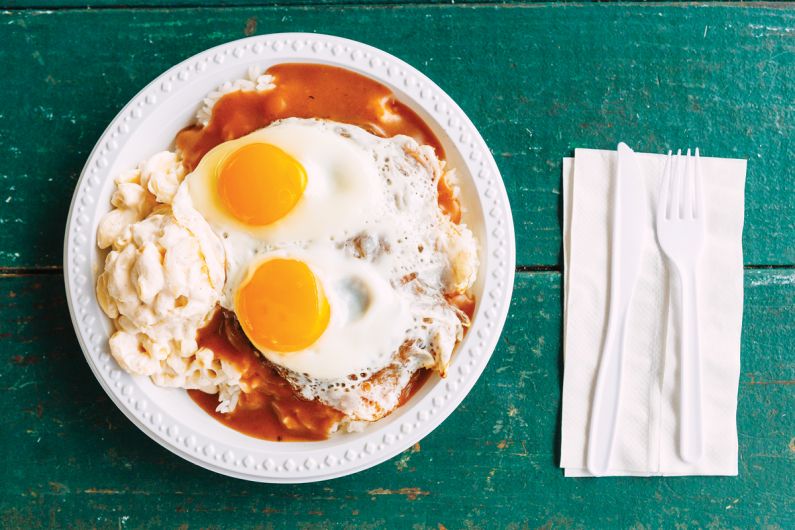 The topic of who makes the best loco moco in Hawaii is one that sparks much discussion, as we found out on our Facebook page during voting. It seems that you just can't go wrong with this classic Hawaii-style carb-overload comfort food dish, traditionally a glorious pile of hamburger patty, eggs, rice and a whole lot of gravy. Everyone has a favorite, but here's how our readers ranked them in our 2018 Readers' Choice Awards.
1. Rainbow Drive-In, Oahu
For the second year in a row, the no-frills loco moco at Rainbow Drive-In, just outside of Waikiki, takes the top spot. Runny egg yolks over generous hamburger patties, gravy and rice is the perfect combination at this historic diner. 3308 Kanaina Ave., Honolulu, Oahu, (808) 737-0177, rainbowdrivein.com.
2. Aloha Mixed Plate, Maui
This beachside breakfast, lunch and dinner spot with spectacular views also has a loco moco that people rave about. The flavorful beef patty, rich gravy over two scoops of steaming rice, topped with an egg just the way you like it and mac salad on the side is a winner in our book. 1285 Front St., Lahaina, Maui, (808) 661-3322, alohamixedplate.com.
3. Da Kitchen Cafe, Maui
Da Kitchen serves not just one loco moco, but several generously sized variations on the classic dish that fans say are "da bomb," like the Polynesian Paralysis Moco with fish tempura, kalua pork, onions, mushrooms and gravy over fried rice, or the Kanak Attack Combo Moco, with teriyaki chicken, teriyaki beef and katsu, all over white rice and gravy. 425 Koloa St., Kahului, Maui, (808) 871-7782, dakitchen.com.
4. Café 100, Hawaii Island
There are different stories of how the first loco moco came about, but this classic Big Island diner is one of the places the loco moco is thought to have originated in the late 1940s. One thing is for certain: It never lost its popularity at this establishment. Choose from lots of different variations (the "loco moco family" has its own section on the menu), like the Bacon Loco, Kalua Moco, Spam Loco, Teri Loco and more, all at very affordable prices. 969 Kilauea Ave., Hilo, Hawaii Island, (808) 935-8683, cafe100.com.
5. Liliha Bakery, Oahu
For decades, locals and visitors from all walks of life have been coming to Liliha Bakery to sit at the diner-style counter (there is no other seating at the original location) and inhale flame-grilled loco mocos, cooked just right by the no-nonsense aunties who work there. Order the dish with fried rice for extra deliciousness. Two locations on Oahu, lilihabakery.com.