The best mai tais in Hawaii 2017
You voted these classic cocktails the best at capturing the magical ambience of the Islands, in our 2017 Readers' Choice Awards.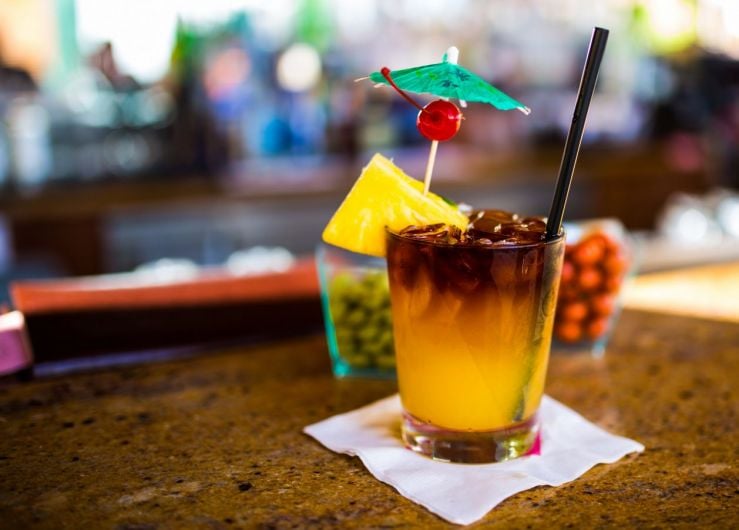 Nothing brings to mind the magical ambiance of the Islands like lounging on the beach or by the pool, mai tai in hand (pineapple garnish entirely necessary, umbrella optional). And while the enduring icon of tiki culture has many recipes and as many variations as there are bars in Hawaii, here are the ones you voted tops in our 2017 Readers' Choice Awards.
1. Mai Tai Bar at The Royal Hawaiian
No surprise that The Royal Hawaiian's classic bar, named after the drink in question, is once again the winner this year. After all, it's dedicated to the famous mai tai, with a menu featuring seven variations made with different types of rum, each with a unique twist on the classic 1940s Trader Vic's recipe, and one that claims to be as close to the classic as you can get. For the most hardcore of aficionados, there's the Alii mai tai, $35 worth of only the finest aged rums topped with the bar's signature "coco loco" foam and bitters. The Royal Hawaiian Hotel, 2259 Kalakaua Ave., Waikiki, Oahu. (808) 923-7311, royal-hawaiian.com/dining/maitaibar.
How to make The Royal Hawaiian mai tai:
Ingredients
1 ounce dark rum
1 ounce light rum
1 ounce orange curacao
2 ounces orange juice
1/2 ounce lime juice
Dash orgeat
Dash simple syrup (bar syrup)
Preparation
Combine all of the ingredients in the order listed in an old fashioned style glass over shaved ice. Stir with a swizzle stick. Garnish with a slice of pineapple and a cherry.
2. Duke's Waikiki

This popular oceanfront bar is a mainstay in Waikiki, not just because of its mai tai, but due in a large part to it. What sets Duke's mai tai apart? The recipe calls for POG (passion-orange-guava) juice, along with light Hawaiian rum and Old Lahaina dark rum. And, just in case you were thinking that the mai tai was a fruity, easygoing drink, Duke's will set you straight right away with its delicious-but-potent rendition. Outrigger Waikiki Beach Resort, 2335 Kalakaua Ave., Waikiki, Oahu, (808) 922-2268, dukeswaikiki.com.
3. Monkeypod Kitchen

Like many of the custom tropical drinks at its upstairs bar, Monkeypod's robust signature mai tai, made with housemade macadamia-nut orgeat and topped with a luscious lilikoi (passionfruit) foam is worth the drive out to Kapolei, and many people swear it's the best they've ever tasted. 92-1048 Olani St., Kapolei, Oahu, (808) 380-4086, monkeypodkitchen.com.
4. House Without a Key

Known as a fantastic place for a sunset mai tai accompanied by a live Hawaiian music show, House Without a Key at the Halekulani Hotel is a great place to introduce yourself or a friend to the famous classic cocktail, made with three types of Bacardi rum and garnished with a vanda orchid and a whole lot of aloha. Halekulani Hotel, 2199 Kalia Rd., Waikiki, Oahu, (808) 923-2311, halekulani.com/dining/house-without-a-key.
5. Beach Bar at Moana Surfrider

This potent version of the classic, garnished with pineapple, lime and a cherry, comes in two different variations: The Moana mai tai (with Cruzan aged light rum), and the Surfrider Tai (with Pyrat XO Reserve rum) so good that people have exclaimed "Don't get food, just get the mai tais!" Moana Surfrider, 2365 Kalakaua Ave., Waikiki, Oahu, (808) 922-3111, moana-surfrider.com/dining/beachbar.