The Best New Restaurants in Hawaii: HAWAII Magazine Readers' Choice Awards 2016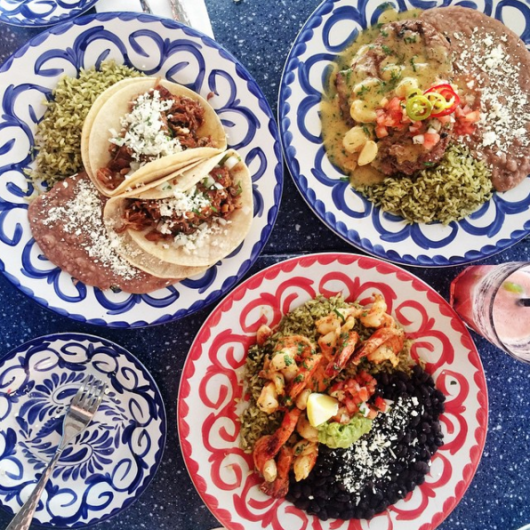 Food is a reason alone to travel to Hawaii. The culinary scene across the Islands has an incredible variety of foods to eat your way through. This direct reflection of Hawaii's diverse multicultural demographics and history makes way for exciting new restaurants—and often tasty fusion flavors—year after year. From our HAWAIʻI Magazine 2016 Readers' Choice Issue, here are the five restaurants (open for one year or less) that have our readers' asking for seconds.
The Best New Restaurant
1. Frida's Mexican Beach House Restaurant
Lahaina, Maui — The latest food destination from one of Maui's more prolific restaurateurs, chef Mark Ellman, has him returning to a food close to his heart: Mexican. Ellman describes the concept of Frida's as "traditional Mexican food with an emphasis on seafood." The menu is moderately priced; a Māla Burrito with Ni'ihau lamb is a tasty and hearty meal for $18—and perfect after a marathon surf session at Lahaina Harbor. The dish really highlights Ellman's focus on fresh and locally sourced ingredients. His personal favorite from the menu is the Ahi Aguachile, also $18. Thinly sliced 'ahi with sliced cucumbers, tomatoes, onions, jalapeños and avocados, garnished with cilantro and a dashi lime marinade that slightly cooks the tuna. Frida's is right next door to two of his other restaurants, Māla Ocean Tavern and Honu Seafood and Pizza. It also has amazing sunset views of the harbor to clink tequilas too.
1287 Front Street, Lahaina, Maui, (808) 661-1287, fridasmaui.com.
2. Eating House 1849
Koloa, Kauai — Chef Roy Yamaguchi's latest concept restaurant is creatively different from his recognizable chain of restaurants you may be familiar with located around the U.S., Guam and Japan. The James Beard award winner makes nods to Hawaii's plantation days of yore with this new menu of pupu (tapas), entrees and desserts. One of the crowd favorites is the Hapa Burger, a half Kauai Makaweli beef and half wild boar patty with Gouda cheese, lettuce, tomato and avocado. The star dish that best exemplifies Eating House 1849's theme, however, is the Filipino-influenced Plantation Paella with tiger shrimp, clams, chicken, rice and Portuguese sausaged served in a cast iron skillet. Another specialty is the Warm Apple Volcano that was originally exclusive to the (now shuttered) Roy's in Poipu.
Shops at Kukuiula, 2829 Ala Kalanikaumaka Rd., Koloa, Kauai, (808) 742-5000, eatinghouse1849.com.
3. Kokopele Island Foods
Wailuku, Maui — Caribbean food served out of Wailuku's Banyan Tree Park also nourishes a community-centric mentality. Since opening in July 2015, the husband and wife team behind the fast-casual setup dish out plates of jerk chicken and jerk tempeh to appease multiple dietary needs. They pack all that Ital style of cuisine into some classic island sides like coleslaw and friend plantains for a one-of-a-kind dining experience on the Valley Isle.
93 N. Market St., Wailuku, Maui, (415) 779-2808, facebook.com/kokopelemaui.
4. Mud Hen Water
Kaimuki, Oahu — Waialae (Hawaiian for "water of mudhen") is the name of the street where locavore chef Ed Kenney's new casual-chic restaurant is located, a tapas-style joint with quirky made-to-share dishes like yaki paiai (undiluted taro), beet poke and tilapia skin salad. The eclectic, imaginative offerings keep residents and visitors alike coming back for more to see what other internationally inspired plates chef Kenney whips up.
Mud Hen Water, 3452 Waialae Ave., Oahu, (808) 737-6000, mudhenwater.com.
5. Umekes Fishmarket Bar & Grill
Kailua-Kona, Hawaii Island — Constantly craving ahi poke (sliced tuna) is a common, but welcome issue when you're in the Islands. This new one-stop poke shop is satisfyign taste buds in Kailua-Kona with its fresh fish selection and spicy and shoyu flavors. But the most popular is the Avo Ahi Poke, a creamy bowl of rice, seaweed salad and chunks of avocado.
75-143 Hualalai Rd #105, Kailua-Kona, Hawaii Island, (808) 329-3050, umekespoke808.com.
---
The HAWAIʻI Magazine 2016 Readers' Choice Issue on newsstands now featuring 530 Best of the Best winners in 98 categories from hotels and resorts to retail and activities.
More Best of the Best 2016: