The best restaurant in Hawaii is …
Our 2018 Readers' Choice Awards reveals the top restaurants in Hawaii.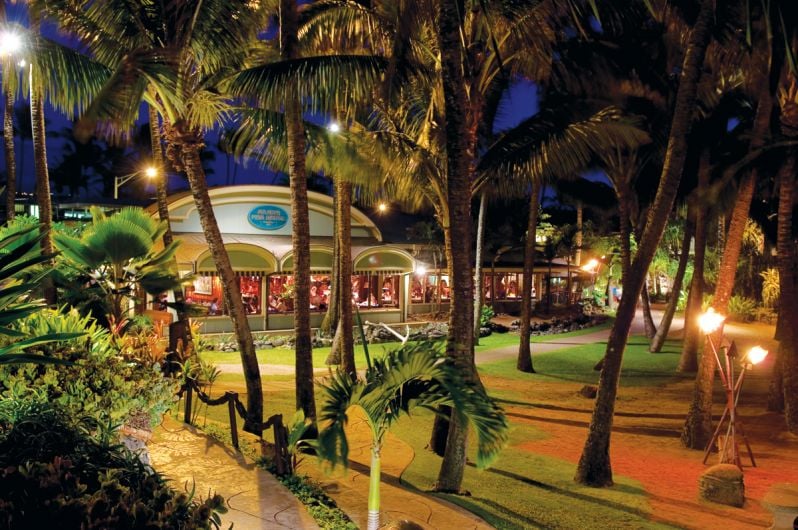 A byproduct of having so many cultures and ethnicities in the Islands is that its culinary scene can satisfy almost any taste. Pair this with local farms and produce, and you've got yourself restaurants, bistros and eateries serving delicious, fresh meals. So the problem is, how do you decide where to go? Well, thanks to our 2018 Readers' Choice Awards, we have a list of the top five restaurants in Hawaii.
1. Mama's Fish House, Maui
With a view like no other, Mama's Fish House offers diners a tropical dining experience, with its exotic and lush interior decor and beachfront eating area. With fish in the name, trying the seafood here is a must. Serving a killer stuffed mahimahi with lobster filling, Mama's Fish House is also home to a dessert so gorgeous, the Polynesian Black Pearl, you won't want to sink your spoon into it. Inside a pastry seashell lies an orb of dark chocolate and lilikoi (passion fruit) mousse, ready to drag you into an abyss of sweet decadence. 799 Poho Place, Paia, (808) 579-8488, mamasfishhouse.com.
2. Duke's Waikiki, Oahu
Surf and turf with a dash of old-school cool, Duke's Waikiki takes the term "beachside" to another level, with its outside dining area practically on the sands of Waikiki Beach. Starting with dessert might seem wrong, but two words will change your mind: Hula Pie. Hot fudge, toasted macadamia nuts and whipped cream cover macadamia nut ice cream, which is kept together by a chocolate cookie crust. Eat it first because you won't have room for dessert later on. If you're looking for a more traditional meal, try the prime rib paired with a lava flow—rum blended with pineapple juice, coconut and strawberry. 2335 Kalakaua Ave., Waikiki, (808) 922-2268, dukeswaikiki.com.
3. Roy's, Oahu, Maui and Hawaii Island
Spearheaded by celebrity chef, restaurateur and one of the founding members of the Hawaii Regional Cuisine movement, Roy Yamaguchi's restaurant chain, Roy's, has been a favorite since he opened his first one back in 1988. Specializing in Japanese and Hawaiian fusion cuisine, items such as the misoyaki butterfish, silky black cod served with sweet ginger wasabi sauce, and the kiawe-smoked Szechuan baby back pork ribs, Roy's signature appetizer, makes it deliciously clear as to why the restaurant is one of the top restaurants in Hawaii. royshawaii.com.
4. Monkeypod Kitchen by Merriman, Oahu and Maui
With the Monkeypod Kitchen by Merriman, chef Peter Merriman had one mission in mind, and that was to put the spotlight on the best ingredients and produce Hawaii has to offer. Examples of this can be found throughout the menu, such as the Hamakua wild mushrooms wood-fired pizza, which features truffle oil, fresh thyme, white parmesan and locally sourced Hamakua mushrooms. And look no further for fresh greens, as the Waipoli Farm organic baby romaine, with shaved Parmesan and Pete's Caesar dressing, tastes as fresh as it looks. monkeypodkitchen.com.
5. Alan Wong's, Oahu
Never judge a book by its cover, and never judge a restaurant by its exterior. Located on the third floor of an nondescript office building is Alan Wong's, an upscale eatery that dishes out innovative and colorful plates. Known best for the twice-cooked short rib, a favorite of former President Barack Obama, another plate to look out for is the ginger crusted onaga, a long tail snapper prepared with fresh ginger, dots of plum duck sauce, gochujang and chili mustard aioli. 1857 S. King Street, Honolulu, (808) 949-2526, alanwongs.com.