The Best Zipline Company and Course: HAWAII Magazine Readers' Choice Awards 2016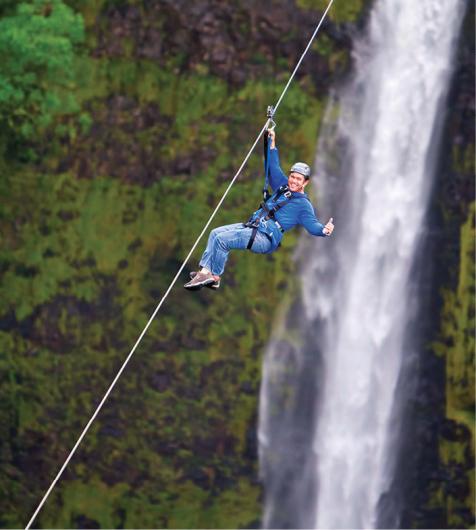 One of the best ways to scope out Hawaii is by zipline and each island has a lengthy list of options, both companies and various courses, to consider.
In our 2016 HAWAIʻI Magazine Readers' Choice Issue, our audience voted in 10 favorites from across the state, some with highlights that include waterfalls, valleys, coastal views and more.
Check out this write up on this year's No. 1 winner, and the complete list of winners below.
Best Zipline Company & Course
1. Skyline Eco-Adventures Akaka Falls
Honomu, Hawaii Island
Rocketing from behind to dominate the field of zipline competitors in the Best Zipline Co. & Course from the No. 4 last year, Skyline Eco-Adventures Akaka Falls earned rave reviews for its seven-line, 2.5-hour course. While other zip courses send you sailing high above Hawaiian soil, Skyline Eco-Adventures Akaka Falls is the only one that lets you loose 450 feet above the crashing 250-foot Kolekole waterfall with unparalleled views. On the way, zippers will spot several smaller falls, misty mountaintops, banana forests, gullies home to wild pigs and sugarcane and kalo (taro), important Hawaiian crop plants, growing wild. zipline.com/bigisland
2. Flyin' Hawaiian Zipline
Wailuku, Maui
flyinhawaiianzipline.com
3. Skyline Eco-Adventures Kaanapali
Kaanapali, Maui
zipline.com/maui
4. Maui Zipline Company
Waikapu, Maui
mauizipline.com
5. Piiholo Ranch Adventures
Makawao, Maui
piiholozipline.com
6. Skyline Eco-Adventures Poipu
Poipu, Kauai
zipline.com/kauai
7. Princeville Ranch Adventures
Princeville, Kauai
princevilleranch.com
8. Kualoa Ranch: Treetop Canopy Zipline Tour
Kualoa, Oahu
kualoa.com
9. KapohoKine Adventures: Zipline Through Paradise
Hilo, Hawaii Island
kapohokine.com
10. Climbworks Keana Farms
North Shore, Oahu
climbworks.com