The casual Kauai pub lounge with a seriously gorgeous view
Nestled on a hillside overlooking Hanalei Bay, Happy Talk Lounge is known as one of the best places on Kauai for casual dining.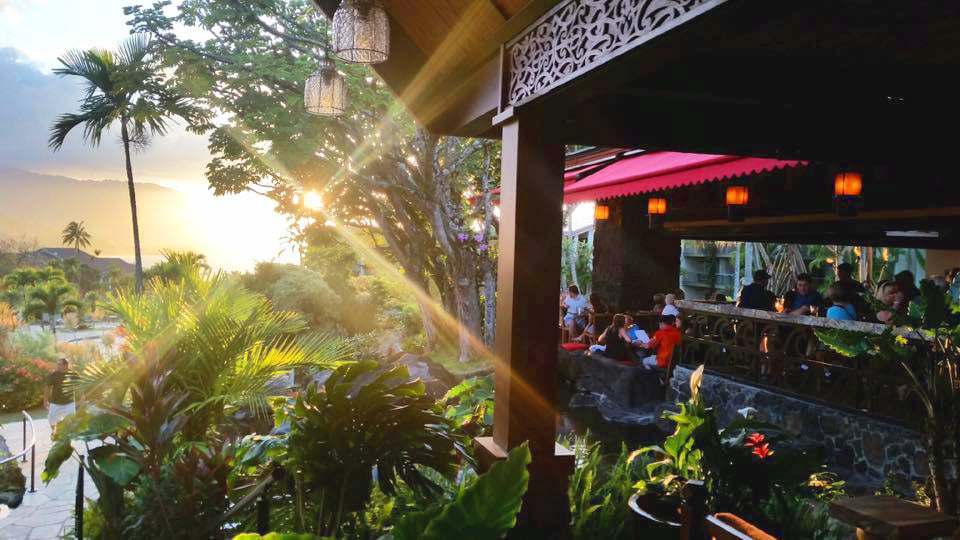 Happy Talk Lounge was a popular pau hana (after work) hangout long before its doors opened to the public this winter. For years the restaurant and bar at the Hanalei Bay Resort in Princeville kept a loyal following of visitors and locals looking to let loose with a cocktail and a plate of good food until a 2011 fire burned it all down. Resurrected by new management, Happy Talk is reclaiming its name as one of the best places on Kauai for casual dining with a dazzling view. Soon to come is Bali Hai Restaurant, Happy Talk's fine dining sidekick, expected to reopen before year's end right next door.
Nestled on a hillside overlooking dreamy Hanalei Bay, Happy Talk has more in store for diners than just a good meal. There are 16 ice cold beers on tap. Valet parking is complimentary. Daily live music can be enjoyed from 6 to 9 p.m., and there's 3 p.m. jazz on Sundays. Sunsets over the bay are beyond beautiful.
Alas, Happy Talk's pub fare is reason alone to stop in for a bite. From the hand-stretched pizza dough to the whole grain mustard mayo, much of the menu is made from scratch. Many of the ingredients are sourced from Kauai, including the organic, cold-pressed mai tai juice mix made fresh from Kauai Juice Company and the arugula that lends the guava and brie pizza a hint of spice. This isn't your usual bar grub. Happy Talk's food is top quality and you can taste it.
Fan favorites include the 10-inch crispy kale pizza ($16), smoked Jidori chicken wings ($14), the Cubano sandwich made with sliced kurobuta ham, beer braised pork belly and house-made spam ($15) and burgers so juicy they just about melt in your mouth ($19). Vegetarian and gluten free options are plentiful. For $31, you can order the Happy Talk Meal: the house burger served with lettuce, tomato and sweet onion on a locally made bun, fries, a pint of beer, a mini scoop of ice cream and a keepsake wooden engraved coaster that's yours to take home. It's the perfect memento of a delicious meal and a Hawaii vacation done right.
"We hope everyone visiting North Shore Kauai will come in to check out the beautiful views and try our unique cocktails," said General Manager Erin Finnegan. "The Bali Hai Tai is not to be missed. We have something for every palate and our chef, Erin Keller, is setting the bar high with what we like to call 'better bar food.'"
---
Open daily 3 p.m. to 9 p.m. Reservations encouraged, 808-431-4084, happytalklounge.com.