The Daytrippers: A Day Hike on Kauai's Napali Coast
Yes, you can do a good part of the famed Kalalau Trail in a single day.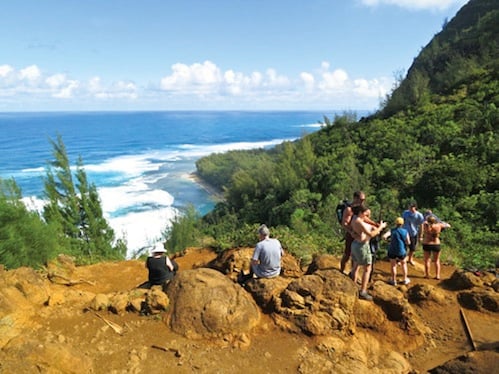 When I found out there was a guided day hike of the majestic natural wonder that is the Napali Coast, I was off to Kauai as soon as I could book a flight.
Before I continue, some clarification is in order. I'm fairly certain there's still no humanly means of hiking the 22 miles of rugged, Napali coastline from end-of-the-highway Kee Beach to end-of-the-trail Kalalau Valley and back from sunup to sundown. No way. No day.
The promised prize of my hike with outdoor adventure company Kayak Kauai was instead a visit to Hanakapiai Beach, the first stretch of white sand two miles west of Kee Beach on the Napali-straddling Kalalau Trail.
My guide on the morning I arrived at Kayak Kauai's Hanalei base of operations was co-owner Miguel "Micco" Godinez. I would later learn that Godinez had hiked, kayaked, paddled, surfed and explored every cave, crevice, canyon and coastline on the island. He'd been up and down the length of the Kalalau Trail more times than he could recall and shared stories of his travels inspiring enough, I thought, to convince more than a few hikers to ditch their day jobs and open an adventure tour company.
"People dream stuff, but they don't act on it," said the spritely 60-year-old. "I do."
Godinez seemed as if he had already been up for hours when we met at 8 a.m., frantically moving around Kayak Kauai's headquarters in a way contrary to the slow-paced lifestyle of Hanalei. As I got to know Godinez better I understood the motivation behind his frenzy: Life is short. Make the most of every moment. The credo was how he wound up in Hanalei.
In November 1994, Godinez was trekking alone across England on a miserably cold and gloomy day when he walked into a pub near London's Gatwick airport. "I remember I could taste the air," said Godinez. On the pub's wall, his eyes focused on a framed print of the Napali Coast. "I looked at that as a sign," he said.
He promptly ditched the rest of his U.K. trip and moved to Kauai.
I jumped into Godinez's huge white truck with a couple from Seattle, catching a ride to the Kalalau Trailhead. Like many hikers who take the trail, they were planning to trek all day to Kalalau Valley, camp near its pristine mile-long beach for a couple of nights and explore the valley's many trails.
Godinez dispensed advice to them in bullet points. Be smart about crossing rivers. Don't go into the ocean when you shouldn't. Stay on the trail.
"If you listen to me, you shouldn't have any problems," he explained, negotiating two-lane Kuhio Highway to the trailhead at Kee Beach. One of the natural jewels of 230-acre Haena State Park, the beach's crystalline lagoon is one of the most popular Kauai spots for snorkeling during the summer. In winter months, however, high surf often generates a powerful rip current in one of the lagoon's narrow channels, making it unsafe for swimmers and snorkelers. On this day, with a high-surf advisory for north-facing Kauai shorelines in place, Kee Beach was, in effect, closed. But the Kalalau Trail was open for business.
Crossing Hanakapiai Stream
For hearty hikers, it takes about 90 minutes to arrive at Hanakapiai Beach from the trailhead, traversing rocky, sometimes muddy, terrain. Sweeping views of the Pacific Ocean and the towering cliffs of the Napali Coast begin to appear just minutes into the hike.
The Kalalau Trail requires a serious kick of adrenaline at its start, immediately climbing more than 600 feet through fern groves and long-leaved pandanus trees. There were multiple vantage points of Kee Beach as we climbed, with each stop giving a more elevated view of its translucent lagoon.
A half-hour into the hike, we stopped at a lookout to watch long rows of surf moving slowly from the horizon toward the shoreline. I was immediately calmed, lost in the natural beauty that surrounded me. I even found the mud on the trail photogenic.
As we continued along the trail, Godinez pointed out flora and fauna he could identify: ulili (wandering tattlers), various thrushes, invasive African tulip flowers, avocado trees, ohia lehua trees and a type of grass that bore the whiff of molasses when wet.
The sun was bearing down on us by midmorning, hardening and cracking trail mud built up over a recent stormy weekend. An hour in, the cliff trail rose and fell sharply, seeming to mirror the rhythm of the rough winter seas. The chirps of cliff-dwelling birds were slowly, steadily replaced by the thunderous boom of waves crashing on rocks hundreds of feet below us.
Godinez kept my mind occupied with tales of his youth in Cuba, a multiple-month kayak adventure from Washington to Alaska with his brother, and how some obviously superhuman people find it faster to swim to Hanakapiai Beach than hike there.
Our first view of the beach—its expanse of white sand largely washed out by winter surf—came about 1.5 miles into our hike as the Kalalau Trail began its descent to sea level. There, we carefully crossed Hanakapiai Stream—swollen by weekend upland rains— to reach the beach.
Kayak Kauai co-owner and guide Miguel Godinez relaxes at Hanakapiai Beach.
Swept by high tide and winter seas, Hanakapiai's only exposed shoreline was rocky and uncomfortable. We each found a smooth boulder to sit on and watch the churning Pacific Ocean, immersed in our own thoughts. With its unpredictable offshore currents, Hanakapiai is not a beach for swimming even when its sandy expanse returns in the summer and its waters appear calm. But a day hike to the beach is a wonderful introduction to the scenic majesty of the Napali Coast and motivation for a multi-day exploration of more natural treasures to come along the Kalalau Trail.
Godinez gestured toward Hanakapiai Stream, teasing that a 90-minute hike mauka (inland) of the beach ended at a spectacular waterfall, albeit along a more slippery and more difficult trek than the coastline hike. I passed on it.
Sitting under Napali's idyllic blue skies and listening to surf crash against the battered rocks was enough for me.
"It's still a magical place," said Godinez, quietly. "I'm a lucky guy."