The Do's and Don'ts of Hawaii Obon Festivals
If you're planning on checking out an obon festival, here are a few helpful tips for newcomers and first-timers.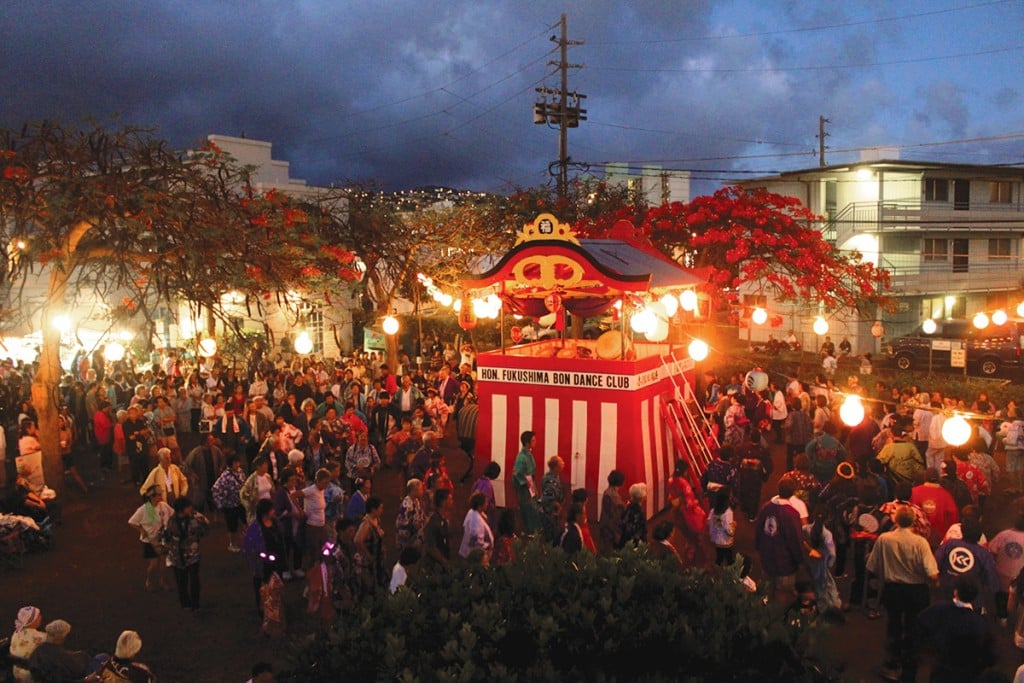 With summer in full swing, obon festival season has officially started in the Hawaiian Islands. A tradition brought over to Hawaii by Japanese immigrants, obon festivals (casually referred to as bon dances) occur on every island and bring local communities together to welcome the spirits of ancestors as well as celebrate the lives they have lived. Of course, outsiders are welcome as well, however stepping into an obon festival can be a jarring experience. Here are a few helpful tips that will get you dancing, clapping and enjoying the obon experience in no time.
Do: Dress Appropriately
If you're an experienced bon dance attendee, you might already be equipped with a traditional yukata or happi to wear, however newcomers may want to don something a little easier to move around in. Covered shoes will help if you're planning to dance around the yagura (the big wooden structure where musicians and singers perform), and even though many bon dances are held at night, Hawaii's summer temperatures–and sticky humidity–still call for light, breathable clothing.
Don't: Be Afraid to Dance
Watching the massive throng of bon dancers step, clap and move in sync might look intimidating for first-timers, however the best way to learn is by inserting yourself into that chaotic circle. Watching how others dance up close and mimicking their movements and timing is a surefire way to learn the dance–just remember to keep moving in the same direction as everyone else, or risk the chance of messing up the dancers near you.
Do: Come Hungry, Leave Full
If you're looking to get an authentic taste of Island cuisine, bon dances are the place to be. Much like festivals in Japan, residents will set up stalls and booths at bon dances, selling local grinds like Spam musubi; shave ice; and andagi, a fried Okinawan doughnut with a thick, satisfying texture.
SEE MORE: WHAT HAWAII'S COLORFUL OBON FESTIVAL SEASON IS ALL ABOUT
Don't: Forget the Chairs
Whether you're walking around the festival area, dancing around the yagura or standing at stalls indulging in fried noodles, it's rough being on your feet for the entirety of a bon dance. And although most festivals will have spaces or chairs set up for those looking to get off their feet, actually finding an open seat is like trying to find your friend after losing them in the dance circle. It's hard. So what's the solution? Bring your own chair–your lower half will thank you later.
Do: Remember to Donate
Although bon dances are open and free to the public, the Buddhist temples that organize and carry out the festivities often rely on money donated at the choba (donation booth).
Don't: Miss out on the Haleiwa Jodo Mission Obon Gathering
If you want to make your bon festival experience a little extra special, the Haleiwa Jodo Mission, which holds its gathering every July, is the only temple on Oahu that does a lantern floating ceremony alongside its festivities. If you've ever been in the presence of a lantern floating ceremony, you know how beautiful and spiritual it is to watch, as hundreds of paper lanterns float in the serene ocean.
Do: Know your Dates
Obon festival season starts in the beginning of June and ends in mid-September, with most islands having a bon dance every weekend during this time. Plan accordingly, as each temple has only one bon dance weekend. That means if you want to attend the Oahu-based Moiliili Hongwanji Mission's obon gathering, which is known for its large selection of food trucks, you have to be there July 5 or July 6.