The Famous Mr. Ed's: The story of a prolific smalltown Hawaii Island bakery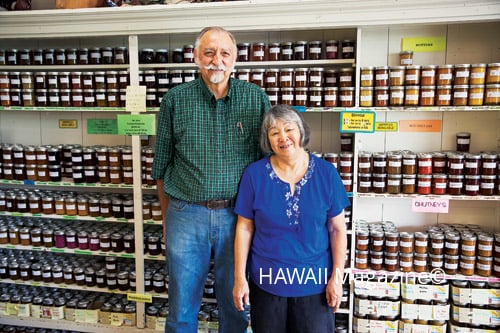 When most of the Big Island is asleep, Dean Edmoundson is at his creative and productive best. Late at night, he's slicing, measuring and mixing ingredients for the popular from-scratch breads, pastries, cookies and spreads sold at Mr. Ed's, the homespun store and bakery he and his wife, June, own in the sleepy-even-by-day former Hamakua sugar plantation town of Honomu.
"A long time ago our students began calling us Mr. and Mrs. Ed because our last name is a mouthful," says Dean, recalling the couple's former lives as go-to-bed-early schoolteachers on the Mainland and in Hawaii. "The name stuck. When our three kids were grown and out of the house, and we decided to dive into this second career, choosing a name for [the business] was easy."
The Edmoundsons opened Mr. Ed's Bakery and its adjoining store in June 2000, taking over a century-old building that had been home to Ishigo Store & Bakery, a community anchor for 88 years. Dean began baking cookies and cobblers for his family at age 12 while living in Bakersfield, Calif., influenced by his mom's delicious pies, cakes, zucchini bread, dinner rolls and prowess with jam making. Plum, apricot, pomegranate, gooseberry, elderberry and watermelon rind were creative favorites.
When the Edmoundsons moved to Honomu, June's hometown, in 1990, to take care of her aging parents, Dean quickly noticed the abundance of bananas growing in nearby river-fed gulches. Inspired, he began baking banana bread for family and friends. Pies, cookies and cobblers for church potlucks soon followed.
"I was baking just for fun back then, but people liked what I made, and said, 'Why don't you talk to Mr. Ishigo about opening a bakery where Ishigo Bakery used to be?'" says Dean. "I began to think it wasn't such a crazy idea."
At the time, Hideo Ishigo was well into his 80s and his family's namesake bakery long-shuttered. But when Dean approached him, Ishigo was thrilled at the prospect of someone reviving the Honomu business he'd grown up in and eventually taken over for his family. With Ishigo's blessing, the Edmoundsons began renovating the old, rundown bakery space in January 1999 with the help of community volunteers. All the while, Ishigo instructed Dean on the operation of the bakery's decades-old equipment.
"The diesel oven is older than I am, and I'm 68. The mixer and the sheeter for rolling out dough are both more than 40 years old. The sink is probably 60 years old," Dean says, of the original bakery equipment he continues to use 15 years later. "Amazingly, everything still works great!"
The interior of the building doesn't seem to have changed much in the 104 years since it was constructed. With its wood shelves, ceiling fans, fluorescent lights and 10-foot-high ceilings, one can easily imagine generations of Honomu kids queuing up to the counter to buy Ishigo's cookies, doughnuts and manju (little Japanese cakes filled with sweet red beans). The building façade still prominently boasts its original "Ishigo's, Since 1910" sign, in bold lettering.
Says Dean: "Mr. Ishigo also taught me how to make breads and pastries, although I don't use any of his recipes today except for the manju." The prodigious variety of Dean Edmoundson's own baked and preserved edibles produced at Mr. Ed's, however, is somewhat staggering for a smalltown bakery.
With nephew Sunil Ram as his apprentice, Dean currently makes four types of breads, 12 different fruit turnovers, 20 varieties of other pastries, 28 types of cookies and just under 150 varieties of jams, jellies, sauces, butters, chutneys, mustards and marmalades. The homemade preserves and spreads have become the star attraction of Mr. Ed's, filling an entire wall of shelves. Alongside venerable Hawaii tropical fruit faves such as guava, lilikoi, mango and pineapple are jaboticaba, gumichama, jackfruit, longan, mango habañero and pink ice apple.
Explaining the superabundance of Mr. Ed's fruit spreads and preserves, Dean says, "People would pick fruit from their trees and give them to me. I started making fruit turnovers, but if they wouldn't sell I would throw them away. I didn't want to be wasteful, so I decided to make jam."
He began with four kinds of jam.
"When I got up to 12, [June] said, 'You have too many. Why don't you go back to four?' When I got up to 60, she said, 'You have too many. Why don't you go back to 12?' I'm now making between 145 and 150 and she doesn't say a word."
Some of the fruits Dean uses are plucked from his yard, others from an empty lot near the bakery. Still more boxes and bags of fruit come from friends, relatives, neighbors, former students and members of his church.
"We installed a big walk-in freezer to store fruit so I can make spreads year-round," he says. "I'm always excited and grateful to receive new varieties, and I'm constantly experimenting with flavors."
Successful experiments include lilikoi and chocolate, purple sweet potato and haupia, and mountain apple and li hing mui. A blend of carrots, spices and macadamia nuts is reminiscent of carrot cake. Another popular spread is crafted with what Dean calls "the rarest fruit on Earth."
"My wife's grandfather crossed a tangerine and a grapefruit," says Dean. "It's about the size of an orange. The outside is yellow and smooth like a grapefruit. The inside is bright orange like a tangerine. It's so juicy and refreshing! I named it tangeyfruit."
According to Dean, there are only three tangeyfruit trees in the world. He propagated the two trees in his yard with cuttings from the original tree from June's grandfather's backyard.
The day-to-day tasks of baking and crafting Mr. Ed's signature spreads is tough and time-consuming, but Dean happily settles in for his night shifts of fruit-slicing and dough-mixing for one simple reason: his customers' enjoyment.
"June and I open the store and bakery every day of the year, even Thanksgiving and Christmas," he says. "We're having a ball. We like being busy. For us, it's a fun, rewarding adventure."