"The Hawaii Snowman" sure to melt hearts this winter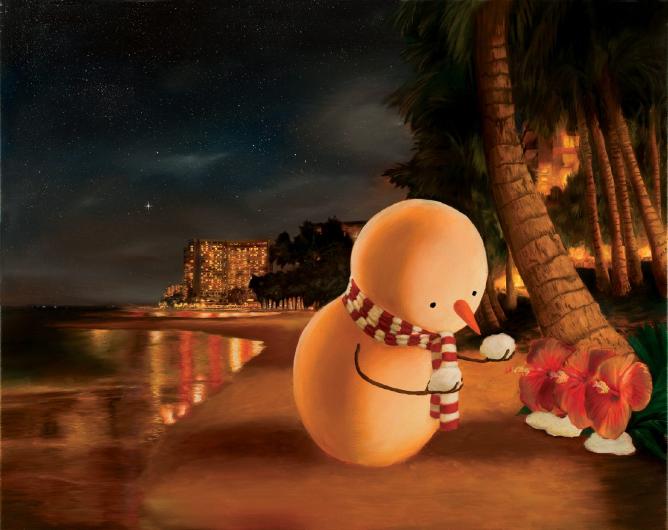 Looking for a great stocking stuffer for your ohana this Kalikimaka?
Might we suggest The Hawaii Snowman—a new children's book by Hawaii-based writer Christine Le.
We know, the concept seems a bit bizarre. But you'd have to be a Grinch not to be enchanted by the story's fantastical wonderment.
It's five days until Christmas. A lonely snowman sits abandoned atop a ski resort. He spots a shooting star, and the moon tells him to make a wish. His dream? To travel to Hawaii for the winter.
He hops on board a passing freighter and finds himself in the midst of a winter's night in Waikiki—a cool place to be, yes, but not freezing cold. He soon realizes when the sun arrives, he will be reduced to a puddle.
He's already shrinking as he takes snow from his body and gives it to others—whether it's an ice sculpture in need of repair, or a trio of thirsty flowers. It's through this generosity of spirit that the snowman learns firsthand of the Aloha Spirit.
The story is excelled by the art—beautiful illustrations by Christine's husband Michel Le. Waikiki is brought to life in rich golden hues, each page softened to an ethereal glow. The snowman protagonist is drawn with elegant simplicity; a few basic shapes and lines convey emotion and subtle expression wonderfully.
We expect children and more than a few adults will fall in love with The Hawaii Snowman. But don't take our word for it…
The book is currently available in Hawaii bookstores and at online retailers for $14.95.