The Koko Crater Trail. I climb it.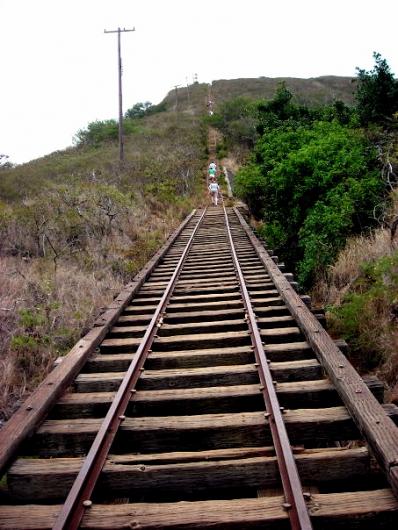 About two weeks ago I replied to HAWAII Magazine reader Veronica Craig's question about whether there was a walking trail up Koko Crater, marked by old railroad ties.
Even as I was writing the post, I knew I had to check it out myself. A day or so ago, I grabbed my favorite pair of worn out sneakers and hit the trail.
I convinced my friend to come with promises of free lunch after. Though it was the middle of the day, the cloudy skies sheltered us from the sun. The breeze that day was stiffer than normal which sent clouds of dirt into our eyes. Gunfire from the nearby shooting range rang out. It was more a war zone than a recreational hike.
"What did you get me into?" my friend asked.
The hike can be broken into three parts: the gradual slope at the beginning that goes for about three-quarters of the journey, the steep ascent up the final leg, and the rickety bridge that connects the two.
The bridge terrified me. It was suspended at least 8 to 10 feet above the ground and there were wide gaps in the railroad ties. I crawled on all fours, grabbing each tie for dear life, while children half my size playfully skipped past me. My friend laughed at me from the other side.
By the end it felt like we were walking 90 degrees upward. Large concrete pavers tripped me up on numerous occasions, nearly sending me tumbling down the crater.
We got to the top in a little less than an hour. From what we saw, it was time well spent. Hawaii Kai sprawled before us. Looking out beyond Diamond Head, we caught glimpses of the Waikiki skyline. On a clearer day we would have been able to spot Molokai in the distance, but still, the moment was breathtaking.
Bunkers from World War II perched along the top; fellow hikers stretched out on their rusted roofs, soaking up the sun. Exhausted and dirty, we sat back and took in the amazing views with great satisfaction.
I am not an advanced hiker. However, I recommend Koko Crater for anyone who enjoys a good challenge. It's an experience that can't be missed.
If you've gone up Koko Crater recently, tell us what you think. Is it indeed challenging, or am I begging for unwarranted sympathy? Let me know.