The mana of this high school's Hawaiian-language opera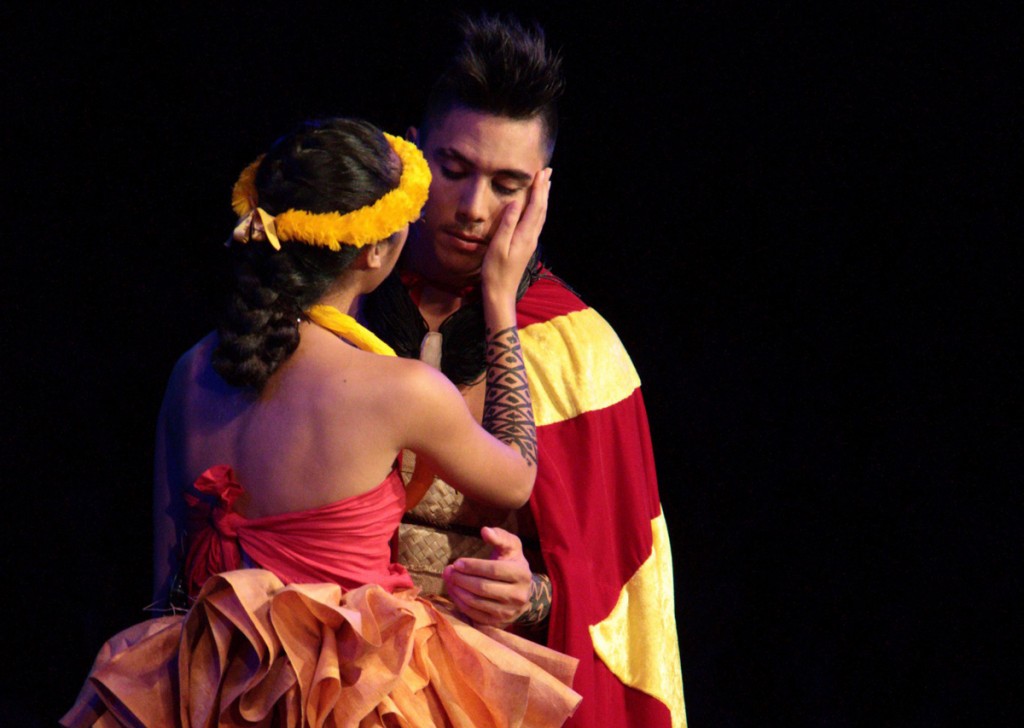 Among the sea of more than 4,000 shows and 50,000 performers to gather this fall at Scotland's Edinburgh Festival Fringe will be a first for what's considered the world's largest performing-arts festival: a stage of Native Hawaiian teenagers singing in 'olelo Hawai'i (Hawaiian language) and dancing hula.
In August, Kamehameha Schools prepares to debut something that hasn't been seen before at the renowned three-week festival, let alone anywhere outside the Islands—an original, Hawaiian-language opera titled "Hā'upu." Twenty high school students from the Kamehameha's Hawai'i Island campus, located in Kea'au, 8 miles south of Hilo, were invited to participate after submitting a proposal of their Hō'ike production, Kamehameha School's annual performing-arts showcase of Hawaiian culture and mo'olelo (stories).
"They've never had a Hawaiian presentation, so they're very, very excited to know they'll be seeing live Hawaiian dance and music," says choral director Herb Mahelona on the building anticipation of performing at the festival. Mahelona and theater director Eric Stack are working tirelessly with their students to take what's basically a new art form, uniquely blending mele (song) and 'olelo into the style of a classical opera.
The legend retold in their opera is also, appropriately, about new beginnings. Set in the 12th century, toward the final wave of Hawai'i's first migratory settlers, it recounts one of Hawaiian culture's earliest tales and characters: two warrior brothers, Kana and Niheu, wage a hard-fought battle with the Moloka'i chief Kaupe'epe'e, who had abducted their mother, Hina, from their father, the chief Hakalanileo, and their Hilo domain nearly 20 years prior.
The opera is based on King David Kalākaua's version of the story as it appears in his book, The Legends and Myths of Hawai'i, which portrays Hina, who was regarded as the most beautiful woman in Hawai'i, as the Islands' Helen of Troy. There are intense coastal sieges by fleets of canoes, and there's a complicated love affair between the captive Hina and her captor Kaupe'epe'e, as invaders fill the air with exultant monologues and war cries. The legend is complete with all the intrigue, suspense, betrayal, action and mysticism you'd expect of Homer's Iliad.
The opera's demands on seasoned performers, let alone high schoolers, some of whom have never acted before, can't be overstated enough. The hour-and-fifteen-minute production in Edinburgh is actually a truncated version of this year's Hō'ike, which clocks in at nearly three hours. That's 120 minutes of continuous singing and chanting in perfect Hawaiian pronunciation, all while dancing and acting to convey the complex story needed for the audience to understand it.
"There's no way we could be doing this unless we believed in what our kids can do here," Stack says. "Considering that they have to be able to speak Hawaiian, sing, dance—there's so much talent involved, it's incomprehensible to me that our high school can do what it does."
Like all of Kamehameha's Hō'ike productions, both kūmu (teachers) consider this performance another step in a progression toward something larger than even the size of Edinburgh Festival Fringe itself—it's about validating the belief in their students that Hawaiian culture and education has value in their lives outside Hawai'i.
"I'm hoping they'll learn how precious and significant their culture is in a global context," says Mahelona. "Even though we're on a bunch of small islands in the middle of the ocean, they have something to offer. The way we think, the way we act, the way we express ourselves is valid in the world."
---
This article, "Legend In the Making," was originally published in the March/April 2016 issue of HAWAIʻI Magazine.
The Edinburgh Festival Fringe runs August 5 to 29. For more information, visit ksbe.edu and edfringe.com.