The Moomomi dunes of Molokai
A hike on the remote, windswept sand dunes of western Molokai's Moomomi Preserve offers an up-close glimpse at the plants and animals of a rarely seen Hawaii coastal ecosystem.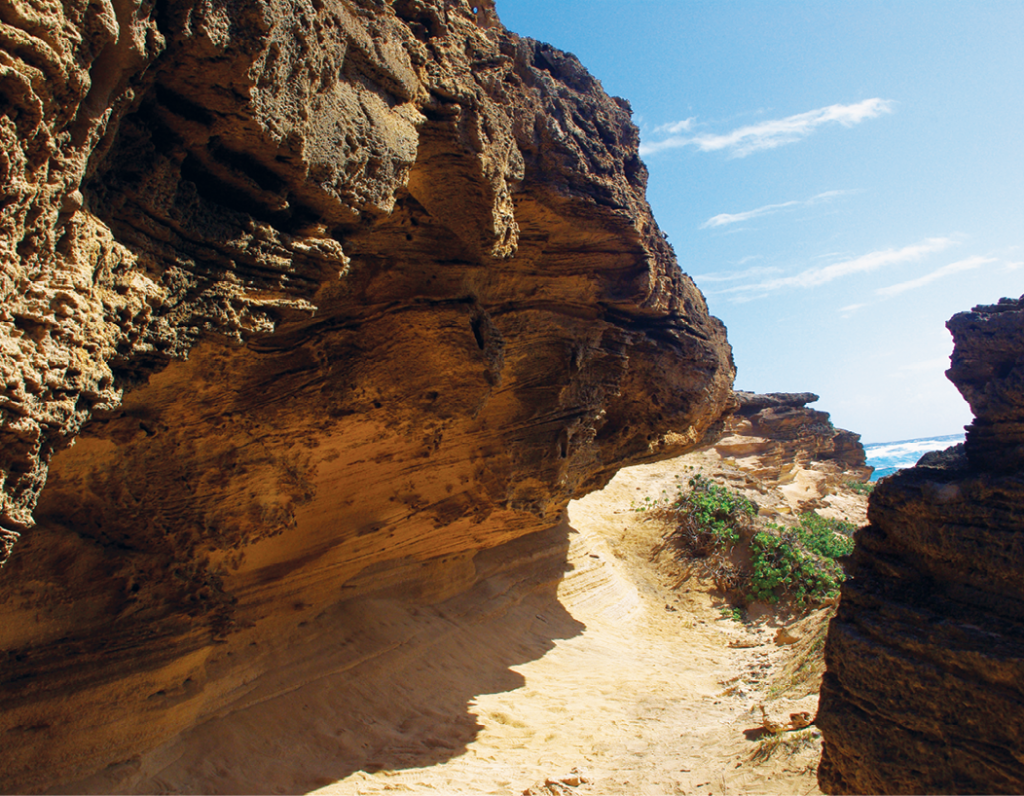 Aerial turbulence rocks my flight from Oahu to Molokai on a cloudless morning. The rise and fall of the seven-seat plane, however, only adds to my excitement about the day's adventure: a visit to Molokai's secluded Moomomi Preserve.
One of the last intact sand dune areas in the main Hawaiian Islands, the 921-acre coastal preserve is home to more than 38 native Hawaii plants, three of which are found only in western Molokai. Established by the Nature Conservancy in 1988, the preserve and its caretakers protect an extremely delicate ecosystem of plants and animals. Access to Moomomi is restricted, but the conservancy offers guided monthly hikes from March through October.
Reservations for the eight-person hikes to Moomomi often fill months in advance. After putting my name on a wait list, I was called only after someone cancelled their spot on the last hike of last year.
At tiny Molokai Airport I meet my crew: four visiting hikers like me, and three volunteer preserve guides. The lead guide offers a brief rundown of what we can expect: two miles of coastal hiking through sunny, wind-whipped terrain abundant with native and rare plants. No amenities here.
Two vehicles haul us northwest to Moomomi, leaving Kaunakakai, Molokai's small main town, far behind us. A half-hour from the airport, our vehicles' four-wheel drive engages at the start of Moomomi Access Road, where homemade signs plead passersby to "Protect Moomomi."
Terrestrial turbulence ensues as we heave along the winding road, kicking up bright red clouds of dirt while passing a seemingly endless forest of invasive kiawe trees. The ocean comes into view as we arrive at Kaiehu Point at the west end of Moomomi Beach. Taking haven from ever-blowing northeast tradewinds in a shallow sandstone cave that once served as a fishing shelter for early Hawaiians, we gaze at crescent-shaped Moomomi Beach a few steep steps below. One of our guides, Margaret Marcom, shares Moomomi's history as fertile summer fishing grounds where Hawaiians stocked up for the winter.
Once on the beach, we trace the edge of Moomomi's sandy dunes, more than a mile long and hundreds of feet wide. Hugging the dunes' borders is a thriving layer of native akiaki grass—short, and leaning inland just like every windblown bush and tree here. We're careful not to step on the rare enaena, hinahina, and Tetramolopium rockii, the last of these a member of the sunflower family found only here.
More than a haven for rare plants, Moomomi is also home to a handful of endangered animals, including Hawaiian green sea turtles, which nest on the white sand beach. Yards below a generous layer of marine debris (a byproduct of unobstructed Pacific currents that brush Molokai's north side), turtles have recently laid their fifth, and final, nest of the season.
"Only one in 1,000 hatchlings will reach adulthood," says Marcom, passing around her photo book of all things Moomomi.
The force of the tradewinds almost drowns out the sound of sea birds—the only sources of noise here other than the pounding surf. With mountains surrounding us to the west, I feel a complete sense of escape from all modern stressors.
On a shallow hill riddled with wedge-tailed shearwater nests, a newborn peers from its hole, its gray, fluffy feathers protruding. Deep tunnels dug by native birds begin behind the shallow sand mounds, where they lay a single egg each season. The abundance of nests indicates that Moomomi's caretakers are doing something right. In 1999, there was a single nest. Today, they number in the hundreds.
Nearby, lithified roots, once belonging to an unknown species of tree, blanket a hillside near the remnants of a generations-old residence. Sand enters our shoes as we descend a steep dune onto seemingly endless Kawailoa Beach, which marks the preserve's western end.
The fossil of a giant, flightless duck was discovered on a part of the beach that was once the bottom of a freshwater lake. Other rare birds that once called Moomomi home include a sea eagle, flightless ibis, and a stilt owl with long legs.
"Imagine that," says Marcom, laughing. "An owl with really long, stilt-like legs."
The hike concludes with lunch near some natural salt ponds. On our way back, we follow an inland path tunneling under thick kiawe trees. A kiawe removal program is under way and appears to be working, as native plants including naupaka and akoko reclaim territory from the smothering tree. One volunteer says, "So far, we've removed 80 acres of kiawe. It's not fun work, but it's very rewarding."
Before long, we're back at Kaiehu Point, where morning mist has given way to a clear view of Kalaupapa peninsula lighthouse to the east. Before we leave, I steal a glance at a Hawaiian monk seal sunbathing below us on Moomomi Beach.
As we drive away, Moomomi's winds continue blowing, surely smoothing over the footprints we left on the dunes.
For more information, visit The Nature Conservancy.