The new, locally sourced creperie giving Kauai's north shore a morning boost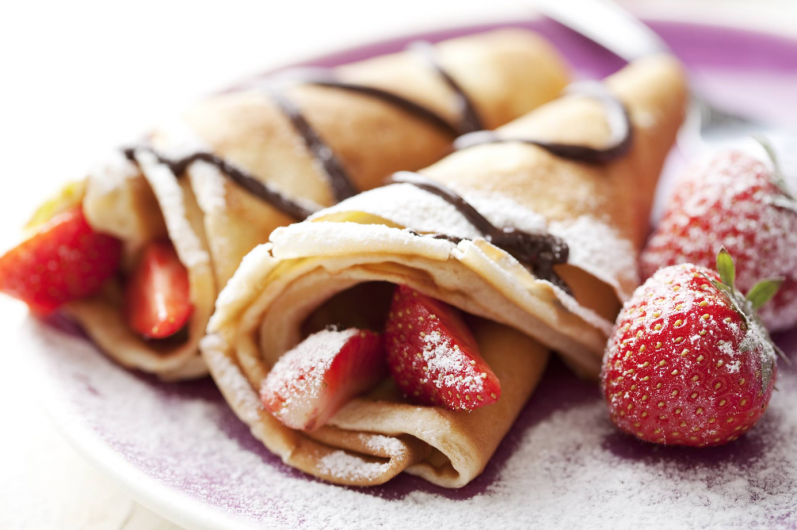 Of Kauai's many charms, it was the waterfall-laden town of Hanalei that impressed Kyrylo Babenko the most. Specifically, its quiet beauty and friendly people. At first, he found it odd that strangers would greet him and his wife as they walked north shore's short streets and big, expansive beaches during their honeymoon vacation. But then he thought, "Isn't this how life should be?"
Back in Babenko's native Ukraine, a revolution was brewing. Upon returning from his Kauai trip, he found a home disturbed by violence. Clashes between protesters and riot police were mounting. The economy was falling to pieces. To cope, Babenko clung to a dream of the more peaceful life he had discovered in Hawaii.
In 2014, as the conflict in the Ukraine worsened, Babenko thought more seriously about island life. Taking a leap of faith, he and his family left the violence gripping the country for a new life on Kauai. Having realized his dream, Babenko devised another—one that would prove even sweeter than the other.
At his new, Ukrainian-style creperie and café, Banandi, in the heart of Hanalei, Babenko serves pillowy, customizable crepes using fresh, organic ingredients from local farmers. There are crepes stuffed with bacon and scrambled eggs ($12.50), mozzarella cheese and tomatoes ($9.50) and lemon and sugar ($8.50).
Add-ons run the gamut from smoked salmon and salami to ice cream and mangoes. The one constant is the crepe batter: A knock-out mixture concocted by the Babenko's grandmother.
In addition to sweet and savory crepes, Banandi brews up lattes, cappuccinos and other specialty coffee drinks using beans from Kauai Coffee Company. Also available to order are rich and thick milk shakes and about a half dozen ice cream flavors.
The creperie is equipped with air-conditioned indoor seating, as well as an outdoor patio. From Hanalei Bay, the cafe is just a 10-minute stroll—an easy trot to conquer around noontime when your belly starts to grumble.
Another perk to paying Banandi a visit is the simple reason that Babenko and his staff are incredibly gracious and friendly—not at all unlike the way the people of Hanalei treated Babenko and his bride on their first trip to Kauai.
Banandi represents many things to its owner. It's a source of income and a way of honoring his roots while embracing his future. And it's a means of giving back to the island that he and his family have adopted as their own.
---
Open 6:30 a.m. to 6 p.m., daily, 5-5100 Kuhio Hwy, Hanalei, Kauai, banandi.com