The new Our Place Kauai restaurant in Kapaa is 100 percent locally sourced
Opened late last year, Our Place uses Kauai-grown ingredients to create beautifully plated organic dishes.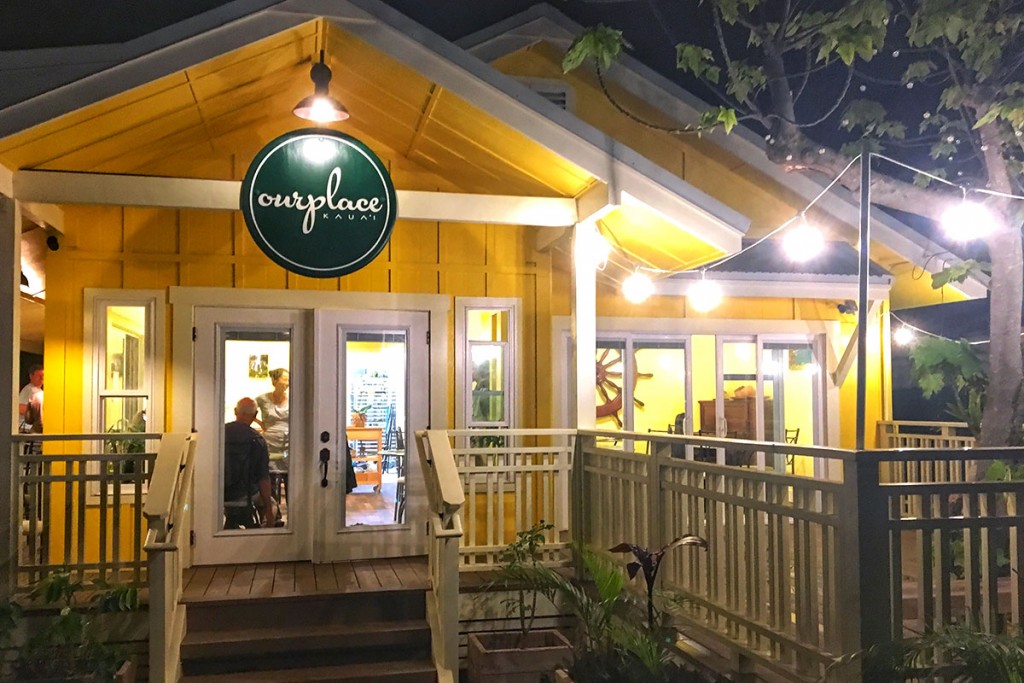 Inside an 80-year-old farmhouse dressed in a cheery slick of lemon yellow paint, a mealtime utopia is unfolding. Patrons prime their palates with tropical fruit and fresh-squeezed juices. A steady trade breeze cools the cozy dining room that feels like the home of an old friend. In a kitchen designed to run on 100 percent solar energy, a chef prepares a six-course meal that is organic, locally sourced and vegan—no gluten, no soy, no exceptions.
Save for coriander and a few other exotic spices, every dish plated at Our Place Kauai is artfully composed of Kauai-grown ingredients. On an island where an estimated 90 percent of all food consumption depends on imports from the continental U.S. located 2,500 miles away, the Kapaa eatery's total commitment to the local food movement is startlingly unprecedented.
On a recent Friday night, the main entree at Our Place Kauai is a mango salsa-smothered enchilada stuffed with Tahitian taro greens, eggplant and pumpkin.You'd never know it but the star ingredient is unripe green banana, which has been blended with salt and handmade coconut milk to form the tasty baked tortilla. (No manufactured corn meal tortillas here!) From lasagna and ravioli to dumplings and rice, all the restaurant's starch substitutes are made from green banana. Incredibly, nothing gets lost in translation—not flavor nor texture.
If you don't believe that delicious vegan comfort food exists, Our Place Kauai is here to prove you wrong, with multi-course dinners designed to satisfy your every craving. Fettuccine alfredo, barbecue jackfruit lettuce wraps, sweet potato flatbread and pumpkin curry are just a sampling of recent featured dishes. Dessert might include macadamia nut brownie doughnuts or cacao nib-sprinkled horchata ice cream. The $50 prix fixe menu gets a twice-weekly rewrite, which allows the chef to capitalize on new flavors and the island's fluctuating produce availability. Co-owners Michael Blow and Kimmy Lyon harvest all their produce on the morning before dinner service, assuring that every fruit and vegetable they source is flavorful and vibrant.
"Yesterday, we featured pineapple in a fruit salsa from a pineapple top we planted two years ago," says Lyon, who was a mechanical engineer before she helped build a restaurant that tests the boundaries of sustainable eating. "That's the kind of food moment we live for."
More than a champion of backyard veganism, Our Place Kauai is devout in its dedication to eco-friendly energy usage. The roof has been painted white to reflect heat and sunlight. The dining room is strategically positioned to utilize the natural air conditioning provided by the trade winds. Produce is harvested daily, which allows the kitchen to function in the absence of an energy-sucking walk-in freezer. Apart from the occasional shattered glass or dish, the operation produces zero waste. Food scraps are returned to local farmers who return them to the soil as compost.
"I'll let you know a little secret," says Blow, who greets every guest with a genuine smile and engaging conversation. "Everything is engineered. Nothing we do here is by accident."
Our Place Kauai is open Thursday through Monday for 6:30 p.m. dinner service. Reservations are required and can be made at ourplacekauai@gmail.com. 4-947 Kuhio Hwy., Kapaa, Kauai, (808) 212-1203, eatatourplace.com.