The original T&C Hawaii cartoon characters are based on these famous surfers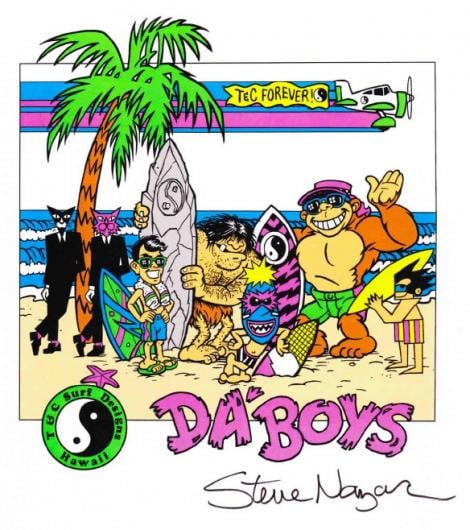 Remember those super rad Town & Country Surf Designs cartoon characters growing up?
Artist Steve Nazar was the man behind the retro fantastic creations—gorillas, zombies, tikis and cavemen rocking the waves on neon bright surfboards in Ray-Ban sunglasses—who in the process single-handedly created an aesthetic that screamed 1980s surf culture. Collectively, this gang of characters were part of what made the humble Pearl City, Oahu-based brand so popular during the era.
In this video with Nazar, he discusses the origins of the characters, their conception and how they made their way onto the Hawaii surf label's classic t-shirts:
He even reveals little known trivia behind some of the most recognizable characters, admitting they were based on these famous surfers:
Thrilla Gorilla = Dane Kealoha
Joe Cool = Shaun Tomson
The Caveman = Ken Bradshaw
Abruptly the characters disappeared from the label in the late-'80s, for business reasons uncertain to Nazar.
But now, more than a decade later, he's able to bring to life a new squad of sports stars for Hawaii street label in4mation in a special soccer and surf pop-up shop and art show in collaboration with Paradise Soccer Club and Kicks to the Pitch. You'll be able to find Nazar in attendance at in4mation's store on Nuuanu Avenue, and be the first to shop a limited collection of graphic tees and skateboards with cartoon versions of Lionel Messi and Christiano Ronaldo in Nazar's signature style.
Starting February 12, the collection will also be avaiable at Paradise Soccer Club and all in4mation stores statewide, as well as online.