The Popular Haʻikū Stairs on Oʻahu May Be Saved From Demolition
The Honolulu Board of Water Supply voted to transfer ownership of the land, including the off-limits hike, to the city, which may decide to reopen the stairs.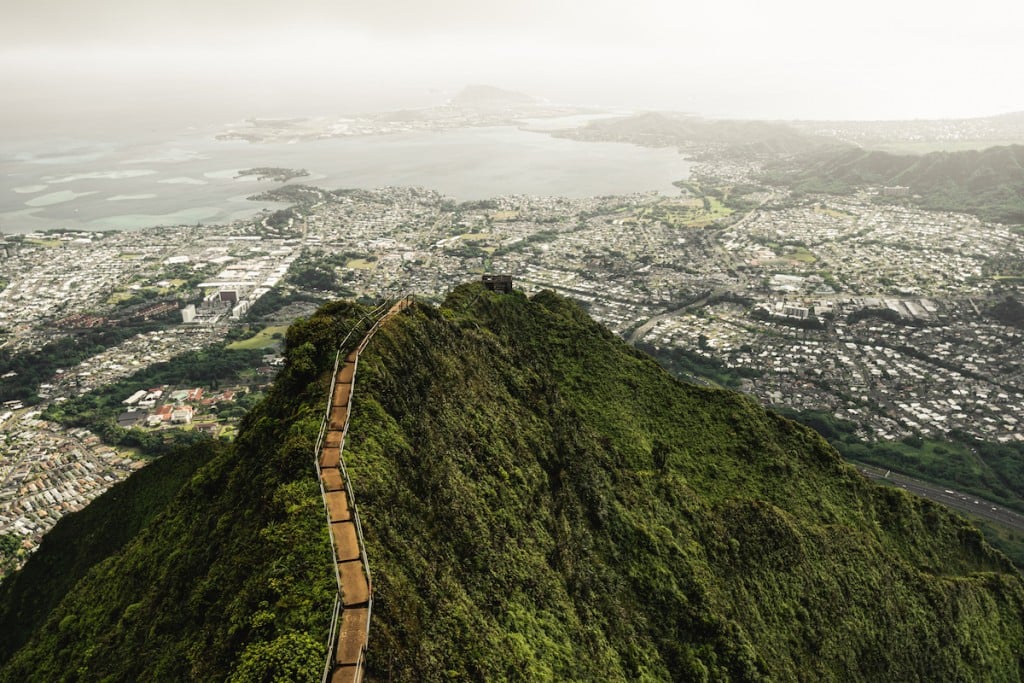 Haʻikū Stairs, a 3,922-step trail to the summit of the Koʻolau Mountains on Oʻahu's Windward Side, moved one step closer to legally opening to the public. Someday.
On Monday the Honolulu Board of Water Supply, which owns and manages the land under the stairs, voted unanimously to transfer the land to the city. (The preferred action was removing the stairs because of liability and cost concerns, but at least one nonprofit group is working to prevent that outcome.)
The city has 18 months to take over the stairs (aka Stairway to Heaven), otherwise they have to be removed.
The decision came after years of debate on what should be done with the controversial stairs, which have been closed for decades and are illegal to access. Yet, every year thousands of hikers brave the metal staircase, which has frustrated neighborhood residents, many of whom have called for their removal.
SEE ALSO: The Popular But Illegal Haʻikū Stairs on Oʻahu Could be Permanently Removed
The city has been open to reopening the stairs under some kind of managed access, a solution proposed by the nonprofit Friends of Haʻikū Stairs. The group offered a very detailed managed access proposal that addresses the concerns about access, trespassing and safety. It would be cost-effective, with fees to cover maintenance, security, insurance, staffing and comprehensive educational program, says the group's president Vernon Ansdell.
"[Monday's] vote to transfer the stairs to the city was an important landmark on our journey to reopen the stairs, but we still have a long way to go," Ansdell says. "Our proposal is cost-neutral and emphasizes a strong, cultural, educational program. An effective security program is particularly important. It needs to work from day one."
Construction on the stairway, originally called the Haʻikū Ladder, started in 1942, after the attack on Pearl Harbor. Its purpose was to deliver people and materials to build and service a U.S. naval radio station at the top of the ridge. The construction of these stairs—then made of wood—was so top secret, according to the report, even the Army and other government entities were unaware of it. Eventually, the ladder was replaced with a steel module system that was anchored to the mountain with spikes. In 1987 the U.S. Coast Guard, which managed the stairs at the time, closed the trail to the public.
"The Haʻikū Stairs experience must be a cultural and educational experience and not just a recreational experience," Ansdell says