The soul of a quiet village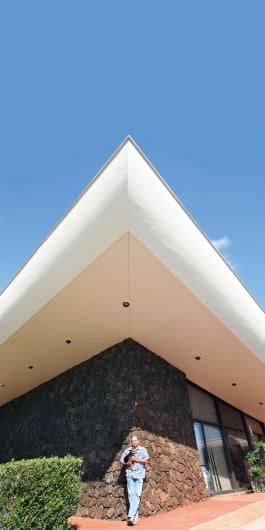 In 1971, I was a young reporter considering a job on Kauai. When I flew to Lıhue for the first time, out the right side of the plane window I could see the Kukii and Ninini Point lights, which guide ships into Nawiliwili Harbor.
I took the job, settling with three housemates into an aging plantation home on Rice Street. I recall fondly the home's high ceilings, the big old mango tree where chick- ens roosted at night and the overgrown Japanese-style water garden.
Lıhue was the county seat, yet a quiet place to live. It was a daytime town in those days. Most of the government and retail workers lived out on the West Side or in the Kapaa Wailua residential communities. There was no reason to drive to "town" at night or on weekends. Nothing was open.
Since it wasn't much of a residential town, there was little competition for the area's special outdoor treats. You could surf in near solitude on the breaks of Kalapakı Bay. There were beaches without footprints within three miles of town. With no gates on canefield roads in those days; you could wander up to the mountains and down to isolated shores at will. Or lie with a book in the shade in one of Lıhu'es several tiny parks.
There was never a good reason I could discern for put- ting a town here. The name isn't even local. It was borrowed from Oahu, the story goes, by Kaikioewa, a Kamehameha chief assigned to administer the island. For reasons lost to history, he selected for his home a plateau well inland from the sea, not really near anything.
Eventually, it became the center of things. The village grew in the mid-1800s around the Lıhue Plantation mill, on Nawiliwili Stream. Its role as the seat of government was confirmed with the development of a large protected harbor at Nawiliwili Bay, just two miles from the town. Then the Lıhue Airport was opened in 1950 on the plain between Kalapakı Bay and Ahukini.
When I arrived, commerce was dominated by an array of mom-and-pop stores, such as N. Yoneji Store, Senda Photo, Hamura Saimin, Tip Top Café and Bakery, M. Tanaka Store and Lıhue Fishing Supply. A few still exist, despite the big-box stores.
L-ıhu'e is far busier now, day and night, but if I walk the town on a Sunday or holiday, I still find the soul of that quiet village I experienced more than three decades ago. Old false-front buildings still stand, often repainted
and repurposed. In the 1960s, the town got a couple of dramatic new structures with sweeping, curved rooflines. Yet comfortingly, they included stylistic nods to bygone times, like the Lıhue Public Library's moss rock walls (pictured above). Along the asphalt in the heart of town, ballast stones from sailing ships are still used for curbstones.
If you paddle a canoe out past the Kukii and Ninini Point lights late in the day, you can still sit off Nawiliwili Bay and imagine what it looked like to the Kamehameha chief who arrived nearly two centuries ago and named it.
Don't miss another story from HAWAII Magazine
Sign up for our weekly E-Newsletter today!