The stars come out at the Maui Film Festival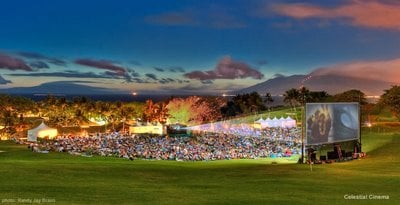 The lobby of the Four Seasons Maui looks like Rodeo Drive this weekend. Tori Spelling was having breakfast by the pool with husband Dean McDermot, showing a remarkable amount of cleavage. Eddie Murphy was shadowboxing his way along the beach path. Dax Shepard is in the jacuzzi with Kristen Bell. Everyone around the pool is reading Variety.
It's the weekend of the Maui Film Festival—and the stars are out in more ways than one, because the festival's main venue is the Celestial Cinema, a an immense screen set up outdoors on a driving range. It's movies under the balmy Maui skies. Tonight's main feature: "Paper Heart" with Michael Cera and Charlyne Yi.
But the Celestial Cinema is only one of the great venues. The SandDance Theatre offers free movies right on the beach in front of the Four Seasons. The other night 700 people saw the animated film Surf's Up and watched the incredibly charming Zooey Deschanel win a rising star award.
Even the seminars have a great setting—under the shade of a half dozen banyan trees in front of the Wailea Marriot.
Movies aren't all the fun. Last night the Four Seasons hosted the "The Taste of Chocolate," a party with chocolate sculptures, chocolate fountains, chocolate martinis and chocolate desserts of all descriptions. Tonight is the Taste of Wailea, in which the restaurants of this glittering resort strip serve up gourmet goodies and the wine flows.
In fact, that's where we're off to right now. More on the Maui Film Festival in an upcoming issue of HAWAII Magazine, but for now, you can watch the festival's trailer by clicking below.