The top surf schools in Kihei for beginners
Maui doesn't get enough credit as a destination for novice surfers.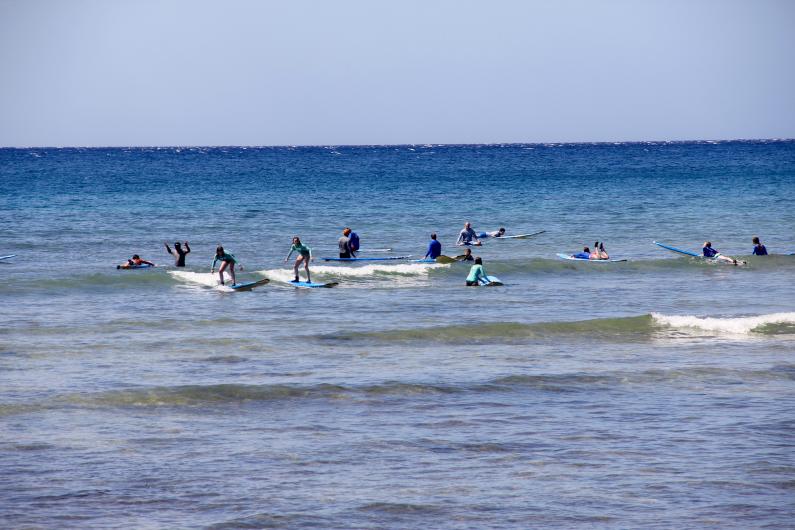 The shallow waters and powerless waves at Kalama Beach Park make way for a beginners' break called The Cove"—the perfect place to learn to surf.
Maui doesn't get enough credit as a destination for novice surfers. Sure, the tradewinds can wreak havoc on Maui's waves by the afternoon hours, but the upside is that our beginner surf breaks aren't nearly as crowded. Kihei's abundance of surf schools and shops and the tiny, gentle waves of The Cove surf break cater to a true beginner. Maui Waveriders, Waves Hawaii Surf School, Surf Yoga Maui, Big Kahuna Adventures and Maui Beach Boys operate out of Kalama Beach Park in Kihei and have you covered with surfboard rentals, instruction, rash guards, reef booties and plenty of aloha!
Maui Waveriders
Maui Waveriders is the biggest surf school on the island. They offer affordable surf and SUP (stand-up paddleboard) lessons for all ages starting at $65 for one hour. Each lesson includes rentals, a short land lesson and time in the water with an instructor. You get to keep the surfboard for the rest of the day. Maui Waveriders also has standup paddleboard lessons, an abundance of equipment rentals, and surf photographers for hire at inexpensive prices. (808) 875-4761, mauiwaveriders.com
Waves Hawaii and Surf Yoga Maui
Waves Hawaii Surf School teams up with Surf Yoga Maui to offer private, semi-private and group lessons from the Kalama Beach parking lot starting at $75. They also offer discounted packages of three or more lessons for enhanced progression as well as surf safari camps—a three to four hour surfing tour around Maui to find the best spot for your level. (808) 879-4525, gosurfmaui.com; (808) 264-9136, surfyogamaui.com
Big Kahuna Adventures
In addition to being one of the best surf schools on South Maui, family-run Big Kahuna Adventures also offers SUP lessons, kayak and snorkel tours and beach rentals out of their Kalama Village shop. Surf lessons are two hours in length and include optional surf photos and discounted rentals for the rest of the day. Group and private lessons are available and start at $60. Their instructors focus on building a foundation on land so that students can maximize their time in the water. (808) 875-6395, bigkahunaadventures.com
Maui Beach Boys
Maui Beach Boys focuses on surf lessons that are both fun and safe. Their dog, Church, is famous for tandem surfing with students. Their two-hour lessons start at $70 and include rentals and bottled water. Maui Beach Boys also offers surf camps and kamaʻāina (local) discounts. They are known for being especially kid-friendly and providing lots of individual attention out in the water. (808) 283-7114, mauibeachboys.com
For anyone who has ever tried it, you know that learning to surf is far more difficult then renting a board and paddling out. In fact, just showing up in the water with no knowledge at all can even be dangerous for you and fellow surfers. Having someone there to show you proper paddling technique, how to read the ocean and the elusive "pop up" on your surfboard are priceless experiences. It'll do wonders for your progression, and you'll be surfing Peʻahi (Jaws) in no time!