These 7 Hanapēpē Businesses Embody the Town's Entrepreneurial Spirit
From spices to Japanese cuisine and the best lilikoʻi chiffon pie on Kauaʻi, these small businesses help to define the town of Hanapēpē.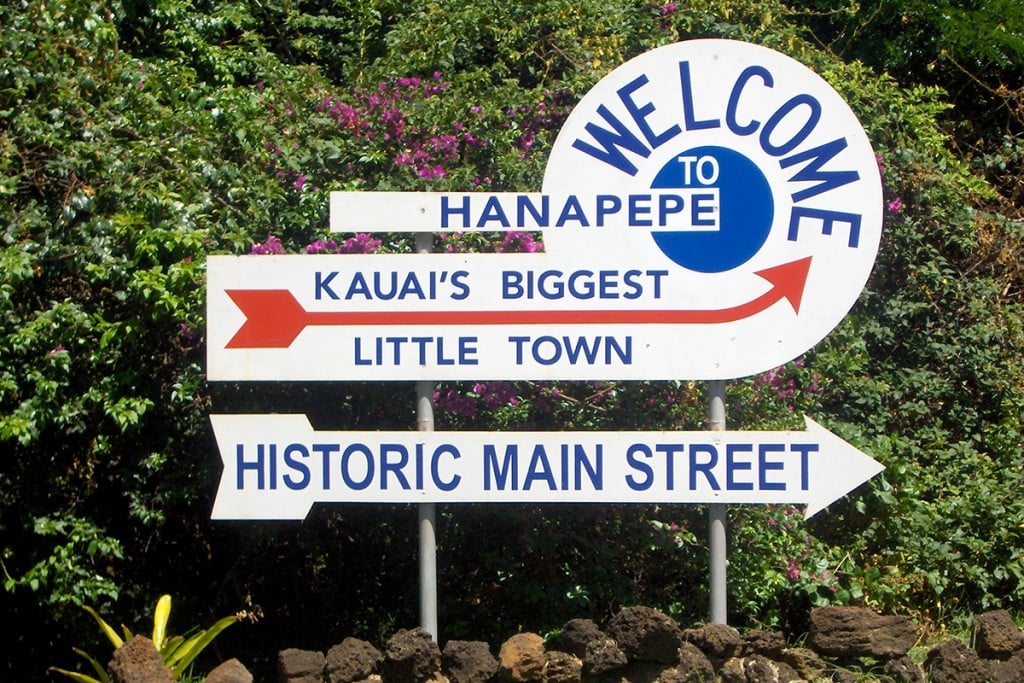 "Kauaʻi's Biggest Little Town," Hanapēpē, isn't just a cute, off-the-beaten-path borough with a swinging bridge. It's a testament to the entrepreneurial spirit. The town was built by immigrants, who, after retiring from the sugar plantations prevalent in Hawaiʻi's past, banded together and started a community of small businesses. By the 1930s, Hanapēpē was bustling, with clinics, theaters, pool halls, hotels and churches attracting locals from across Kauaʻi, as well as vacationing military personnel. Even after Highway 50 was built in 1938, giving residents and visitors a faster route across the island that bypassed Hanapēpē, the district continued to serve as a hub for small businesses, new and old. Here are seven businesses—a small sampling of the town's full catalog—that help define Hanapēpē and perpetuate the entrepreneurial spirit that made the town what it is.
1. Aloha Spice Co.
Established in 2007, Aloha Spice Co. takes its name to heart, imbuing the spirit of aloha into all of its delectable products. From specialty rubs featuring Island flavors, like the Hawaiian Kiawe Smoked ʻAlaea Onion Salt, to all organic chicken and pork seasoning packs, these made-in-Hawaiʻi products are essential ingredients in any kitchen. 3857 Hanapēpē Road, (808) 335-5944, alohaspice.com.
2. Japanese Grandma's Café
Like many visitors, Keiko Napier fell in love with the town of Hanapēpē on her first visit, smitten by the art galleries, historic buildings and small businesses. Unlike many visitors however, Napier started her own restaurant in the town—and a successful one at that. Serving ʻono (delicious) sushi rolls, tonkatsu (breaded pork cutlet) plates and fresh poke bowls, the café has established itself as the place to go for Japanese cuisine, not just in Hanapēpē, but on the island of Kauaʻi. 3871 Hanapēpē Road, (808) 855-5016, japanesegrandma.com.
3. Banana Patch Studio
Located in the historic Chang Building—built in 1926—Banana Patch Studio began as a humble one-person, one-artist operation nearly 20 years ago. Now, the art gallery boasts over 20 artists and features everything from hand-painted ceramic tiles to locally sculpted pottery and fine art. The studio's "Mahalo For Removing Your Shoes" tile is a favorite among customers. 3865 Hanapēpē Road, (808) 335-5944, bananapatchstudio.com.
4. Storybook Theatre of Hawaiʻi
Home to local celebrity Russell Da Rooster—a rooster puppet that appears on the island's local TV stations from time to time—the Storybook Theatre of Hawaiʻi's mission since 1986 has been to provide the keiki (kids) of Kauaʻi a children's media center. For many kids, the quaint theater in the heart of Hanapēpēis their first taste of the performing arts. The Storybook Theatre of Hawaiʻi also hosts a wide variety of events, including film festivals, poetry readings, and talent shows and musical acts on Hanapēpē Art Nights. 3814 Hanapēpē Road, (808) 335-0712, storybook.org.
5. Lū.Lā
If you're looking for Native Hawaiian-inspired patterns on flowing dresses and skirts, as well as gorgeous accessories, look no further than Lū.Lā, one of Hanapēpē's newest businesses. The boutique's carefully curated museum-quality art and jewelry, and designs from local clothing-makers like Naonao Hawaiʻi, Kealopiko and Tutivi, make it hard to leave empty-handed. 3900 Hanapēpē Road, (808) 855-0215, hanapepe.org/lula.
6. Popo's Cookies
While Popo's Cookies has been around since 1982, originally in Kapaʻa, the business moved in 2013 to Hanapēpē where its cookies are now baked—so you know they're fresh. With 14 original recipes, Popo's Cookies has been able to stay open for nearly 30 years thanks to its oh-so-ʻono cookies and ravenous fan following. And if you find yourself looking for a locally made treat, heed the cookie company's motto: "You've tried da rest, now try da best!" 3900 Hanapēpē Road, Suite F, (808) 482-4545, hanapepe.org/popos-cookies-1.
7. Wong's Chinese Restaurant
You can't go wrong with Wong's. Mouthwatering local grinds—fried saimin, teri burgers, kalbi plate lunches and more—are just the beginning. Its pastries, cupcakes, cookies and cakes will send you straight to sweet tooth heaven. But the real star? The lilikoʻi (passion fruit) chiffon pie—so creamy and light and full of flavor—is more than enough to justify a trip to Wong's. 13543 Kaumualiʻi Highway, (808) 335-5066 wongsomoide.com.
To find out more about Hanapēpē and for a list of its small businesses, visit hanapepe.org.