These chopsticks want to revolutionize the way we eat in Hawaii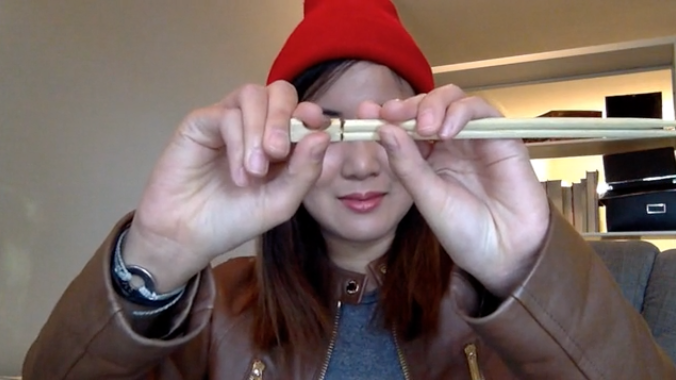 If you live on the Internet and know your way around a pair of chopsticks, chances are you've seen this viral meme. If you eat sushi and plate lunches on the daily, chances are you were salivating over the thought of it being true.
It claims that if you break the top off of them, they become a secret holder to lay them on—*cue minds being blown across social media*—except for one small problem tinier than a grain of sticky rice: It doesn't work.
(Go ahead, and try, we'll wait…)
Then the clouds over Honolulu parted and this appeared: a patent that's already been pending for such a helpful feature in a product that has strong Hawaii ties. Oahu's Mylen Fe Yamamoto, the founder and inventor of Cropsticks, has been working on these "mind blowing" chopsticks since April 2015.

Originally her team's intent was to keep the product under wraps, but then the Internet came knocking. "After seeing the meme two weeks ago, I knew we had to launch fast," Yamamoto said to HAWAIʻI Magazine, of her current Kickstarter to move the product along and where you can learn more about their provisitional patent and fully functioning prototypes. The concept of these disposable chopsticks also considers the environment, exclusively producing them out of bamboo in an effort to prevent deforestation.
Yamamoto, a Moanalua High School graduate, grew up in the town of Aiea where she lived with her Japanese grandmother, the woman who first taught her how to use chopsticks. "My goal is to get them into Hawaii restaurants," she said and make them a part of our Islands' dining experience.
As for the first thing she's going to eat when Cropsticks finally launch later this year? "Whatever the first restaurant that purchases them sells," she said. Then laughed, "Probably sushi, though. I never get sick of it."