These mind-bending views of Oahu are insanely hypnotic
Honolulu photographer Petey Ulatan's digitally manipulated photo series of Hawaii cities and coastlines are absolutely surreal.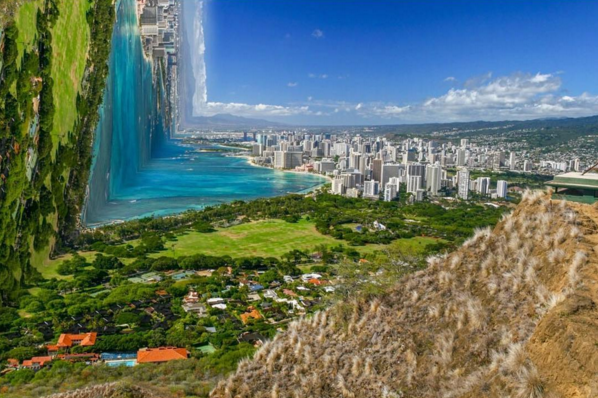 You've never seen the Hawaiian Islands like this before.
Honolulu-based photographer and graphic designer Petey Ulatan works his digital photo manipulation magic on some of Hawaii's most scenic coastlines, giving a mesmerizing and warped perspective to some of our most familiar coastlines.
The series, which he consistently shares on his Instagram, feature cityscapes from around the world (even space!), but of course, we're naturally fond of his altered depictions of the waters off Diamond Head, Waikiki's urban sprawl and bodysurfers at Sandy's.
"I like to describe myself as a photographer with a graphic designer's heart. I've been designing since I could pick up a pencil and taking photographs for as long as I remember," Ultan tells Hi-Fructose. "For some images, I would mask out the sky and add another layer of another photo of a sky to create the illusion that it's coming from one world."
Ulatan's surreal images tie back to his interest in science fiction narratives, settings and themes; they're unnerving, yet oddly relaxing in their use of symmetry, which force you to look deeper into each landscape-bending and reconsider space, time and you're place in it.
Diamond Head Beach Park
Diamond Head Summit
Koko Head Stairs
Ala Moana Beach Park
Makapuu
---
You can check out more of his work at @peteulatan and ulatan.com.