These snazzy neckties with a Hawaii twist mean business
Pineapple Palaka adds a touch of Hawaiian style to men's fashion.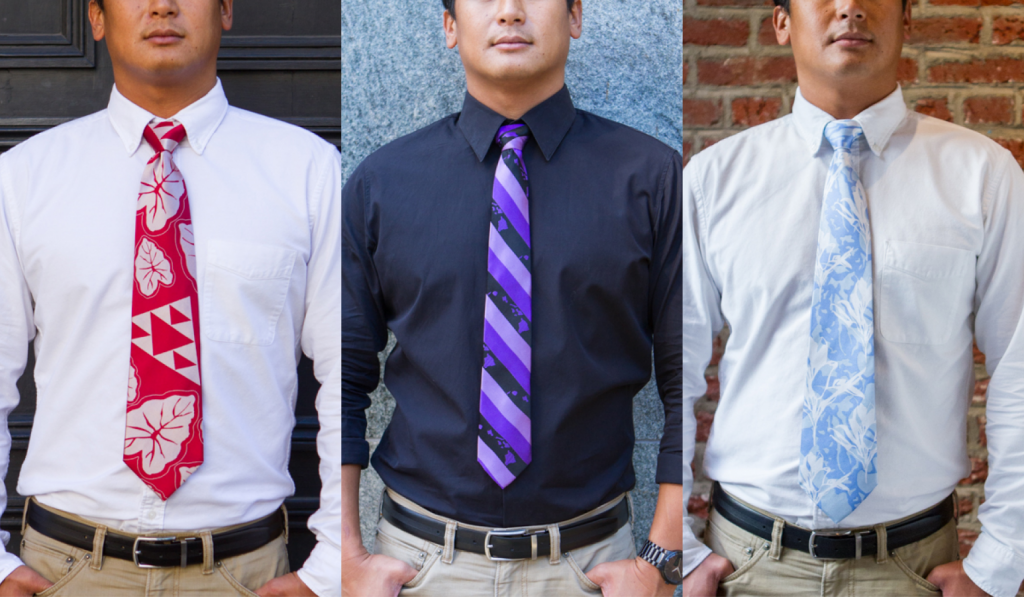 When Jonathan Fong left Hawaii to pursue a degree from Brigham Young University in Utah, he always kept Hawaii close in mind. Though the Kamehameha School alumnus was no longer in his island home, he wanted to see and feel the presence of his island upbringing, even from afar. It was in his professional life at a corporate office that he decided to take a deeper look at his fashion options, which lacked the island style he longed for. So he set off on a mission to find ways of incorporating his Hawaiian roots into the fashion world and launched Pineapple Palaka in November 2014, thanks to the help of designers David "DJ" Kekuaokalani of Kahuku and Aiko Miyagi of Honolulu, who blend the vibrance of Hawaiian design with a crisp, business aesthetic.
What was the inspiration for Pineapple Palaka?
After coming back to Hawaii, I worked for a pharmaceutical company and then was transferred to the mainland, so I worked there for a number of years. Going to meetings, you couldn't wear aloha shirts, so all of my aloha shirts were kind of wasted, and the only ties I could find to support Hawaii were swap-meet ties that weren't the best quality. I found an opportunity to come back home and worked at Queen's Hospital for a little bit, and then realized we should develop a necktie we could be proud of.
And how did palaka come into play? It's such a nice, nostalgic touch.
I've always really liked palaka, but have never seen it styled, so we thought it would be cool to put it on the back of the ties as more of an accent.
Were accessories always the focus of Pineapple Palaka?
I always imagined it as a clothing company, but we felt the real niche was neckties. Our whole concept is that it looks like a nice tie from afar, but when you get close you can see the hints of Hawaiian design.
Where can readers purchase these unique ties?
Our website, of course. And we can currently be found at the Polynesian Cultural Center, Donald Trump, Roberta Oaks, Red Pineapple, Celebrity Tuxedo, Andy Mohan and a couple of retailers in Japan.
What kind of customer do you design for?
There aren't too many opportunities here in Hawai'i for guys to wear ties, but the customer that first came to mind was the guy who is from Hawaii but working on the mainland. Because whenever someone from Hawai'i goes to the mainland, the style never really leaves, so hopefully this helps.
Where do you source your fabrics?
We'd love to produce things here in Hawaii but this is silk, and the best silk is overseas. But, the palaka, we buy here in Hawaii, so that's authentic palaka. We're looking to maybe produce the silk and tailor it here, which we are looking into, but we would rather give a better product at a cheaper price point.
Which designs are most popular?
Hmmm … let's see. The pineapple, ti leaf, kalo, kanaka and ulu are some of the most popular.
Those are some of our favorites, too. What inspires your designs?
When we come up with designs, we try to come up with things we're passionate about and that look good design-wise. We don't necessarily design from a Hawaiian manao, but Hawaii-inspired, and elements that are important to Hawaiian culture, like the kalo, ti leaf and ulu prints.
And what about styles?
Right now we have the executive—which is a regular width—and slim cut styles, but moving forward it's always going to be slim, just because the market and trends are going more toward a slim cut.
What is next for Pineapple Palaka?
We're working on some stuff in Tokyo and Okinawa and are coming out with a new necktie line, bow ties for adults and kids, and a higher-end sock line for both men and women.
---
Pineapple Palaka is stocked in various boutique locations on Oahu, Maui, Hawaii Island and Kauai, and online at pineapplepalaka.com.