These three hotel havens are Waikiki's best-kept secrets
Hint: They're on the edge of the strip, away from the hubbub.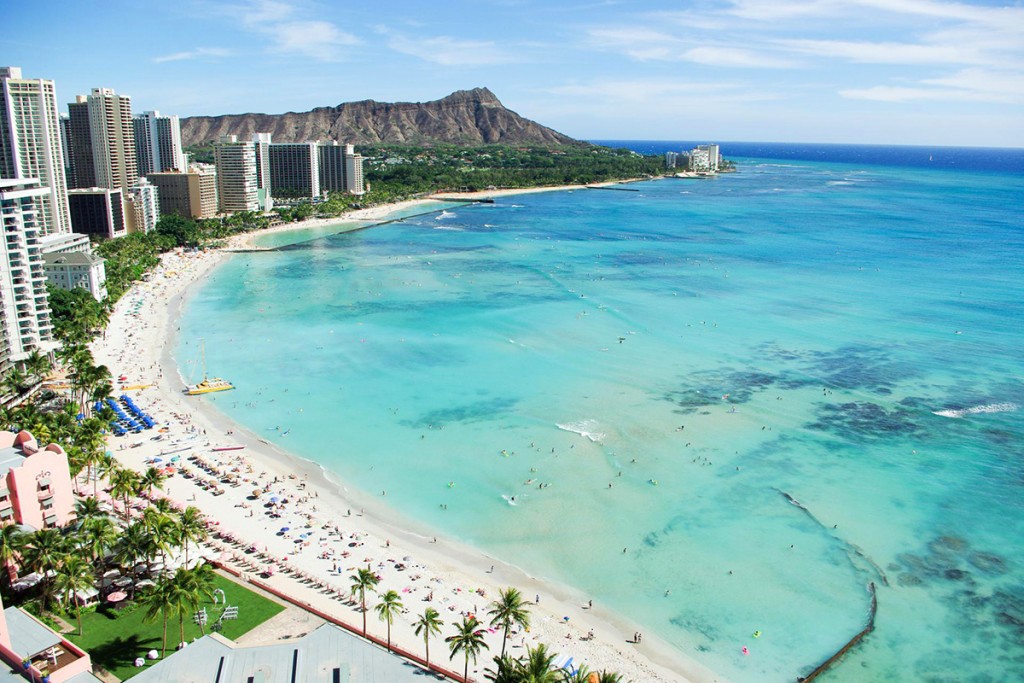 Psst: Can we let you in on a little secret? We love ourselves a good hustlin', bustlin' day in Waikiki (with its stellar repertoire of shops and top-tier restaurants, we're constantly busy) but lately we've been feeling the need to get away from it all with our own little oasis—and we've finally found it: serene, peaceful suites that are zen havens in the midst of the hubbub, like The Lotus Honolulu at Diamond Head, Luana Waikiki Hotel & Suites and the Aston Waikiki Sunset.
Off the beaten path and away from the mad bits of Kalakaua and Kuhio avenues, quiet and calming The Lotus Honolulu at Diamond Head is a gem of a hotel we need to get the most out of our relaxing vacation. Located oceanside with expansive Kapiolani Park as its backyard, you'll be literally seconds away from a peaceful stroll through green spaces or a dip in the sheltered Kaimana Beach cove. Oh, and catching the stunning Hawaii sunset? The Aston Waikiki Sunset is on the edge of Waikiki; from there it's just a short stroll to the beach, where you'll be treated to clear views—no giant resorts blocking your vistas. Pretty paradisiacal, right

Curating an upscale zen experience is what makes these spots ideal vacation go-tos, and the perfect accompaniments to the divinely peaceful natural setting. Align yourself—body and soul—with yoga in the park, or join in on yoga classes at the Luana Waikiki Hotel & Suites. Or, the Lotus Honolulu at Diamond Head offers tai chi classes. And did we mention that it's right at the foot of iconic Diamond Head crater? Taking in that stunning silhouette from the ground is treat enough, or try embarking on your own little pilgrimage to the top for a little exertion therapy. You can also snag a good Zumba session, in-room massage or the Lotus' free daily wine service in the lobby (our personal favorite way to attain nirvana) or, for something with a little less punch, refreshing fruit-infused water. Relaxing at the sauna at the Aston Waikiki Sunset is another surefire way to relax, as is chilling out on the Luana Waikiki Hotel & Suites' private sun deck, complete with barbecue grills.
Starting to feel the stress and anxiety melting away? It could be the soothing sound of the waves outside your window; or it could be the resort staffers who are handling basically everything, meaning there's nothing left for you to worry about. Everything from luggage storage and maid service, to valet (don't even think about hunting for parking …), wake-up service (… or dealing with alarms), your morning newspaper and coffee, and even, at the Aston Waikiki Sunset, grocery delivery. Um, can we never leave?
The Lotus also has you all set up for an adventure on the town, with free admission for two to the Honolulu Academy of Arts, a must-see stop for culture and fine arts lovers. Plus, we adore how your stay comes with the complimentary use of bicycles for a charming ride around the park, including the option of—be still our hearts—tandem bicycles, aka the perfect picnic vehicle. And cars are unnecessary while staying at the Luana Waikiki Hotel & Suites (no fighting traffic, no hunting for parking and no garage fees); instead, catch the daily Waikiki shuttle straight to some of the best shopping and dining the island has to offer.
Can you see why we're head over heels? If you need more convincing, you know where to find us: living it up in Waikiki!