Things to do in July 2018 in Hawaii
Start off your summer right on Kauai, Maui, Hawaii Island or Oahu with these festivals, concerts, night markets and rodeo parades.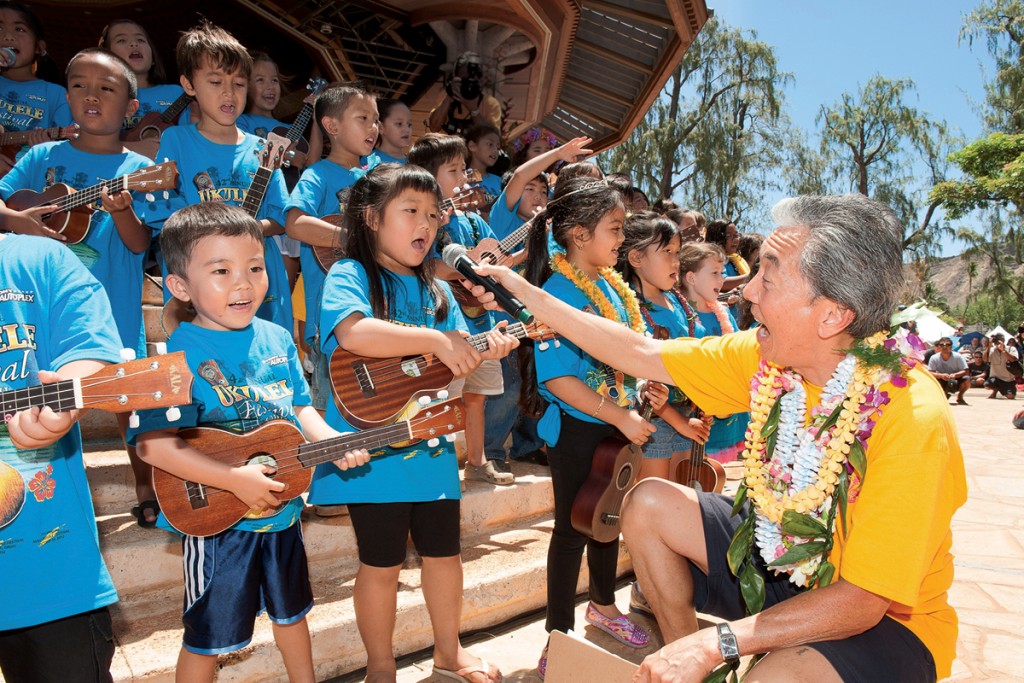 Ahh summer– where school's out, the sun's shining, and the events are plentiful. This month is packed with history as we celebrate the traditional Obon, the merry sounds of ukulele, the highly regarded hula and more.
Oahu

Waikiki Aquarium's Ke Kani O Ke Kai Concert Series
7/12
Roll out a blanket and break out a lawn chair for an evening with Hawaii's top entertainers. As part of a five-concert summer series that spans until August, this Tuesday night show will feature performances by Kimie Miner, Kapena, Napua Greig, and hula halau (hula school) Na Lei Kaumaka O Uka. $15–$50, 7 p.m., Waikiki Aquarium, 2777 Kalakaua Ave., Honolulu, waikikiaquarium.org.
56th Annual Hawaii State Farm Fair
7/14–7/15
Goats, chickens and pigs galore at this annual family friendly event. Keiki can have the chance to milk replica cows, interact with an assortment of friendly farm animals, and learn about Hawaii's agricultural and farming industry. This bustling event also includes a chili pepper eating contest, a corn husking competition and entertainment by Augie T and Naehu. $5, 9 a.m., Kualoa Ranch, 49-560 Kamehameha Hwy., Kaneohe, hawaiistatefarmfair.org.
Hawaii All-Collectors Show
7/15
From vintage kitchen equipment to modern rattan chairs, this exhibition and sales show at the Neal Blaisdell Center will make you feel like you're on an episode of "Antiques Roadshow." While at the show, hunt for the perfect find at one of 180 booths, or just take a stroll and peruse the exotic collections people have spent their lives accruing. $2–$20, 9:30 a.m. to 5:30 p.m., Neal S. Blaisdell Center, 777 Ward Ave., Honolulu, ukulele.com.

48th Annual Ukulele Festival
7/15
Everyone loves a little ukulele in their lives, and nowhere is that more apparent than at Kapiolani Park Bandstand, where local legends strum their hearts out during a day of performances. On the green lawns surrounding the pavilion are food booths, ukulele displays and beginner classes will get newcomers plucking and strumming simple chords. Don't miss the student orchestra, hosted by event coordinator Roy Sakuma, consisting of over 800 keiki, which is easily one of the cutest happenings all year. Free, 10:30 a.m. to 5:00 p.m., Kapiolani Park, 3840 Paki Ave., Honolulu, ukulelefestivalhawaii.org.
41st Annual Prince Lot Hula Festival
7/21–7/22
Twelve hula halau gather for a two-day showcase of this celebrated Hawaiian art form. Considered the largest and the oldest non-competitive hula event in the state, this event honors Prince Lot Kapuaiwa who helped revive the art of hula in the Hawaiian Islands. Included in the event are performances by the Royal Hawaiian Band, a Hawaiian-themed craft fair and demonstrations of traditional Hawaiian arts such as feather lei making and lauhala (leaf) weaving. Free, Various times, Iolani Palace, 364 S King St., Honolulu, moanaluagardensfoundation.org.
Maui

Incredible Corals: Night at the Reef
7/12
You're invited to witness a rare phenomenon that only happens during the summer lunar cycle. Predicted to occur on this particular night, rice coral will spawn– where gametes are released into the water, taking the form of tiny delicate balls that illuminate under the soft glow of light. Before that, experience exhibits after dark such as stargazing, an underwater dive presentation, and enjoy live music and more. $14.95–$34.95, 6:30 p.m. to 9:30 p.m., 192 Maalaea Rd., Wailuku, Maui Ocean Center, mauioceancenter.com.
Iao Valley 10k and 5k
7/14
Challenge yourself by choosing between a 10k or a 5k run through Iao Valley State Park– filled with rich valleys, lush greenery and flowing rivers. Light food and refreshments will be available to participants afterward. $25 – $45, 7:30 a.m., Wailuku Municipal Parking Lot, virr.com.
Kulolo Workshop with Namea Hoshino
7/14
Learn to make kulolo, a Hawaiian dessert staple, with Namea Hoshino, the Maui Nui Botanical Garden's kalo (taro) varieties manager. Made with kalo, coconut milk and sugar, kulolo is a healthy dessert that has a sweeter taste profile than poi, and a thicker, fudgelike consistency. $25–$50, 9 a.m. to 12 p.m., Maui Nui Botanical Garden, 150 Kanaloa Ave., Kahului, mnbg.org.
Kauai

Koloa Plantation Days
7/20–7/29
Hawaii's first successful sugar plantation started in 1885 with the help of the many immigrants who came to work there. Experience this history and traditions through cultural themed events, activities, music and more at this 10-day festival. From a historic sugar exhibit to a plantation cooking culinary market, you'll feel like you've stepped right into the past. Various prices, times and locations in Koloa and Poipu, koloaplantationdays.com.
Kilauea Night Market at Anaina Hou
7/28
Held every last Saturday of the month, this open air night market features over 30 local artisans showing off their craft in jewelry, pottery, woodwork, apparel, fine, art and every creative thing you can think of. Free, 4 p.m. to 8 p.m., Anaina Hou Community Park, 5-2723 Kuhio Hwy., Kilauea, anainahou.org.
Molokai

Obon Dance & Festival
7/28
This annual event not only brings together loved ones but is also a joyous celebration topped with food, traditional dancing and taiko drums performances, which can be heard echoing throughout the night. 6:30 p.m. to 9 p.m., Guzeiji Soto Mission of Molokai, 90 Hotel Lane., Kaunakakai, global.sotozen-net.or.jp.
Big Island

Hilo Orchid Society Annual Show And Sale
7/13–7/15
An abundance of color and the aroma of floral scents is what you can expect to be greeted by when you walk into this event. Adorned with thousands of different orchids, including exotic and hybrid species not normally found in stores, choose to bring an orchid home or simply stop to marvel. $5–$8, Various times, Edith Kanakaole Stadium, 350 Kalanikoa St., Hilo, hiloorchidsociety.org.
Mamane Night Market
7/20
Get your wallets ready as an array of vendors, artists, and musicians gather every third Friday of the month at the Botelho Building in Honokaa–complete with ono food, door prizes and a variety of handmade crafts. Free, 5:30 p.m. to 9:30 p.m., hccoh.org.
10th Annual Mango Festival
7/21
The smell of delicious mango is in the air. Dive into mango inspired dishes, smoothies and agricultural presentations including mango growing techniques and how to graft a mango. Stick around for a benefit concert where all proceeds will go towards the Puna lava evacuees and animal rescue. Free, 10 a.m. to 5 p.m., Hale Halawai, 75-5760 Alii Dr., Kailua-Kona, hawaiianwellness.com.