Things to do in Napili, West Maui
Though a small town in comparison to its bustling neighbors, the gems in this leisurely community will make you want to take a detour.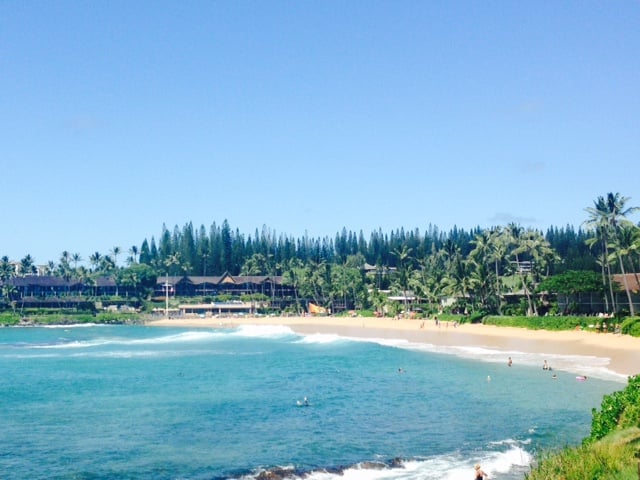 Between Kaanapali and Kapalua on the island of Maui, the town of Napili lies hidden from the main road. It's a residential neighborhood intertwined with boutique hotels and vacation condos, offering less crowds in comparison to its neighboring resort towns. Visitors, who are looking for a leisurely experience without the haste, love this place, and many of them tend to return year after year. Aside from Napili's relatively close proximity to popular destinations in West Maui, such as Lahaina and Honolua Bay, here are some other draws that you should consider doing while staying in Napili or visiting for the day.
Spend the day on the beach at Napili Bay
Whether you're staying in Napili or not, the crescent-shaped bay has a sandy beach with waves that are easy for kids and adults to handle. Swim, snorkel, boogie board, play by the shore or just dip your feet in the water after lying on the sand. The best part about this bay is that because Napili is less crowded, the beach will be too.

Eat the best pancakes at The Gazebo
If you've heard of Boots & Kimo's on Oahu, then you need to know about The Gazebo restaurant at Napili Shores by Outrigger. This is where Kimo started, we were told by the waitress on our visit. "The toppings are a little different, but the pancakes are the same," she said. The pancakes she's referring to are its famous macadamia nut pancakes with original sauce. We also really liked the "combo" even more with macadamia nuts, pineapple and bananas. Open daily 7:30 a.m. to 2 p.m., park in the front lot and walk through the resort towards the pool. 5315 Lower Honoapiilani Rd., Lahaina.

See George Kahumoku Jr.'s Slack Key Show
Every Wednesday night at Napili Kai Beach Resort, Grammy Award winner George Kahumoku Jr. plays slack-key guitar with different solo artists each week. Past guest musicians have included Brother Noland, Daniel Ho, Herb Ohta Jr. and David "Kawika" Kahiapo. $37.99, Doors open at 6:45 p.m., show starts at 7:30 p.m., Napili Kai Beach Resort Aloha Pavilion, 5900 Lower Honoapiilani Rd., Lahaina, slackkeyshow.com.
Buy fresh food at Napili Farmer's Market
On Wednesday mornings from 8 to 11 a.m., you'll find vendors selling fresh fruits, veggies, juice, macadamia-nut spreads, salad dressings, pastries and banana bread. You may also find slack-key guitarist George Kahumoku playing here along with other excellent musicians and singers. Find it at the intersection of Napilihau Street and Honoapiilani Highway.
Down one at Maui Brewing Co.'s brewpub
Five minutes away from Napili is the Maui Brewing Co. brewpub off of Honoapiilani Highway. It's the original Maui Brewing Co. with all of your favorite brews and pub food, if you're looking for a bar to mosey to during the day or after sunset. Open 11 a.m. to 10 p.m., happy hour is from 3 to 6 p.m. with $5 house beers. Kahana Gateway Center, 4405 Honoapiilani Hwy., (808) 669-3474, mauibrewingco.com.