This 90-mile Hawaii Island trail is a bird-watcher's dream
The new Coast-to-Coast Birding Trail encourages everyone to explore the island's diverse landscapes while looking out for the Islands' rarest species.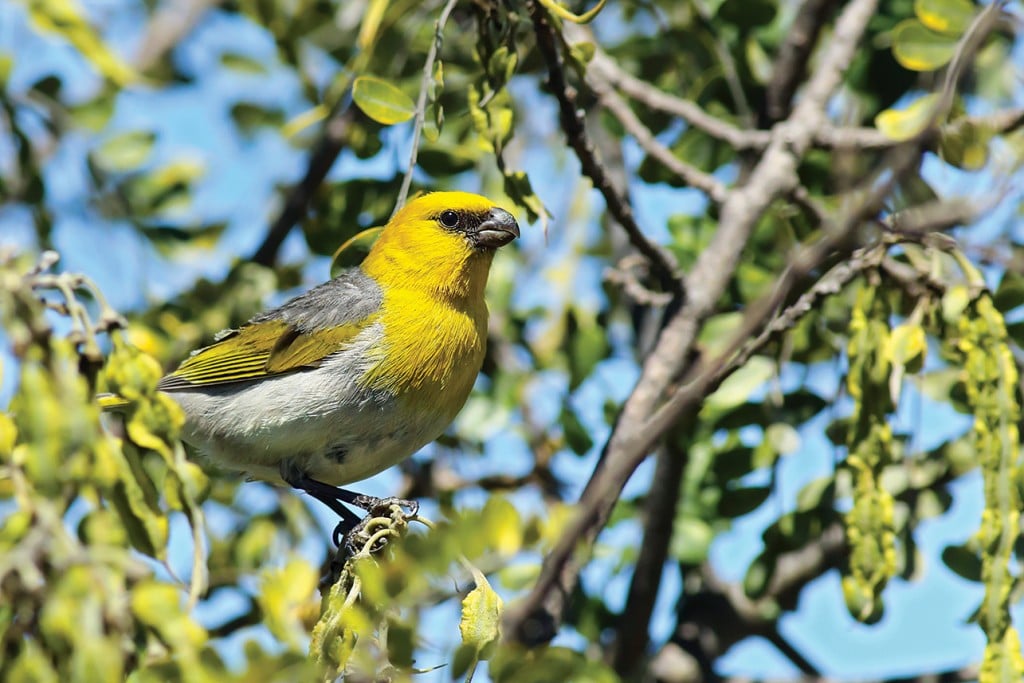 Binoculars in hand, I trudge through the steeply sloping, coastal sandbanks of Kaloko-Honokohau National Historical Park just north of Kailua-Kona.
Enroute to the inland Aimakapa Fishpond, one of the island's last intact wetland areas, I pass opalescent ocean waters alive with early-morning activity. Tiny silvery fish agitate the otherwise flat surface and black spidery crabs, camouflaged against the lava-rock surface, skitter in front of me. Dozens of honu (green sea turtles) mosey about, foraging for an algal breakfast. Along the rim of a tide pool, I spot a different kind of movement: A grey bird with a long slender beak totters on yellow legs.
I hone in with my binoculars while fumbling through my Hawaii Audubon Society field guide, until I thumb its identifying page: ulili. The bird, otherwise known by the enchanting common name of "wandering tattler," I read, is a regular winter visitor to the Islands. Since it's the end of August, this specimen has likely completed its long journey from Alaska just days ago. I watch it slurp down tiny creatures, hidden in the rocks, in recovery mode. My lenses stay fixed on it until a turf skirmish with another visitor—the brown, black and white mottled akekeke (ruddy turnstone)—causes it to take flight.
Not nearly fervent enough to call myself a birder, like the hobbyists satirized in the 2011 comedy "The Big Year," I'm merely a bird watcher (according to birder blogs, there's a big difference). But the same cannot be said for Rob Pacheco. The founder of ecotourism outfitter Hawai'i Forest & Trail, Pacheco recently linked up with three fellow Hawai'i Island birders to hatch a plan: the state's first birding trail.
The lay of the land
"One of the big pushes for doing this is to showcase Hawaii's nature and how unique it is; its conservation story," says Pacheco. "A lot of people don't know about bird watching here, but then you turn them on to an iiwi (scarlet Hawaiian honeycreeper) and they start to look at Hawaii in a different way."
Modeled after similar routes on the mainland, the new self-guided Coast-to-Coast Birding Trail, was formally launched at the first-ever Hawaii Island Birding Festival in late September. Rather than a single path, the trail is actually a corridor that connects existing public paths from Kona to Hilo where popular island birds—including some only found in the Hawaiian Islands—are often sighted. Kaloko-Honokohau's wetlands are its westernmost attraction.
Rare birds of a feather flock together
At the edge of Aimakapa Fishpond, I ready my binoculars. A black bird floats near some reeds in the brackish waters. I easily identify it by its white frontal shield as an endemic Hawaiian coot or alae keokeo. Though they populate Hawaiian lore—the sacred birds were both pets and children to the goddess Hina—alae keokeo today are extremely rare on this island, where their wetland habitat is dwindling. I make a satisfying check on my bird list and continue to scan the water. I spot a predatory female aukuu or black-crowned night heron, an indigenous species, in the distance. Behind it, a flash of white makes me do a double take.
A seagull.
Synonymous with coastlines on the mainland, Hawai'i is virtually gull-free thanks to its remote location. Gulls lack the salt glands used by marine birds to desalinate seawater on long journeys. This lonely survivor may have been blown off course when flapping around some far-off shore, or, headed off for the unknown in a crazed move. Despite all odds, there it was, lounging duck-like in an ancient fishpond, probably unaware of his luck (or mine). Check.
The thrill of the chase
From Kaloko-Honokohau, the Coast-to-Coast Birding Trail continues on to the cloud forest atop Kaloko Road. There, amid spiraling fern tendrils and misty footpaths, it's possible to spot rare curved-bill Hawaiian honeycreepers and unassuming thrush relatives such as the omao, an unexciting bird until you learn—as I did when checking my list against the field guide—its only worldly home is here on Hawai'i Island.
Try as I may, I couldn't confidently identify any birds here, only catching a flutter of green or brown feathers every now and then. Not every effort affords a bounty of check marks, but therein lies the chase.
Despite its singular grouping, the birding trail is not meant to be accomplished in a single day. A good thing, because I'd already eaten up the good part of one, meandering along two of its more than a dozen paths. "If you wanted to explore all of the different areas," Pacheco told me later, "the trail could definitely take a week." The 90-mile trail is bookended by wetlands—the Lokowaka Pond marks the end on the Hilo side—but there are plans to add an offshore expansion. Pacheco added, "Shearwaters, petrels, tropic birds, frigatebirds are all just off the Kona coast."
On a recent drive away from the sea, in the winding pasturelands south of Waimea, I spotted not one but four elusive pueo (Hawaiian short-eared owl) watching cars from fencepost perches. The birding trail guides visitors to its newest public attraction: The Palila Forest Discovery Trail.
Look out for state-of-art features too
Opened to the public for the first time in July, the experience of the new trail is supplemented by abundant QR-code signs that provide additional information on the landscape, flora and birds via smartphone.
When I navigated the four-wheel-drive road to the high-elevation dry forest on a recent day with my husband, an unlikely rain dampened our spirits. Certainly, I thought, the fluffy palila (gray, yellow and white honeycreeper), for whom the trail is named, would be hunkered down and obscured by the leafy furrows of their favorite similarly colored māmane tree buffet. We both really wanted to spot this bird.
Their landscape decimated by voracious invasive herbivores, fewer than 2,000 of the birds remain. This small māmane grove within the Mauna Kea Forest Reserve is their final refuge. As we wandered through alternating patches of thigh-high brown grasses and forested tree canopies, I learned the palila represented just one branch of a radiating web of 55 honeycreeper species, which evolved from a common ancestor more than 100,000 years ago. Today, only 17 of these species survive. Adding to its intrigue, the chubby palila is the last of the specialized finch-billed honeycreepers.
My binoculars, lenses covered in raindrops, were again at the ready. We heard the palila's chirping before we spotted it. But, there it was, perched on a branch and munching on a māmane seed pod. Right next to it, another ruffled its feathers against the rain. We stood there amazed, watching for as long as they would allow. We looked at each other and then around at the empty trail for someone to share the moment with, but there was no one. We silently nodded and put pen to paper. Check.
---
Hawaii Island Coast-to-Coast Birding Trail • Visit hawaiibirdingtrails.com to download maps, checklists and to connect with recent sighting forums.