This Cat Sanctuary on Lanai has become Hawaii's Most Surprising Travel Destination
It provides a shelter for Lanai's feral cats, keeps native birds a little safer and has become a major tourist draw.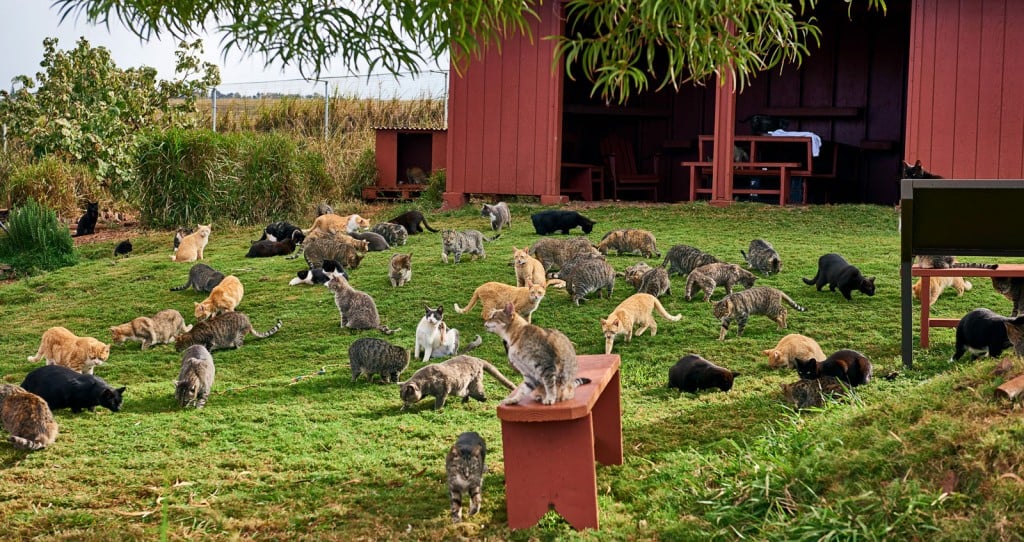 Wherever Kathy Carroll goes on the small, friendly island of Lanai, invariably someone asks her about one of her cats, or says a playful "good meow-ning" to her in passing.
Carroll is known as The Cat Lady. She feeds and houses 425 cats as the founder of the Lanai Cat Sanctuary. "I never thought I would be," she says of her feline title and second career—her background is in science. "But I embrace it."
In 1999, Carroll moved to the island with her artist husband, Mike, and, in 2004, noticed a growing population of roaming, homeless cats. "They were running around town, begging for food at restaurants," she says. Inspired, she formed a volunteer trap-neuter-release program, with a Maui vet coming over to perform the surgeries in a cleaned-out stable stall at the local Four Seasons Resort. Two years into the kitty trap-and-release operation, a wildlife biologist discovered a colony of 'ua'u, or Hawaiian petrel birds, in the clouded, forested peak of Lāna'ihale, on the island's north side. While Carroll and her team were helping control the cat population, the felines still posed a threat to the indigenous birds, which are an endangered species.
"We started thinking of a shelter," says Carroll. "We were thinking of a traditional brick-and-mortar building, but it was too expensive, and not feasible for feral cats. Then I thought of the Africa big cat preserves, and cats are little versions of lions."
With the help of volunteers, and donated shipping pallets, garage doors and fencing, in 2008, the Lanai Cat Sanctuary opened, a cageless open-air facility for Lanai's "little lions." It's a place that, at press time, 425 content cats call home, no longer a nuisance to the community or a scourge to the native bird populations.
The shelter takes a multifaceted approach in rehabilitating cats: trapping feral cats, providing ongoing medical care and socializing the cats. "We've made a positive difference in the community," says Keoni Vaughn, the sanctuary's executive director. "The perception of feral cats [here] has improved."
It's a growing operation, too. "We take in cats year-round," says Vaughn. This past year, the sanctuary accepted 145 new cats, most of which were feral. The sanctuary staff doesn't have hard data on the number of feral cats on the island, but Carroll estimates it's in the hundreds. It's another reason the sanctuary recently underwent an expansion to house about 100 more cats, says Vaughn. A larger intake area, where the cats are temporarily housed during their vaccination quarantine, was just built, as well as more feeding stations.
While the sanctuary has become an established refuge for the island's cats, it has also become a popular tourist destination. This past year, 1,300 people visited the sanctuary, which is located a mile from the Lāna'i Airport. Vaughn says some people go to Lāna'i just to visit the sanctuary, open daily for guests from 11 a.m. to 3 p.m.
"People who come here are cat lovers," says Carroll, scratching Cloud, the sanctuary's softest cat. "It's fun to see which cat gravitates to which visitor."
Upon entering, a gaggle of cats meander up to me—Carroll calls them the greeting committee. Everywhere I look, I see kitties, and hear their playful mews. Some are wrestling in the grass. Others are napping in one of the 45 kitty coops, or in a basket in a tree. There are many I won't see, though. The sanctuary's unsocialable residents prefer to hide among the bushes, adhering to their former feral lifestyle. To get my cat-petting fix (I can't have a cat; my husband is allergic), I head straight for the sanctuary's "cateteria." It's a large, tiered U-shaped table, one of two main areas where the cats are fed and, afterward, lounge. Nearby is a large litter box—remember, there are 425 cats—made from mulched pine needles. "It's equivalent to 400 regular litter boxes," says Carroll.
During my visit, I brush several cats—they love it—and give them the scratches they continually demand. Visitors can bring treats and toys when they visit. Some become so attached to their new furry friend, they end up adopting a cat. Mike Hanog, the sanctuary's general manager, will arrange the cat's air travel. Last year, 32 cats were adopted.
For those who don't take a cat back home, there's an adopt-in-place program for $20 a month, and 60 cats are enjoying that status. The donations go toward the sanctuary's operating costs and the cats' medical care. Twice a month, Eric Ako, an Oahu veterinarian, flies to Lanai to treat the sanctuary cats. He works in a medical vet van, complete with surgical tables and an X-ray machine, acquired by the sanctuary in 2013. Every cat is spayed or neutered, microchipped and receives monthly flea treatments. Ako even provides vet care for Lāna'i residents' pets, as there is no veterinarian living on island.
While many of my new feline friends look like kitty clones, after all, many are cousins or siblings, Carroll can tell me right away who is who. She sees their slight differences in fur patterns, sizes or demeanor. Each cat has a name, and Carroll knows a vast majority of them. And she loves introducing them. "That's Slater," she says pointing to a slender, gray cat. "Over here is Angel." She's a little black cat with only one eye. There's feisty Pierre; Milo, who loves to be held like a baby by Hanog; and Handsome, an orange tabby "with a face only a mother could love," says Carroll with a laugh. Carroll's favorite cat is Pachi, named after the menpachi fish for his big saucer eyes. Vaughn's favorite is Botox, a shorthair with a white belly who loves to lick you.
In the past 11 years, the sanctuary has helped hundreds of cats, and spayed and neutered 1,300. There are still hundreds more to be helped, she says. "Some people say they're cat whisperers," she adds, petting Pachi. "We say we're cat listeners."
---
Open daily from 11 a.m. to 3 p.m. For more information and directions, visit lanaianimalrescue.org. 
This article, "Lanai's Little Lions," was originally published in the March/April 2016 issue of HAWAIʻI Magazine.