This Hawaiʻi Island Rum is All About the Farm-To-Glass Experience
Kuleana Rum Works is the first-ever commercial distillery on the Big Island.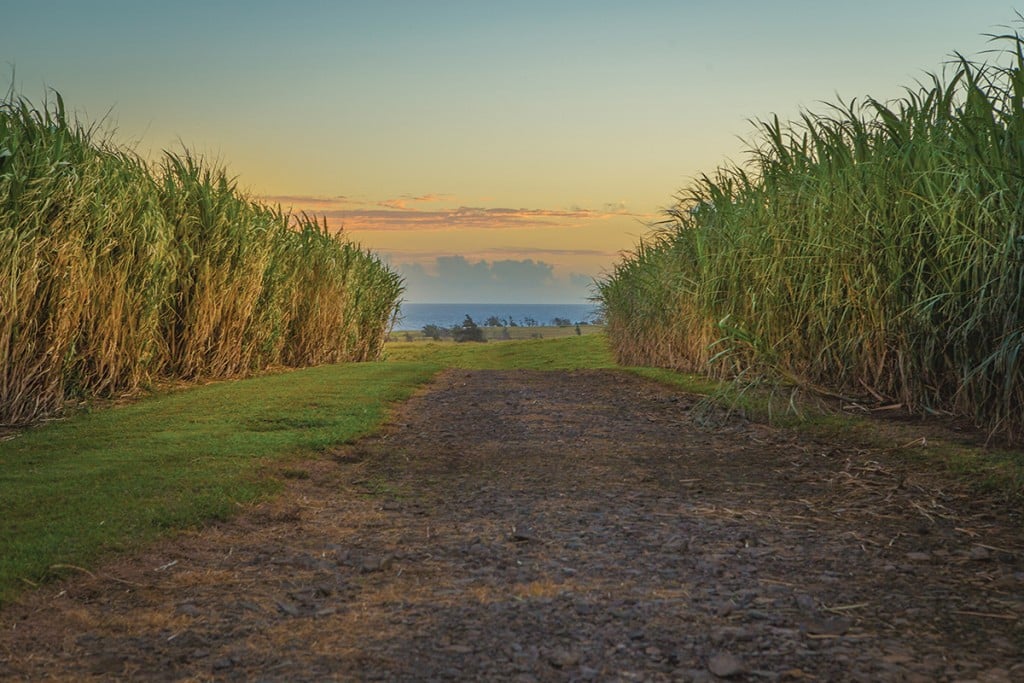 It's notoriously windy in North Kohala. Trade winds reliably blast Hawai'i Island's northern coast and the smoothed hump of its oldest volcano. 
It's morning as I step out of an air-conditioned tour vehicle onto the dusty landscape. Tucked behind a row of windmills, on a 40-acre plot, leafy stems tower above me, shaking in the wind. Sugar. If you visited this spot 150 years ago, the scene would be similar (minus the windmills, of course): The relentless Hawaiian sun, a sparkling blue ocean backdrop and the trade winds coaxing cane leaves to emit rain sounds when there's barely a cloud in the sky.
Here, at 'Upolu, in a region where agriculture stretches back 1,000 years, old crops await a new purpose. Kuleana Rum Works, founded in 2013 and the first-ever commercial distillery on Hawai'i Island, runs the land now. It's the first of three stops that form the North Kohala-spanning triangle of the company's "farm-to-glass" rum experience. This stop sets Kuleana Rum Works apart from any other rum distillery on the planet: Its plot of sugarcane is a living laboratory just up the road from the company's copper still. 
When starting Kuleana Rum Works, company founders consulted Noa Kekuewa Lincoln, an agricultural researcher at the University of Hawai'i at Mānoa who studies indigenous crops. Known as "the kō (sugar) guy," he's mapped and documented the origins, routes and evolution of sugarcane as it voyaged with Polynesians across the Pacific from Papua New Guinea where it was first domesticated some 10,000 years ago. Lincoln has built a catalog of bespoke sugar varieties and, wanting to see them propagated, shared them with the company. Each section of Kuleana Rum Works' field contains a different variety of cane: some are bright purple, others are striped like green zebras, pale yellow or almost black. There are more than 40 types in all, and all are Hawaiian heirloom varieties that stem from what probably were just two types brought in canoes to the islands by Polynesians 1,000 years ago. Most of them grow here and nowhere else.
I walk over to a makeshift shed where two machete-wielding workers, glistening with sweat, have stacked a cart full of stocks stripped of their leaves in front of a red antique juicer. Belts whir and gears turn as the cane is flattened and pressed, emitting a surprising amount of juice, which is caught in a huge Mason jar. Like magic, within minutes the juice evolves from clear to a murky forest green, evidence of microbes having a field day on its sugar content. The jar is passed around for a sip—it's pleasant, warm, sweet and frothy. It tastes like summer and smells of freshly mown green grass.
I try not to think about the microbes.
While it's neat to watch, cane chopping—done the old-fashioned way, by hand—and slow pressing isn't just for show. Several days a week the same two men—who both remember the field in the 1970s when it was filled with cane owned by the Kohala Sugar Co.—harvest the stalks and press it just like this. They fill massive 5,000-liter jugs, the size of Fiats, with the sweet liquid, the essence of their operation. Later I learn from Kuleana Rum Works co-founder Steve Jefferson that the company's name is also rooted in these fields. "Kuleana is a beautiful value inherent in Hawai'i that means to me, a combination of rights and privileges based on one's willingness to be responsible for a resource," says Jefferson. "Because we are trying to bring back into production these nearly forgotten strands of kō, because we want our customers and neighbors to know that everything we do is with direct intention and personal accountability, and because we want to tell the story of how awesome Hawai'i is, we chose the name Kuleana. … We don't add color, flavors or sweeteners to our rum and we use the very best ingredients, processes and craftsmanship in everything we make." It's still a small operation—the rum is all hand-labeled and batch-numbered—and by selecting the juiciest and sweetest varieties of cane, the workers are an essential component in controlling the quality and purity of its base ingredients. 
I head back into the air-conditioned comfort of the van and our group is whisked to the next stop: the distillery. Having visited various types of distilleries worldwide, Kuleana Rum Works' base operations are not what I expected. Tucked behind a metal garage door in a remote industrial area near the island's main port, it lacks the charm and specialness of the rustling fields. A hodgepodge of boxes and equipment line the hangarlike space. In the back, a gorgeous handmade copper still, imported from Portugal, sits unceremoniously amid patched cement walls. Exposed metal vents snake up to the ceiling. But this is where the serious business happens. Our tour guide alludes to the reason for the location, the pipes and the industrial feel: In order to pass inspection as the first distillery on the island, the focus had to be on function. "The building had to be custom fitted," he says, "because this stuff is highly explosive." Like the microbes, I try not to let my mind wander too far as I move even deeper into the bowels of the building. But the back of the building seems more familiar: Aging barrels are stacked to the ceiling and I'm immediately enveloped by the woody scent of vanilla. 
Here, we learn about the company's process and types of rum. After the 5,000-liter jugs of cane juice have sat for a few days, letting the microbes do their thing, the juice is transferred to vats to ferment and then to the heated copper still. We're told that offshore, in the deep ocean, is a layer of mineral rich freshwater; this is what's used to cool the still, condensing vapors into rum. Layers of alcohol come off the still into labeled jugs: seconds, hearts, tails. 
This is just the second year the company has sold its products, and right now the lineup is simple, just three rums. Its premium Hawaiian Rum Agricole is the star. By using the sugarcane juice from its fields, the company is following a more traditional and relatively rare method of rum making—some 97% of all modern rum is made from molasses, a more affordable and less labor-intensive sugar byproduct. The agricole is made even more special by the fact that the company grows its own cane. There's also Huihui—a blend of the company's cane rum with cane rum from Martinique and molasses-based white rum from Papua New Guinea—and Nanea, a dark rum and the reason for the vanilla scent in the back room. (Nanea, in Hawaiian, means fascinating.) Carefully selected molasses-based rums from Central America and the Caribbean are stored up to four years in Kentucky bourbon barrels in this industrial warehouse, soaking up the tannins and flavors. Though this rum doesn't contain any ingredients that originate in Hawai'i, the blend and the color is still unique—most dark rums on the market today employ color additives, while Nanea's color comes from the barrels.
All this talk of rum and not a drop to drink, so it's back in the tour van to an open-air shopping mall amid Waikōloa's resorts. It's time for a sip. Opened in early 2019, the Kuleana Rum Shack, a cocktail bar and restaurant operated by the company, is the final stop. Here, elevated local food, created with the help of reps from popular Big Island poke spot 'Umeke's Fish Market Bar & Grill, backs an impressive drink menu showcasing the company's offerings as well as the mixologists' prowess. I opt to exercise my own with the HI Punch: fresh-pressed cane juice, local liliko'i (passion fruit) syrup and the agricole, served disassembled in a blend-your-own format. It washes down my indulgent pork belly lunch perfectly. Two HI Punches in, I wobble atop my bar stool, finally emboldened to work my way through the flight of neat rum. Drinking rum straight is not something I often do, but the tastes are smooth and more nuanced than I was expecting, the anticipated burn less pronounced. Ultimately, the agricole wins: Its warm heat fills my upper chest and belly, reminding me of the sun and the wind through the sugarcane fields, and I wobble back to the van feeling good—and more connected to Hawai'i.  
Kuleana Rum Works, The Kuleana Rum Experience by Kailani Tours is currently the only way to experience all three outposts of Kuleana Rum Works' operations. Half-day tours include lunch and cocktails, hotel transfer and other scenic stops in North Kohala. Tours run 9 a.m. to 3 p.m. Monday and Thursday. Cost is $229 per person (adults over 21 only), (808) 938-4057, kailanitourshawaii.com. Purchase Kuleana Rums at the Kuleana Rum Shack gift shop in Waikōloa or via select outlets across the state and in California. 
Meghan Miner Murray is a former HAWAI'I Magazine online/associate editor. She currently works as a freelance writer, a researcher for National Geographic Magazine and the Pew Charitable Trusts and is a scuba guide based in Kona.